This CNN Anchor Just Had A Brain Tumor Removed
Tasos Katopodis/Getty Images
CNN anchor and chief national affairs analyst Kasie Hunt has recently had a pretty scary life or death experience — and if there's anything that can be learned from this, it's to never doubt what your body is telling you.
Hunt was best known as NBC News' Capitol Hill correspondent, covering a gamut of political and social content over a variety of different networks, per Legit. She also served as the host of MSNBC's "Way Too Early," a morning show that featured her expert reporting and impressive journalistic skills to keep viewers updated on news within Washington and beyond (via YouTube TV). In July 2021, however, the 36-year-old anchor shared that she would be leaving MSNBC to make her way to CNN to begin on a "new adventure," which she deemed exciting but bittersweet (via Variety). Unfortunately, things took a bit of a turn when she received some disturbing medical news.
Hunt didn't want to be defined by her diagnosis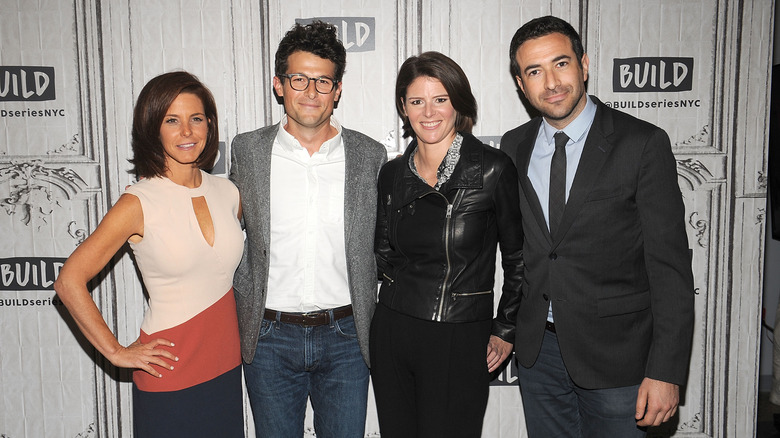 Brad Barket/Getty Images
According to Kasie Hunt, she began experiencing serious headaches a few years ago when she was pregnant with her son, which they had "checked out" and were making sure to "monitor" regularly. When the headaches started getting more serious in March 2021, she told People she made an appointment with a neurologist to try to see what might have been the cause — the doctor ultimately requested she get an MRI. While the MRI did reveal that "they saw something on the scan," her doctors confirmed that it was nothing cancerous or concerning — but she still continued to suffer from debilitating headaches. Eventually, she was met with a frightening diagnosis: the "something" that they found on her scan ended up being a growth, and the growth had been expanding and getting worse. "That means that there is a tumor growing in the brain," she said, calling her diagnosis "surreal."
"Suddenly, I have to figure out, what does this mean for us, for our family? It really knocked me back on my heels for a little while," Hunt admitted. The next steps were to figure out how to handle the diagnosis and make sure that they could find a plan to "beat this and not let this be something that defines [her]."
Hunt thanked her followers for supporting her
Kasie Hunt ultimately decided to have a surgery to remove the brain tumor. She is now in the process of recovering, which consists of "a lot of pain management," per People. Hunt revealed that she couldn't be happier to be home, but the recovery process has been slow and has made it nearly impossible for her to spend the time that she wants to with her son. "I just want to pick him up and hug him," Hunt heartbreakingly shared. "But he's figured out that Mommy has this boo-boo. And so now he wants to point at the scar and say, 'boo-boo,' and he's really gentle about it. And so we're doing a lot of sitting on the floor and reading books and things like that together."
On October 15, 2021, Hunt took to Twitter to thank her followers for sending prayers her way. "I am 100 percent certain they made all the difference. You all are amazing and I feel so touched by grace," she wrote.