RaeLynn Reveals The Special Gift Gwen Stefani And Blake Shelton Sent When She Had Her Baby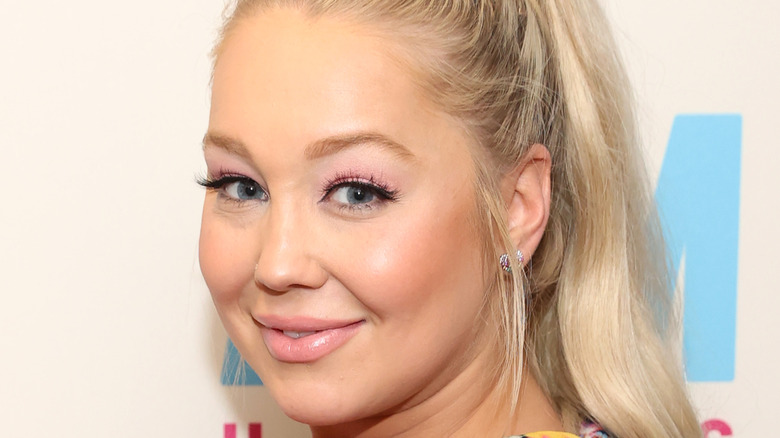 Terry Wyatt/Getty Images
Country star RaeLynn may not have made it all the way on "The Voice" in 2012; however, she certainly won over the heart of her coach Blake Shelton. The then-teenage singer was cut after a lukewarm performance for the quarterfinals in favor of Erin Willett. Shelton admitted that it was a very tough call. "I actually came in to the battle thinking that if they both do really good, I'd probably go with RaeLynn just because she was a country artist," he revealed at the time (per The Hollywood Reporter).
It did not work out that way, and it was the end of RaeLynn on the show. It was not the end of RaeLynn, though. Her debut album "Wildhorse" topped Billboard's Top Country Albums chart in 2017. And two years later, she took her career to the next level by inking a record deal with Florida Georgia Line's label Round Here Records in 2019, per People. And the hitmaker dropped her sophomore album "Baytown" just last month.
Interestingly, her relationship with Shelton didn't end with her tenure on "The Voice," either. Shelton included RaeLynn on his song "Buzzin'," which landed on 2014's "Bringing Back The Sunshine." And now, they reunited for a duet for "Baytown." Their song — "Why I Got A Truck" — is a country anthem through and through. In fact, it turns out RaeLynn and her former coach are so close that Shelton and his new wife Gwen Stefani got RaeLynn gave birth to her first child this fall.
Gwen Stefani and Blake Shelton sent RaeLynn and her daughter flowers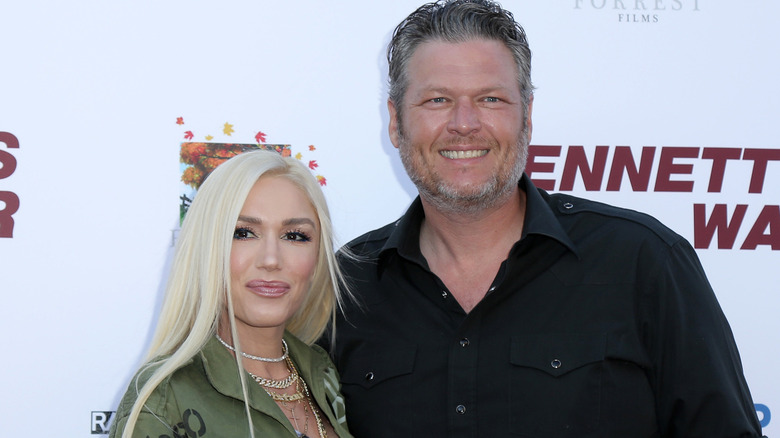 Kathy Hutchins/Shutterstock
RaeLynn and her husband Josh Davis started a family with the September 8 birth of their first child, Daisy Rae. The singer-songwriter gave birth shortly before the release of "Baytown," and, of course, baby Daisy will be serenaded by a professional for the rest of her life. 
In fact, one of her Daisy's very first gifts came before she was even born. RaeLynn dedicated a song to her daughter,which she wrote when she was eight weeks pregnant, she revealed on Instagram. The emotional release is called "Made For Me To Love," and it dropped on Mother's Day. A demo of it landed on the final track list for her sophomore album.
RaeLynn also revealed to People that her peers in the country world also showered her family with gifts, including her mentor on "The Voice," Blake Shelton, and his wife  — of course, an artist in her own right — Gwen Stefani. The power couple sent "a huge thing of flowers," RaeLynn gushed. "Gwen and Blake have been so sweet about her."
As for other country stars' gifts, Kane Brown sent Daisy Rae pink Ugg baby slippers, while Tyler Hubbard, one half of Florida Georgia Line, bestowed the baby with Golden Goose sneakers.
RaeLynn and Blake Shelton have been close ever since 'The Voice'
Blake Shelton clearly felt a kinship when he mentored RaeLynn on "The Voice" back in 2012. Even though she didn't go far on the show, he's kept a close eye on her career as it evolved. Back in 2019, RaeLynn revealed that she and Shelton talked frequently. As in once a week or so. "He always texts me," the singer-songwriter told People. "He's about as concerned as I am about my career. He's always excited any time I have a success. Anytime I've ever had questions, he's always helped me through it." 
She added that picking Shelton as her coach on the show over Adam Levine was a good decision — and clearly, their friendship has not weakened in 2021. She told People that they share one of those rare relationships that you know will be lifelong. "I knew that right when I met Blake, he was somebody that I knew would be in my life forever and be a constant friend and a constant mentor."
RaeLynn also had nothing but kind things to say about Gwen Stefani. "I love Gwen," she told People in 2019. "I just love her style, and I still fangirl a little bit when she comments on my pictures on Instagram: I forget she follows me!" What a cute, long-lasting friendship in the music world.