The Truth About AJ McLean's Nail Polish Line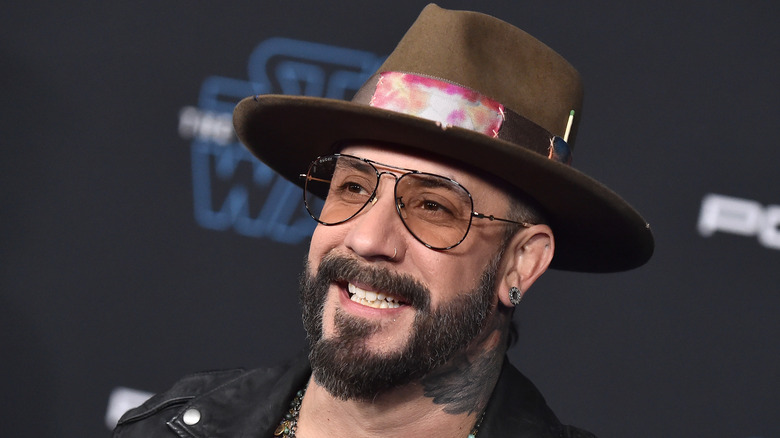 DFree/Shutterstock
When you think of AJ McLean, you probably think about the official bad boy of the Backstreet Boys. At least, that's what you think if you were old enough to be a fan in the '90s — when Doritos were 3D, new episodes of "Friends" were airing, and BSB was at the height of their fame. While McLean is still performing with the Backstreet Boys, he has since entered into a later stage of adulthood with his wife and two children and has started venturing into other professions. In the fall of 2020, McLean launched Ava Dean Beauty, named after his daughters Ada Jaymes and Lyric Dean.
It's no surprise that McLean chose to sell nail polish. After all, it is one of his favorite beauty products. Back in the '90s, when his band was rising to superstardom, the singer and dancer could often be spotted with black polish adorning his fingertips. McLean reflected on those days to InStyle, explaining that nail polish, and eventually makeup, were initially a way for him to rebel against the expectation to have a "unified" look with his bandmates. He said, "Once I started wearing polish, then got into makeup, I became more comfortable with my feminine side, if you want to call it that. It didn't de-masculinize me. I just felt, 'This is who I am.'"
AJ McLean shares a love of manicures with his family
When creating and naming the product, AJ McLean made sure to add a personal touch. Considering that black is his signature color, it makes sense that McLean named the staple black polish in his collection, "Alexander James," after himself. The collection also features a periwinkle hue named "Ava Jaymes" after his oldest daughter, and a warm purple named "Lyric Dean" after his youngest (all are $13 each). According to the Ava Dean website, McLean developed his company as a way to bond with and celebrate his daughters through their shared love of manicures.
The collection, which features five shades of nail polishes as well as a clear coat, and the products are both vegan and cruelty-free, according to the brand's site. Reviewers claim that the stuff is great, with fans praising the quality, durability, and its long-lasting properties. While being created by a Backstreet Boy certainly gives the brand tons of hype, there's a good chance this product actually lives up to it.