The Real Reason Amanda Kloots Said Yes To Dancing With The Stars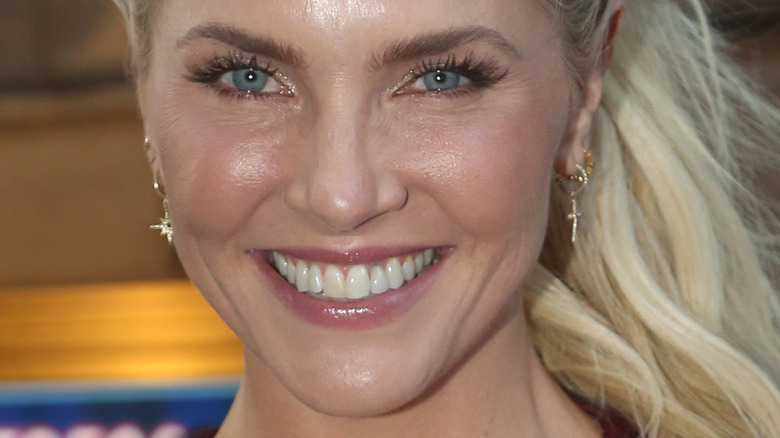 Bruce Glikas/Getty Images
Amanda Kloots has no interest in wallowing in the death of her husband. She's been working on putting the pieces of her life back together to thrive as much as possible.
Kloots and her husband Nick Cordero met in 2014 while he was working on the set of "Bullets Over Broadway," a performance that earned him a Tony Award nomination. When they met, Kloots was married to her first husband, whom she would eventually divorce, per People. "We were friends first and then fell in love," she wrote on Instagram, discussing the beginning of her love story with Cordero. "We got married in NYC in 2017 and had Elvis two years later."
In 2020, less than a year after their son's birth, Codero fell ill and was believed to have pneumonia, but his illness was later found to be COVID-19. After 95 days of fighting the virus, he died from COVID-related complications at the age of 41, per the Los Angeles Times. Despite the tragedy, Kloots is trying to live her best life in honor of her late husband.
Amanda Kloots danced to her and Nick Cordero's wedding song
On September 20, Season 30 of "Dancing with the Stars" graced the television screens of fans everywhere. The highly anticipated season features a gamut of impressive stars, including JoJo Siwa, Suni Lee, Olivia Jade Giannulli, and Matt James, amongst other celebs (via Us Magazine). But there's one celebrity appearance fans were surprised to see: Amanda Kloots. 
While some may believe participating in a dancing competition just a year after the death of a loved one might be a bad move, Kloots has decided that it's just what the doctor ordered. "On July 5, 2020, I lost my husband from repercussions of COVID," she explained on "DWTS" (via People). "I miss him every single day. I miss every single part of him ... If Nick could've said anything to me before he passed, he would've looked at me right in the eye and said, 'You better not stop living. You better keep going.'"
But her decision to continue living and appear on "DWTS" doesn't mean she's stopped thinking of her husband. In fact, she's used her time on the screen thus far to honor Cordero via a tear-jerking performance. She and dance partner Alan Bernsten hit the dance floor to perform a foxtrot to the song "It Had to Be You," which she revealed was her and Corder's wedding song, per People.
Amanda Kloots has a background in dancing
During a rehearsal for her "Dancing With The Stars" performance, Amanda Kloots explained on the show (via People), "We chose it because it was the song he sang to book the job 'Bullets Over Broadway,' which is the show that we met in." She added that her wedding will always be "one of the happiest times of [her] life." 
Kloots and Bersten received a 32 out of 40 from the judges for the dance in question. After the performance, she took to Instagram to share a few wedding photos in which she and Cordero were dancing the night away. "Last week I danced for myself. This week, I'm dancing for you Nick," she captioned the post.
Dancing has appeared to come relatively smoothly for Kloots, and so far, judges and fans alike are loving her performances. But this should come as no surprise, as "DWTS" isn't her first time giving dancing a go. "I grew up dancing, I did Broadway for 17 years," Kloots explained on the show, via People. "And then everything that happened to me, the pandemic and losing my husband, this opportunity is kind of a way to find myself again and to feel his presence every day."