Ashley Hebert Reveals What Her Life Is Like After Divorce From J.P. Rosenbaum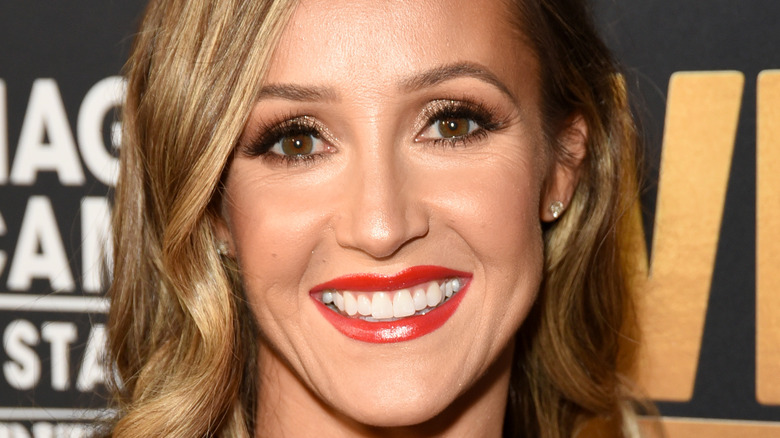 Presley Ann/Getty Images
After competing in Season 15 of "The Bachelor," Ashley Hebert starred in "The Bachelorette" in 2011 (via Us Weekly). The seventh Bachelorette gave her final rose to contestant J.P. Rosenbaum and the couple wed in 2012. Hebert and Rosenbaum welcomed their first child together, Fordham, in 2014 and their second child, Essex, just two years later. 
After eight years of marriage, the couple revealed in October 2020 their intentions to divorce. Hebert said in an Instagram post, "It is with a heavy heart that I share with you that, after months of separation, Jp and I have amicably decided to go our separate ways." She added that she will always cherish their special memories together and their children.
Hebert closed, "Our differences have taken a toll on our relationship and after years of attempting to repair the damage, we've decided that it is in our family's best interest to create new and separate lives for our children. Please respect our privacy as we move forward with the newness of our lives." 
Since sharing the news of her newfound singleness, Hebert has finally opened up about what her life is like following her split (via E! News).
Ashley Hebert updates fans on her dating life
During an Instagram Q&A session, Bachelor Nation's Ashley Hebert shared details of her dating life with her fans (via People). The 36-year-old revealed that her return to the dating scene has been a bit rocky. She said, "Omg the first date I went on was horrrrific. I wanted to run. The second date I went on was at top golf and I am legit the worst golfer you could imagine. We are no longer dating."
Hebert also shared that she currently has no intentions of introducing a romantic partner to her two children. She joked, "I'm pretty sure my kids don't understand what dating is.If I am serious enough with someone, they will meet JP first, then the kids."
Hebert later said that she'd be happy to see her ex, J.P. Rosenbaum, in a happy relationship. She explained, "If JP introduces someone to me, that means it's serious. I would be very happy for him. Honestly, if [he] is happy that means my kids are around someone that is bright, uplifting, loving, etc etc." 
The influencer closed her Q&A by offering advice for getting through a divorce with someone you share children with. Hebert and Rosenbaum currently share their kids 50/50 and are in constant communication. She suggested that it's important to maintain stability, love, and fun in children's lives. She closed, "It's easy to get caught up in our emotions. But let the kids' well-being guide your actions."