Edie Falco Reveals Surprising New Details About Her Relationship With James Gandolfini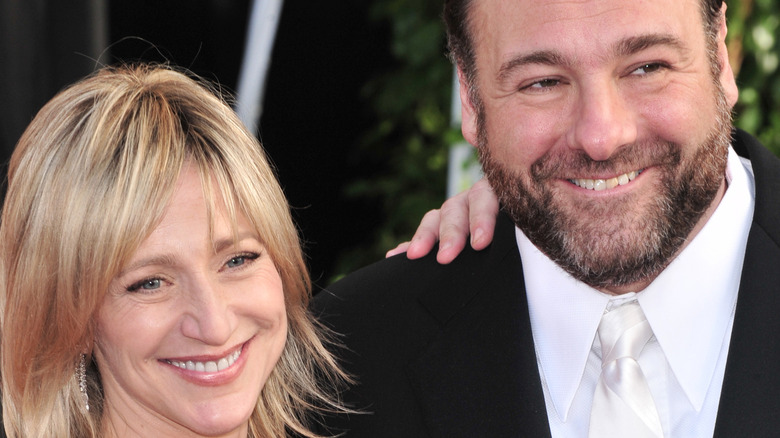 Featureflash Photo Agency/Shutterstock
They are one of the most beloved TV couples of all time. Tony and Carmela Soprano were played by Edie Falco and James Gandolfini on "The Sopranos" from 1999 until 2007 (via New York Post and IMDb). On screen, their chemistry, at times explosive, could not be denied. It turns out that off screen, the duo was just as connected, according to a new interview Falco gave to The New Yorker.
The bond between the actress and the deceased Gandolfini may have been so unbreakable in part because as Falco shared, they came from very similar backgrounds before coming together to film the iconic HBO show. "We were just really regular middle-class, suburban kids that were never supposed to become famous actors," the "Nurse Jackie" star told The New Yorker.
In fact, Tony Soprano's alter ego was surprised by the show's popularity (except maybe the controversial ending), with Falco saying, "My interpretation is that the whole time, he was, like, What the hell is going on? I remember, when we got picked up for the second season, he said to me, 'Yeah, well, I just have no idea what the hell we did, but we've got to try to do it again.' And I said, 'I hear you. I don't know. We'll figure something out.'"
Edie Falco was even more connected to James Gandolfini than we thought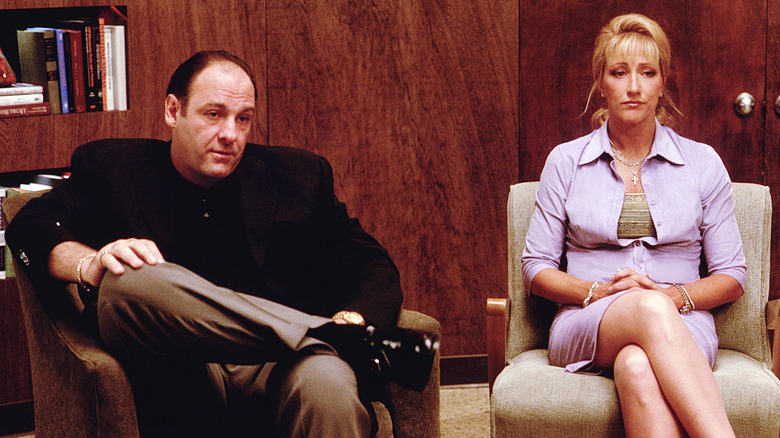 Getty Images/Getty Images
In addition to going along for the unexpectedly wild ride that "The Sopranos" provided, Edie Falco told The New Yorker that she and James Gandolfini also shared the same work ethic.
"He was totally un-actor-y, and was incredibly self-deprecating, and he was a real soul mate in that regard," she said. "We did not spend a lot of time talking about the scripts. It was like when you see two kids playing in the sandbox, completely immersed in their imaginary world. That's what it felt like acting opposite Jim."
In 2013 when "The Mexican" actor died unexpectedly, Falco talked about her affinity for the star, saying in a statement, "I am shocked and devastated by Jim's passing. He was a man of tremendous depth and sensitivity, with a kindness and generosity beyond words. I consider myself very lucky to have spent 10 years as his close colleague" (via ET Online).
She went on to express in part, "The love between Tony and Carmela was one of the greatest I've ever known."