How Travis Barker's Kids Feel About His Engagement To Kourtney Kardashian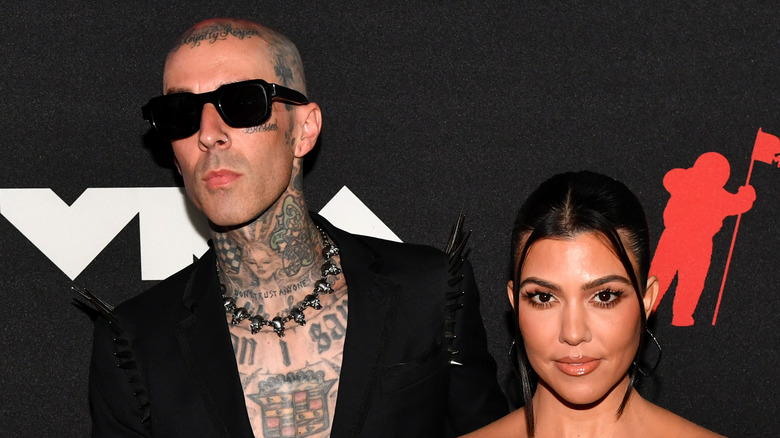 Jeff Kravitz/mtv Vmas 2021/Getty Images
What started off as a friendship and developed into a whirlwind romance has unexpectedly turned into something more serious than anyone could have expected. That's right: Kourtney Kardashian and Travis Barker are engaged. While it's not totally clear when their relationship turned from platonic to romantic, eagle-eyed fans speculate that the two began dating around late 2020 due to surfaced photos that looked to be like dates (via Cosmopolitan). 
However, we don't really care about the details at this point, as we're too distracted by the utter euphoria that Kardashian and Barker appear to be experiencing in light of their engagement. Kardashian posted a photo to Instagram of the engagement night, in which the couple were on the beach surrounded by hundreds of roses. She paired the photo with a simple caption that read, "forever."
But how have the love birds' families responded to news of the engagement? It's no secret that navigating blended families can be a challenge, but both Barker and Kardashian's children seem to be overjoyed by the notion of blending their families into one.
Barker and Kardashian have been very involved in the lives on each others' children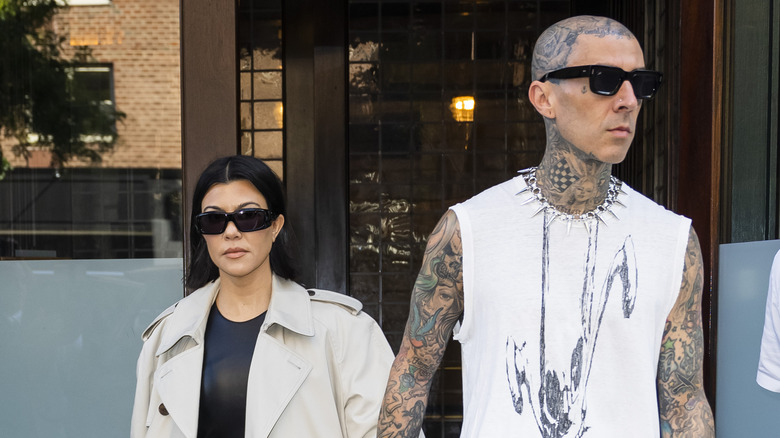 Gotham/Getty Images
Kourtney Kardashian, the eldest of her sisters, dated Scott Disick on and off between 2006 and 2015 (via The Sun). During this time, the couple had three children: 11-year-old Mason, 8-year-old Penelope, and 6-year-old Reign. Travis Barker is also a parent, having had two children with his ex-wife Shanna Moakler. Together, they had 17-year-old Landon, 15-year-old Alabama, and 22-year-old step-daughter Atiana, per CBS News. Well, we're happy to report that everyone involved appears to be just as thrilled as you'd hope for the happy couple.
Throughout the time that Kardashian and Barker have known each other — both as friends and as partners — they have appeared to be pretty consistent parts of their respective childrens' lives. According to Cosmopolitan, in January 2021, Kardashian bought Barker's daughter Alabama a Prada bag for Christmas, which was allegedly the same bag she also bought her sister, Khloe. Furthermore, shortly after news surfaced that the two were officially an item, a source told People that Barker had allegedly gotten the seal of approval from the entire Kardashian's clan — children included. 
"Her family and friends all really like him," the source said. "Their kids all get along too, which is sweet." A source even told Life & Style that her kids were "obsessed" with Barker. "He's always doing fun things for them like letting them play his drum set, bringing them their favorite foods, and he acts like a big kid with them in the pool and backyard and Disney," the source disclosed.
Will Kardashian and Barker have children together someday?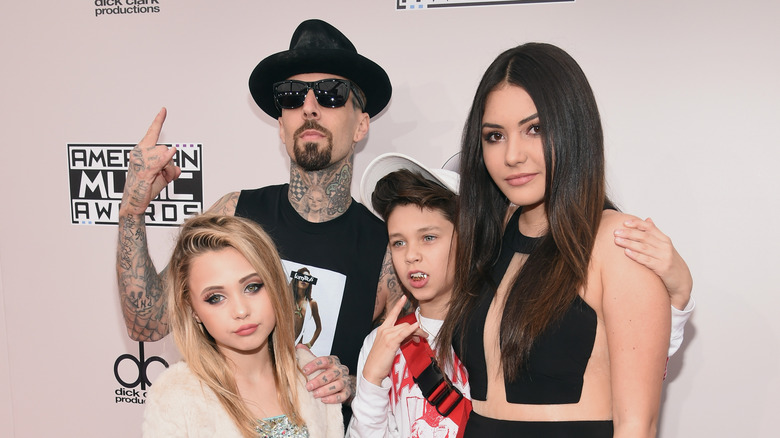 Frazer Harrison/ama2016/Getty Images
Barker's children were equally thrilled in light of the news of his engagement to Kardashian. 17-year-old Landon took to Instagram to gush over the news, writing, "Congratulations @kourtneykardash and @travisbarker I'm so happy for you guys love you guys so much!" He posted the kind words to his Instagram Story that he paired with a photo of the pair kissing (via People). Alabama also shared her thoughts on social media, saying, "So happy for you guys I love u both!" with a photo of Kardashian's impressive more than 15 carat, $1 million ring (via Page Six).
As for the future, while the couple will be focusing on planning their big wedding day — which we imagine will end up being extravagant and lush — a source told People that there might be even more children in the couple's future. "Kourtney is of course ecstatic. She can't wait to marry Travis," the source said, adding, "She would also love to have a baby with him."