Why Fans Are Convinced Kourtney Kardashian Is Pregnant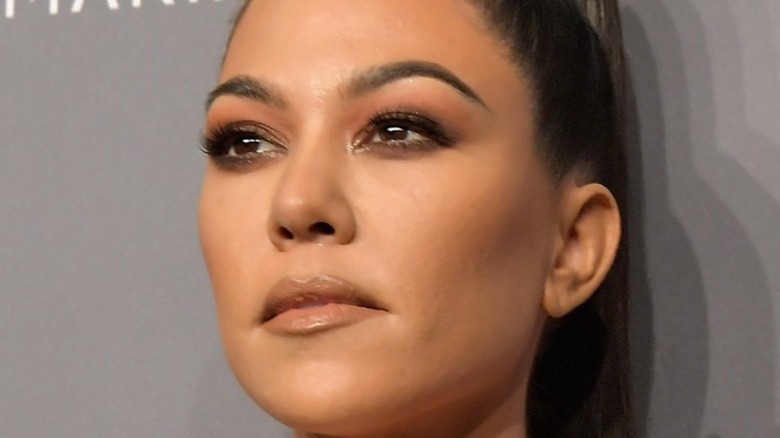 Michael Loccisano/Getty Images
With every sweet Instagram tribute or swoon-worthy vacation photo, the world becomes more and more invested in the relationship between Kourtney Kardashian and Travis Barker. Now that Hollywood's newest "it" couple is engaged, fans are searching for clues on the future they're planning together.
Though Kourtney Kardashian and Travis Barker both have kids from previous relationships, that hasn't stopped fans from trying to guess whether the engaged couple are planning to have kids together (or speculating that they already have one on the way). During a March 10, 2021, appearance on "The Ellen DeGeneres Show," Kardashian hinted that she's open to more kids (via Us Weekly). She revealed to host Ellen DeGeneres that she froze her eggs in part because of pressure from her family and as a precaution. "I was 39 and was about to turn 40 and just felt like people were saying, 'If you're gonna do it, you've gotta do it now,'" Kardashian explained. 
In the interview, she also shared her uncertainty about whether or not she wanted more kids. "[I was like], 'Okay, everyone stop rushing me. I don't know if I even want to have another kid or if that's, like, in the future or whatever. I think doing that ... and having the control of my body just gave me a peace of mind."
Flash forward a few years later, and now fans are convinced that Kourtney Kardashian is pregnant.
A look at the pregnancy hints Kourtney Kardashian has allegedly dropped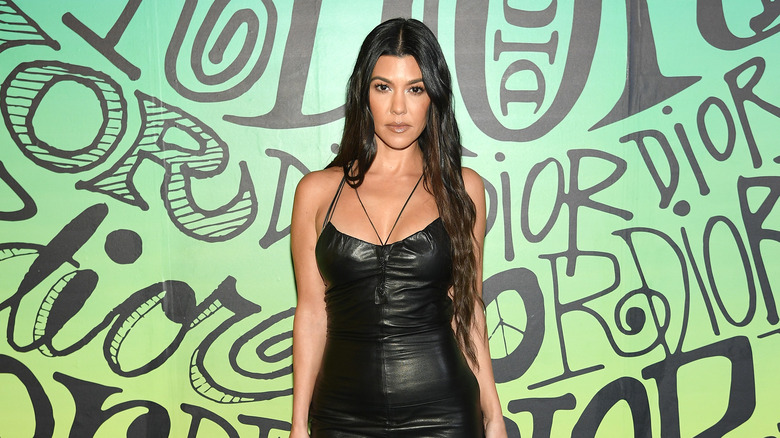 Dimitrios Kambouris/Getty Images
Leading up to their engagement, fans have been lasering in on news of a potential Kardashian-Barker pregnancy. Breaking Daily News highlighted Kardashian's July 2021 Instagram story about "gaining weight and not because of food" as one reason why people are convinced they have a baby on board.
An August 2021 Instagram post further fueled pregnancy rumors. In the photo – captioned, "Say hi to my closet" — Kardashian is rocking a black bralette and red pants and standing inside her glamorous walk-in closet, but all eyes were on her as she received a barrage of comments asking if she was pregnant. Per ET, Kardashian immediately shut down the rumors by responding directly in the comments, "I'm a woman with a BODY."
This respite was short-lived, and rumors started popping up again after the "Keeping Up With the Kardashians" star casually captioned a video of her receiving a shipment from Buy Buy Baby with "special delivery," as reported by the U.S. Sun. Actress Megan Fox also fanned the flames while at the 2021 MTV VMAs when she referred to her boyfriend, Machine Gun Kelly, and Kardashian's now-fiancé, Travis Barker, as their "future baby daddies" (via People).