Why The Tori Spelling Divorce Rumors Are Heating Up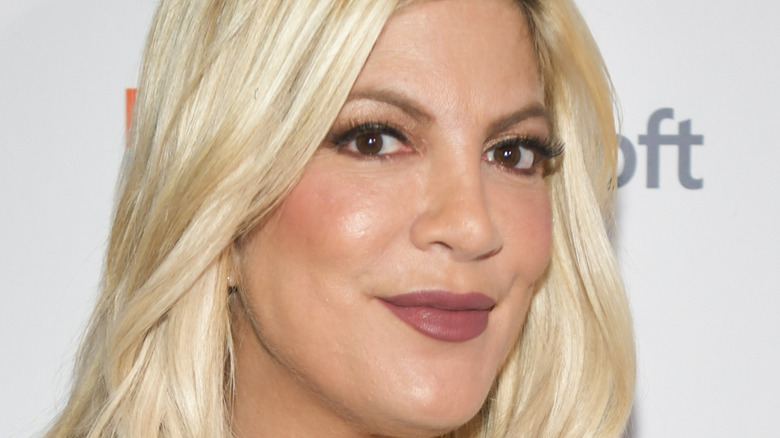 Rodin Eckenroth/Getty Images
All signs are pointing to trouble for Tori Spelling and her husband Dean McDermott. The couple, who tied the knot in 2006 and share five children together, are said to be headed for divorce. Rumors have been flying about the pair possibly splitting for months, and there have been clues to suggest that there is trouble in paradise for the former reality TV stars. For one thing, Spelling and McDermott haven't been seen in public together for months, per The Sun. In addition, the Canadian actor has been leaving the house without his wedding ring on.
Back in July, sources told the outlet that Spelling and McDermott want to get a divorce but simply can't afford it. "Tori and Dean are totally stuck together right now. Neither of them can afford to go through divorce proceedings," the insider dished. "They have five kids and a ton of pets. Their home is always a disaster — it's just a total mess. Right now divorce isn't on the horizon because they can't swing it financially. They are in a living nightmare," the source added.
Last month, McDermott was asked about the divorce rumors during an appearance on the "Feminine Warrior" podcast (via Page Six). He didn't confirm nor deny any trouble in his marriage. Instead, he called out the fans for their interest in the situation. "It's just weird that people need to know," he said.
However, Spelling fueled the speculation when she was spotted at her lawyer's office this week.
All signs point to a divorce for Tori Spelling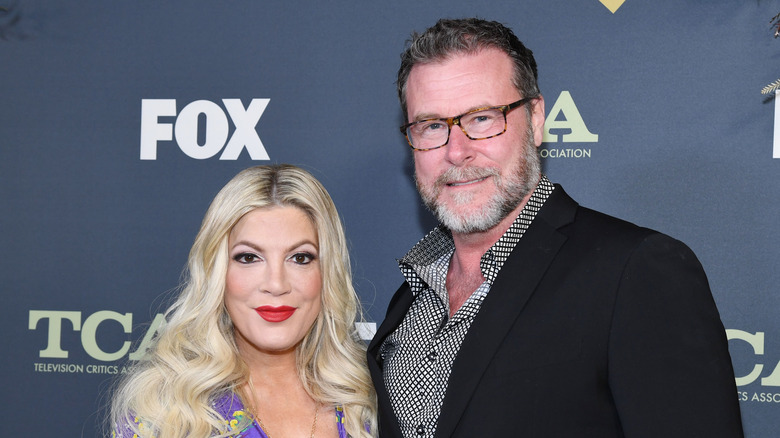 Amy Sussman/Getty Images
According to Page Six, Tori Spelling was spotted outside of an attorney's office on Monday. Paparazzi snapped photos of the former "Beverly Hills 90210" star wearing a black suit and gold jewelry. She rocked a pair of dark sunglasses and wore her hair in a low ponytail for the meeting. While outside, Spelling talked on her phone and carried a notepad that she had handwritten notes on. The notes reportedly pertained to topics such as "custody," "support," and "assets."
Closer shots of the notepad reveal that the actress' notes also featured a to-do list which read "Pig pen — get quote," "AAA Jump Start Van," and 3 pm lawyer — assets — support — custody," which appear to point to an impending divorce for Spelling and McDermott. Spelling reportedly spent about an hour inside the law office before exiting the building and speaking on the phone, where things allegedly got heated. She later jumped into a gray Suburban by herself (via Page Six).
As fans may remember, Spelling and McDermott aren't strangers to marital issues. In 2013, the couple endured a cheating scandal after the actor was allegedly unfaithful to his wife. The situation was later documented in the couple's 2014 reality series "True Tori," per Page Six. However, Spelling and McDermott are staying mum about their rumored relationship problems this time around.