Why Twitter Is Skeptical After Some Of Brian Laundrie's Belongings Were Found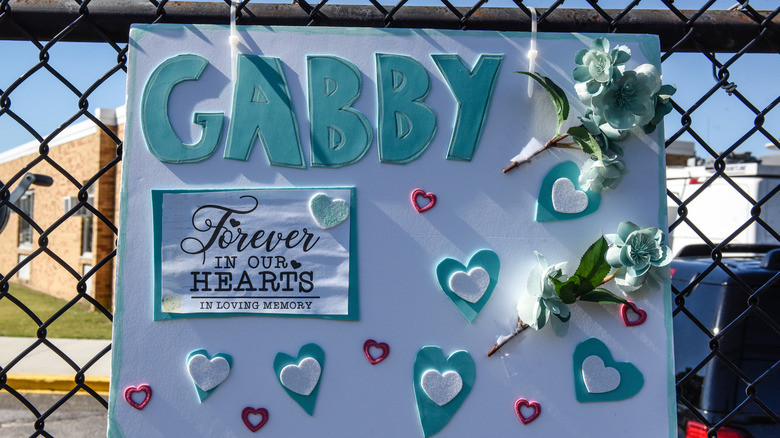 Stephanie Keith/Getty Images
Unless you've been living under a rock for the past few months, you have likely heard quite a bit about the Gabby Petito case. In September 2021, the social media influencer and van dweller made headlines when her parents reported her missing while on a journey across the country with her fiancé, Brian Laundrie. On September 21, 2021, Petito's remains were found in the Bridger-Teton National Forest in Wyoming. Eventually, the authorities revealed that Petito died as a result of strangulation, and it seems as though Laundrie is the prime suspect in the homicide investigation, according to CNN.
Since Petito went missing last month and his parents reported Laundrie missing from their Florida home in mid-September, the authorities (and, at one point, Dog the Bounty Hunter) have been searching through miles of land in Myakkahatchee Creek Environmental Park in North Port, Florida. On Wednesday, October 20, 2021, while searching through the park for Laundrie, authorities finally found a trace of the suspected killer of Petito. As a senior law enforcement official told NBC New York, the authorities discovered Laundrie's backpack alongside partial human remains just a day after reopening Myakkahatchee Creek Environmental Park to the public. Laundrie's parents found additional items that belong to their son on Wednesday. The authorities have yet to release the identity of the human remains or what was inside of the backpack.
Twitter users think the discovery of Laundrie's belongings is too convenient
After news of this latest development began to spread, Twitter users took to the platform to discuss their own skepticism. Overwhelmingly, the most skepticism revolved around the fact that it was Brian Laundrie's parents who discovered some of their son's belongings after authorities (and Dog the Bounty Hunter) had spent a month expertly combing the area and had claimed to find nothing. "[S]o you're telling me the fbi looked for brian laundrie for 5 weeks ... then they open the reserve, and call off the search ... and then when his parents decide to go look on their own, within a few hours they find his belongings and the medical examiner gets called out?? [Y]eah ok," a Twitter user said.
Other Twitter users want (nay, demand) to see Laundrie's parents held responsible for what they argue is fairly obvious proof of their involvement in his ability to remain hidden throughout one of the most high-profile homicide cases in the past few years. "Still firmly believe that the parents of #BrianLaundrie should be charged with aiding and abetting and obstruction of justice ... I mean how convenient they finally join the search and s*** magically appears...," another Twitter user said.