Why The Reported Skeletal Remains Found In The Brian Laundrie Search Have Twitter Talking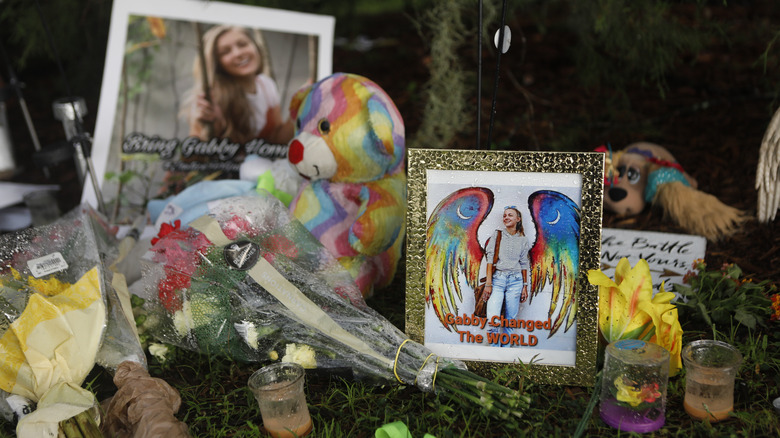 Octavio Jones/Getty Images
Update: As of 5:50 p.m. ET, the remains discovered in Myakkahatchee Creek Environmental Park have been identified as those of Brian Laundrie. According to CNN, dental records were used to positively identify the body. No further information has been released as of publication. 
While Twitter users have been discussing the Gabby Petito case in length on the social media platform since the influencer and van dweller went missing in mid-September 2021, the latest development in the case has sparked perhaps the biggest debate yet. On Wednesday, October 20, 2021, the parents of Brian Laundrie, Petito's fiancé who is thought to be her killer, discovered some of his belongings next to human remains. This is quite a big development for a number of reasons, the first being that Laundrie has been missing for over a month and authorities have been scouring Myakkahatchee Creek Environmental Park in Florida since his disappearance, per Fox News.
The second reason, which has sparked a lively debate on Twitter, is the fact that Laundrie's parents found their son's backpack, notebook, and human remains just 30 to 45 minutes after entering the park, according to Fox News. Up until Wednesday, that portion of the park had reportedly been underwater, meaning that there might be a valid explanation for why authorities had missed the belongings and remains during their month-long exhaustive search. On Wednesday night, the Laundrie family attorney, Steven Bertolino, told CNN that "the probability is strong that it is Brian's remains." According to Bertolino, after discovering a backpack of Laundrie's, his parents were notified by authorities that human remains were also located near his belongings.
Some Twitter users don't believe that the remains are Laundrie's
In response to a tweet by NewsNationNow correspondent, Brian Entin, in which he updated the public about the latest developments in the Gabby Petito case, Twitter users seemed to show quite a bit of skepticism regarding the true identity of the human remains found at Myakkahatchee Creek Environmental Park in Florida on Wednesday. "Sorry don't think it's BL! Just don't add up!" a Twitter user replied to Entin's original tweet. "Something is very suspicious here ... I think he's still running and this is a diversion by the laundries," another Twitter user replied.
Overall, many Twitter users seemed to have a hard time understanding why, if he had only been dead for approximately a month, why Brian Laundrie's supposed remains would be skeletal. However, other Twitter users pointed out the fact that the body had been underwater during this time, speeding up the decomposition process. On Thursday, October 21, 2021, forensic pathologist Dr. Michael Baden told Fox News that he does believe that the body belongs to Laundrie, and that, aside from being submerged in water, Laundrie's body could have also been partially consumed by a number of animals or insects in the park, including rodents and alligators.
At this point, the identity of the human remains discovered has yet to be announced.