Simone Biles Shares A Tear-Jerking Confession About Gymnastics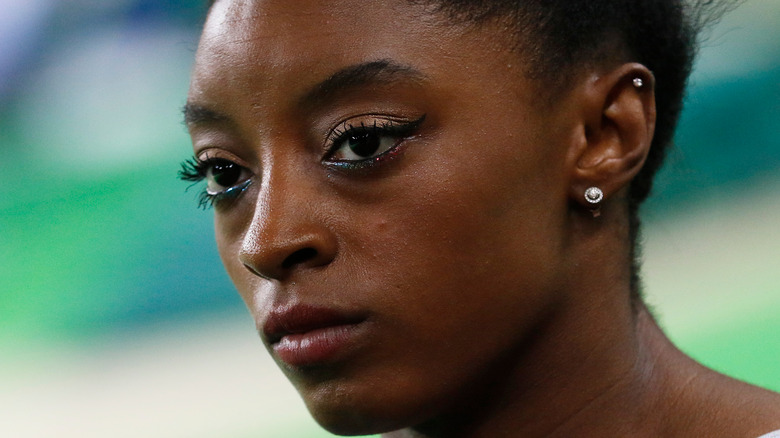 Salty View/Shutterstock
Simone Biles, the most decorated U.S. gymnast, is speaking out about her experience in elite gymnastics and her life post-Tokyo Olympics (via People Magazine, Marie Claire). The seven-time Olympic medalist caused a stir when she withdrew from the Tokyo gymnastics team finals, all-around finals, and three event finals after developing a case of the "twisties" (per The Guardian). 
According to Newsweek, the "twisties" occur when a gymnast suffers from a mental block that causes them to completely lose spatial awareness. Biles herself described the phenomenon as "not knowing up from down" and "not having an inch of control over your body" (per Time). As former Olympic gymnast Jordyn Wieber told Time, "You get lost in the air, you don't know where you are, you don't know where the ground is, you don't know how many times you're twisting, and you can't control how many times you're twisting," adding, "It's really scary. If you open up and land incorrectly, it's really, really dangerous."
Biles spoke to Hoda Kotb on "The Today Show" and revealed an emotional revelation regarding her recovery process (via Today).
The bittersweet emotions Simone Biles feels now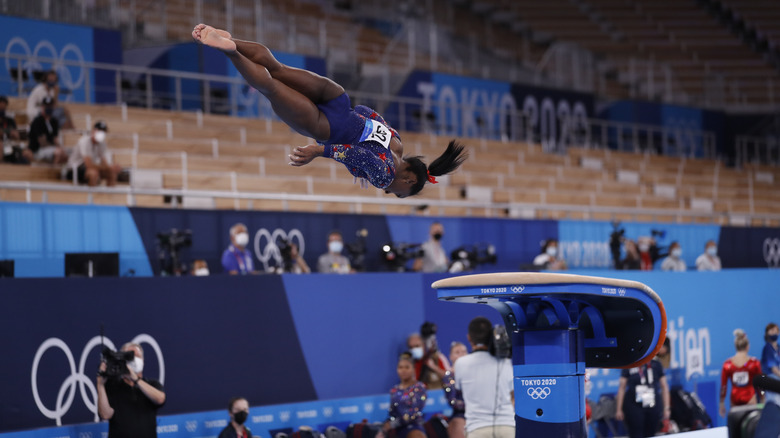 A.RICARDO/Shutterstock
"To do something that I've done forever and just not be able to do it because of everything I've gone through is really crazy because I love this sport so much," Simone Biles revealed to Hoda Kotb (per Today). Biles continued, emphatically saying, "It's hard. I'm sorry. And I don't think people understand the magnitude of what I go through, but for so many years to go through everything that I've gone through having a front. I'm proud of myself."
Biles is now headlining the "Gold Over America" tour featuring fellow gymnasts Jordan Chiles, MyKayla Skinner, Jade Carey, and Grace McCallum. She revealed that although she performs The Biles, one of her namesake floor moves that consists of a double layout with a half-turn, she hasn't been performing any twisting elements during the tour (via Today and NBC Sports on Youtube). The gymnast added that she's confident that she'll be able to twist again, but stated, "I'm still scared to do gymnastics."
Simone Biles is taking on new endeavors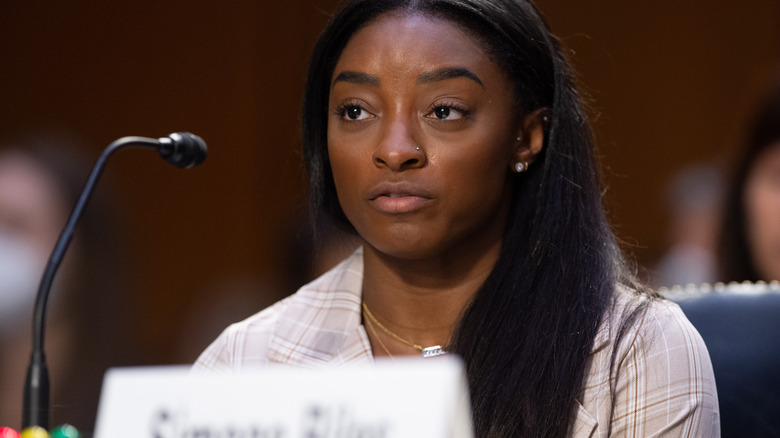 Pool/Getty Images
Just last month, Biles testified in front of the U.S. Senate Judiciary Committee regarding the sexual abuse she and other U.S. gymnasts faced from disgraced former USA Gymnastics doctor Larry Nassar (via U.S. Senate Judiciary). "To go through something like that and to be a voice for all of the survivors and people who want to come forward and talk about their stories, it's really inspiring," Biles said on Today. She currently sees a therapist every week and is keeping an optimistic look on life.
In addition, Biles wants to help others who are battling mental health challenges. She disclosed to Today that she's now the chief impact officer and an investor of Cerebral, a mental health and telemedicine app. The app caters to several mental health conditions and helps people access mental health care by using data science to break down common barriers patients often face, from wait times to see a therapist to the cost of mental health care (per YouTube). 
Staying true to herself and her convictions, Biles told Today, "I wouldn't change anything for the world. I think everything happens for a reason."
If you or anyone you know has been a victim of sexual assault, help is available. Visit the Rape, Abuse & Incest National Network website or contact RAINN's National Helpline at 1-800-656-HOPE (4673).