Alec Baldwin Deleted This Eerie Photo From Instagram After The Fatal Incident On Set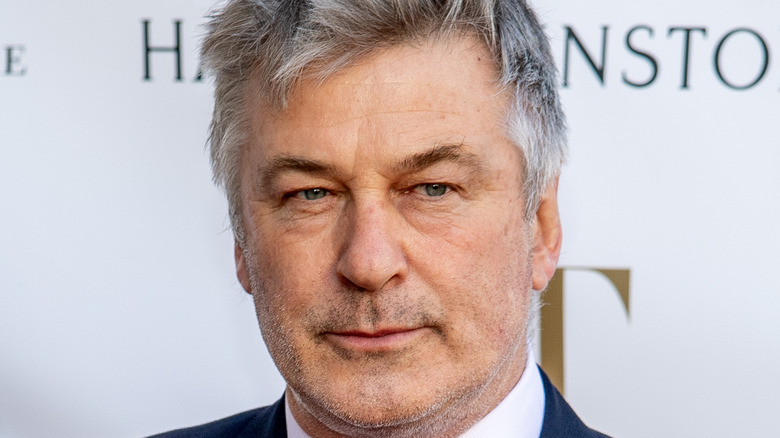 Roy Rochlin/Getty Images
The entertainment world has been left reeling after a crewmember was accidentally shot dead on the set of the new Alec Baldwin film, "Rust." CNN reported the actor discharged a prop gun while on location in New Mexico on October 21, 2021, fatally wounding director of photography, Halyna Hutchins. She was taken to the University of New Mexico hospital via helicopter, where Hutchins was later pronounced dead. Likewise, director Joel Souza, who was injured in the blast, was also transported to hospital by ambulance (the New York Post confirmed that Souza has since been released from hospital). A statement noted, "According to investigators it appears that the scene being filmed involved the use of a prop firearm when it was discharged." They added, "Detectives are investigating how and what type of projectile was discharged." 
Baldwin was photographed looking distraught, after being questioned about the incident, in the parking lot of the Santa Fe County sheriff's offices. The period western also stars Travis Fimmel and Jensen Ackles. As Daniel Oates, former police chief of Miami Beach and Aurora, Colorado, explained, prop guns can be extremely dangerous as, "They all contain a charge, a powder that creates the noise and the explosive, the visual blast, and usually it's some kind of wire or something that explodes out of the weapon when it's fired." Although Baldwin's physical condition is not yet known, a photo he posted to Instagram prior to the incident is giving many commentators pause.
Alec Baldwin was covered in fake blood in his now-deleted post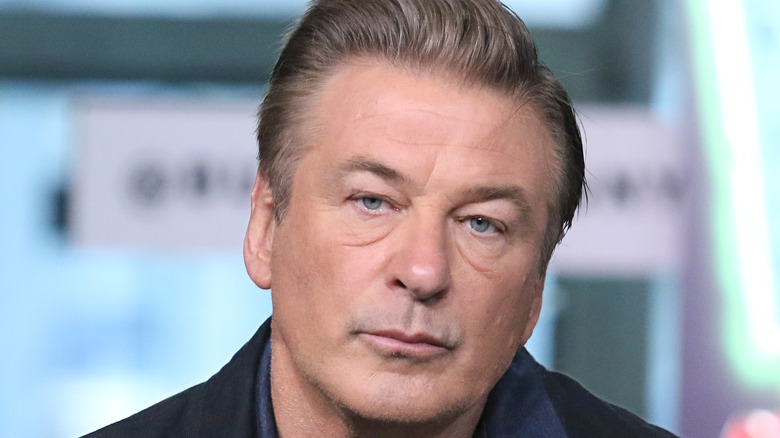 Jim Spellman/Getty Images
According to a report in The U.S. Sun, actor Alec Baldwin has removed a photo of himself posing in a dusty and bloodied costume from the set of new movie "Rust," after the director of photography was accidentally shot when his prop gun discharged either shrapnel or a bullet. As aforementioned, director Joel Souza was also injured in the blast. In the since-deleted photo, Baldwin was decked out in full western gear, with cowboy boots, a vest, and a bandana, with a jacket slung over his shoulder. Baldwin looked suitably exhausted, while his shirt was notably splattered with fake blood. As far as the accidental shooting is concerned, no charges have been filed and the investigation is ongoing. The incident occurred midway through a scene, though it's unclear whether filming was taking place or if the cast was simply rehearsing, suggesting it could have been caught on camera.
Baldwin hasn't publicly commented as of yet, but Deadline clarified he didn't know what type of ammunition was in the firearm in question. The Santa Fe New Mexican shared photos of the controversial star, who's also a producer on "Rust," visibly bent over and upset outside the sheriff's office, which are now being circulated on social media. However, the deleted Instagram pic is causing even more of a stir, thanks to its seemingly eerie prescience. An old tweet of Baldwin's, about "wrongfully" killing somebody, is also doing the rounds on Twitter. According to a representative from the movie, production has stopped for now, as the investigation continues.