Here's How Celebs Are Reacting To The Fatal On Set Incident Involving Alec Baldwin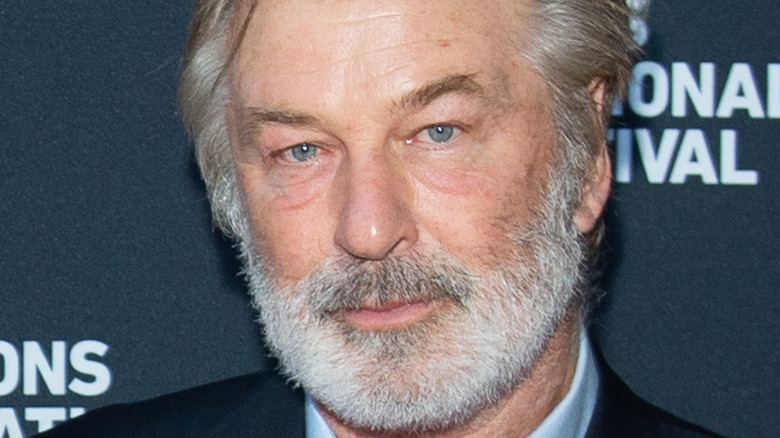 Mark Sagliocco/Getty Images
While working on his new movie, "Rust," Alec Baldwin accidentally shot and killed cinematographer Halyna Hutchins and injured director Joel Souza with a prop gun. The incident took place on Thursday, while filming at the Bonanza Creek Ranch in New Mexico.
According to People, Hutchins died after being airlifted to the University of New Mexico Hospital, while Souza's injuries were treated at Christus St. Vincent Regional Medical Center. Via tweet, Alec Baldwin has expressed his "shock and sadness regarding the tragic accident," further assuring his followers that "I'm fully cooperating with the police investigation to address how this tragedy occurred and I am in touch with her husband, offering my support to him and his family" (via USA Today).  The New York Times reports that police are still trying to determine "what type of projectile" the firearm in question was loaded with. As per the paper, the norm on movie sets is that any firearm is loaded with blanks. 
Many in the film industry have turned to social media to share their thoughts on the accident. Stephen Baldwin, Alec's brother, wrote on Instagram, "Asking for prayers tonight friends not much can be said other than please pray for all involved in the tragic in the wake of this tragic accident thank you."
Director James Gunn tweeted, "My greatest fear is that someone will be fatally hurt on one of my sets. I pray this will never happen. My heart goes out to all of those affected by the tragedy today on Rust, especially Halyna Hutchins & her family."
Stars are describing the event as 'a horrible tragedy,' 'a catastrophic event,' and 'absolutely horrifying and devastating'
Joe Manganiello worked with Hutchins on the film "Archenemy." He posted on Instagram, "She was an absolutely incredible talent and a great person. She had such an eye and a visual style, she was the kind of cinematographer that you wanted to see succeed because you wanted to see what she could pull off next. She was a fantastic person. There was no amount of pressure she couldn't handle. She was a great collaborator and an ally to anyone in front of her camera. Everyone who knew her was rooting for her. I can't believe that this could happen in this day and age ... gunfire from a prop gun could kill a crew member? This is a horrible tragedy. My heart goes out to her family and especially to her son. I am so sad today for everyone who knew her and worked with her..."
"Absolutely horrifying and devastating news about cinematographer, Halyna Hutchins. My heart goes out to her family," Elijah Wood tweeted. Mia Farrow, for her part, tweeted her "sorrow and absolute horror that cinematographer Halyna Hutchins was killed on set." 
A tweet from columnist and podcaster Benny Johnson said, "BREAKING: Alec Baldwin kills person with gun, criminal investigation underway This is the accurate headline fyi." Debra Messing's response was as follows: "It is absolutely NOT. A prop gun was handed to him. He used it in the scene. Then — a catastrophic event happened where Halnya Hutchins lost her life and Joel Souza was injured. I am praying for all of their families" (via Twitter).
Meanwhile, a crew member who talked to the Los Angeles Times affirmed that, at the time of her death, Hutchins had been in the midst of advocating for safer conditions for her crew.