The Actual Lip Color Sarah Paulson Wore In American Horror Story: Hotel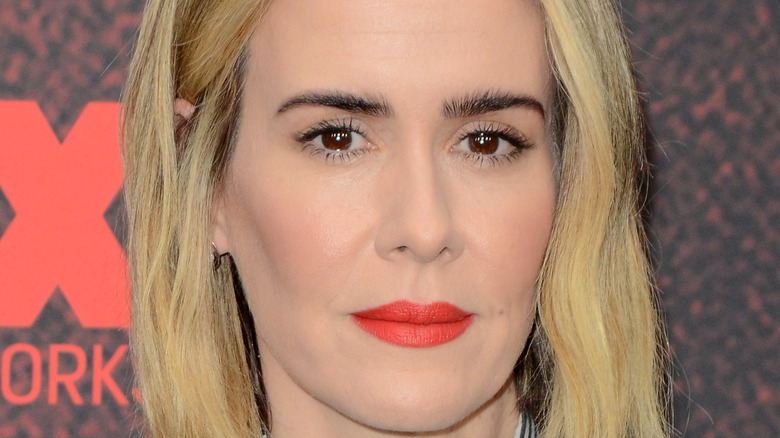 Kathy Hutchins/Shutterstock
Ryan Murphy's "American Horror Story" anthology has been haunting audiences since the first season premiered in 2011. The show features several recurring cast members, including Evan Peters, Lily Rabe, Emma Roberts, and Jessica Lange. But there's one actress in particular who was dubbed the "Reigning Queen of the AHS franchise" by FX since she's appeared in every single season of the show thus far. That actress is Sarah Paulson, who completely transforms into each new character she's given by Murphy.
From conjoined twins Dot and Bette Tattler on "American Horror Story: Freak Show" to Ally Richards in "American Horror Story: Cult," Paulson has the unique ability to completely inhabit her roles (via FX). It isn't just the changes in her physical appearance that make Paulson's performances so memorable — though the makeup, hairstyles, and prosthetics do help — it's also her uncanny ability to embody the subtle nuances of the individual characters.
If you've been following "AHS" over the last 10 years, you'll know that Paulson's strength lies in her ability to steal every scene she's in, and her portrayal of "Hypodermic" Sally McKenna in "American Horror Story: Hotel" is no exception (via IMDb). Sally McKenna is an absolute terror, to say the very least, and her unhinged antics cost several people their lives throughout the course of the season.
To transform into this role, Paulson rocked a crimped hairstyle, ripped fishnets, a leopard print coat, and a specific shade of lipstick that she famously smears across her face in one of the season's unforgettable scenes.
Sarah Paulson wears this S+M lip color in American Horror Story: Hotel
In "American Horror Story: Hotel," Sarah Paulson was tasked with playing a murderer with a heroin addiction who then goes on to haunt the hotel from the afterlife (via ScreenRant). Hypodermic Sally is one of Paulson's most memorable characters due to the complicated nature of her behavior. Sally does some terrible things, but she's frequently shown struggling with her own personal demons, and Paulson plays both parts with tremendous success.
In comparison with some of Paulson's other "AHS" roles, Sally McKenna required very few physical changes. Paulson's hair was crimped in a traditional 1980s style and fake scars were added to her arms to signify Sally's drug use (via W Magazine). In addition to changing her hair, Paulson wore distinct makeup products to showcase Sally's personal sense of style. More specifically, Paulson wore the S+M Sultry and Matte Lipstick in the shade "No Explanation," according to Brittany Cale on TikTok.
If you're still looking for an easy Halloween costume, all you need to replicate Paulson's look in "American Horror Story: Hotel" is a great leopard print jacket, an old-school crimper, and this super bold lip color.