The DWTS Couples With The Hottest Chemistry According To A Body Language Expert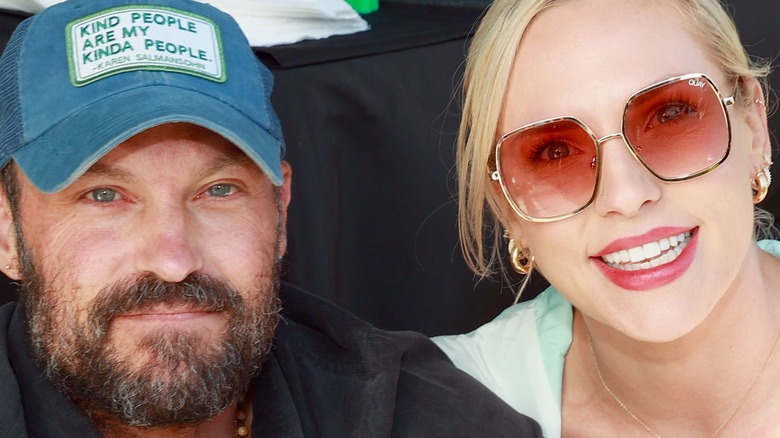 Matt Winkelmeyer/Getty Images
Season 30 of "Dancing With The Stars" is one for the books. The amount of talent in the ballroom this season is at an all-time high as the contestants aren't playing around. Each celebrity wants to win that Mirrorball Trophy and be crowned the Season 30 champion alongside their professional partners, and there is plenty of chemistry on the dance floor as well. The perfect pairings that fans are seeing play out during the season are all due to the hard work of the producers, per Us Weekly. While some stars may have a preference about which professional dancer they're paired with, the producers have the final say and they've seemed to perfect the process.
"That's why we meet all the celebrities and know all the dancers because some celebs think they know better," casting producer Deena Katz previously told Glamour. "We are never ever going to try to pair people that we think won't get along. We always want the best pairing because we know them so well," she added. Meanwhile, former showrunner Robe Wade also confessed that the show is strategic about how they choose partners. "We don't pair people who aren't going to get on. It's too intense. That would just be a miserable experience for the celebrity, for us and the viewer," he said.
This season it seems that they hit the nail on the head when it comes to the partnerships, according to one body language expert.
Brian Austin Green and Sharna Burgess brought their real-life romance to the ballroom
"Dancing With The Stars" Season 30 began with 15 couples, and although some stars such as former "Bachelor" Matt James and "Cobra Kai" star Martin Kove got the boot early (via Gold Derby), there have been some incredible moments along the way. Recently, body language expert Blanca Cobb opened up about the three couples with the most ballroom chemistry judging from their body language in their promotional photos, per Cosmopolitan. Cobb admitted that Brian Austin Green and Sharna Burgess had an incredible connection during their time on the show, and that's no surprise since they're a real-life couple.
"Whoa, there's a lot of heat in this photo! Sharna is enveloping Brian at different angles from the back and side. With her right forearm resting on his shoulder, we get a sense that Sharna has cut the distance between them and is standing close against his back," she said.
She continued, "Sharna's left leg is hiked up and resting on Brian's side. Brian is holding her leg with a wide finger spread, which allows him to touch more of her. Although we can't see his pinky, I'd bet that pinky is touching the underside of her leg. When you have a physical connection with someone, you want to touch more of them. HOT!" 
Close friendships have also created intense chemistry says expert
Of course, you don't have to be dating to have an intense connection claims body language expert Blanca Cobb. Cobb revealed that "Dancing With The Stars'" first-ever same-sex couple JoJo Siwa and Jenna Johnson also share a solid bond, as evidenced in their promo picture as well as on the show. "When you connect with someone, you can't help but get physically closer. This is precisely what's happening between this dancing pair," Cobb told Cosmopolitan. "Jenna and JoJo's bodies are facing each other from their shoulders to their feet. And notice how both ladies lean in towards one another. They're so close that their upper bodies are touching. What a handhold! There's definitely some dancing chemistry between these two."
In addition, the expert also claims that Amanda Kloots' friendship with her dance partner Alan Bersten is also evident by their body language. "Amanda and Alan share heartfelt chemistry. When you vibe with someone, your body language tends to mirror each other's. Amanda and Alan's heads are angled towards one another, and they both have similar genuine smiles. She's standing behind him and yet, very close. Alan pulls that closeness towards him and rests his hand near his heart, which signals that he's holding onto someone special. The leg touch between the two is a silent sign of the chemistry that's sure to heat the dance floor," Cobb revealed.
It's hard to deny the chemistry between these couples, but fans can judge for themselves when "DWTS" airs Monday nights on ABC.