How Much Weight Did Robert De Niro Gain For Raging Bull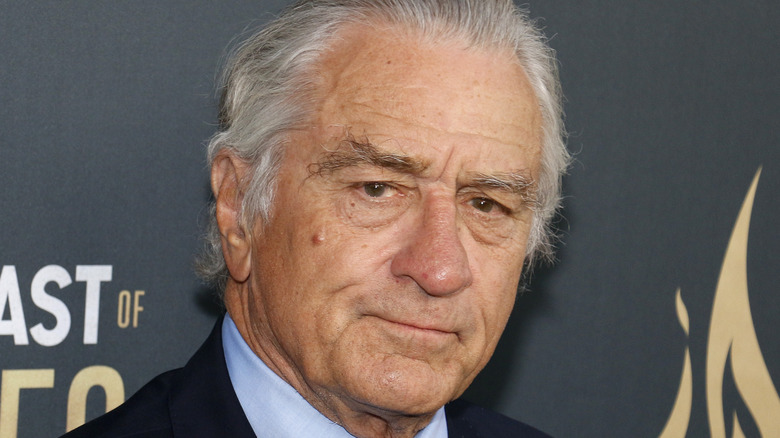 Tinseltown/Shutterstock
There are dozens of performers who decide method acting is the route to go with their roles, but none like Robert De Niro. Thanks to his training under Stella Adler and Lee Strasberg (via Collider), De Niro was taught the Stanislavski Method – a technique developed in the early 1900s by Russian actor and theatre director Konstantin Stanislavski (via Drama Classes). His method is used for actors to better portray emotions on stage and screen by inhabiting the character.
De Niro employed this method in many of his roles, including Travis Bickle in "Taxi Driver," a young Vito Corleone in "The Godfather Part II," and Michael Vronsky in "The Deer Hunter." But it was his portrayal of professional boxer Jake LaMotta in "Raging Bull" that truly encapsulated De Niro's work ethic. Not only did the actor completely inhabit the role, but he underwent a major transformation to fully translate the boxer's life to screen.
Obsessed with bringing Jake LaMotta's story to screen, De Niro wanted to showcase "the primal emotions" of La Motta to a middle-class audience as the actor explained to Vanity Fair. While the film was directed by long-time collaborator Martin Scorsese, the film itself was totally a De Niro project.
Robert De Niro gained 60 pounds to emulate Jake La Motta's decline in Raging Bull
Training with La Motta for almost a year, Robert De Niro trained and boxed for over 1,000 rounds to add 20 pounds of muscle to his, at the time, 145-pound frame according to Vanity Fair. The actor got so good at boxing, in fact, that La Motta scheduled three professional matches where De Niro won two.
But in La Motta's decline, the boxer gained a considerable amount of weight. De Niro did the same, and ended up gaining 60 pounds over the course of four months to achieve the desired goal. This was during the period where production for "Raging Bull" moved from Los Angeles to New York, which is when De Niro was scheduled to shoot for "The Godfather Part II" in Italy (via CNN). According to Head Stuff, De Niro rocketed up to 215 pounds which resulted in the actor suffering from breathing difficulties.
Unsurprisingly, De Niro described "Raging Bull" as the toughest role he's had to prepare for during an appearance on The Hollywood Reporter's Actor Roundtable. It was actually La Motta's weight gain that partially inspired him to take on "Raging Bull." "I thought the graphic difference of being out of shape then being a young fighter really was interesting," De Niro explained. "I thought I'd like to see if I could gain that weight. So that was my interest and Marty [Martin Scorsese] had his reasons, and both of us just came together on the project."