The Truth About The Giant Pickle That Jimmy Fallon Found On His First Day On Late Night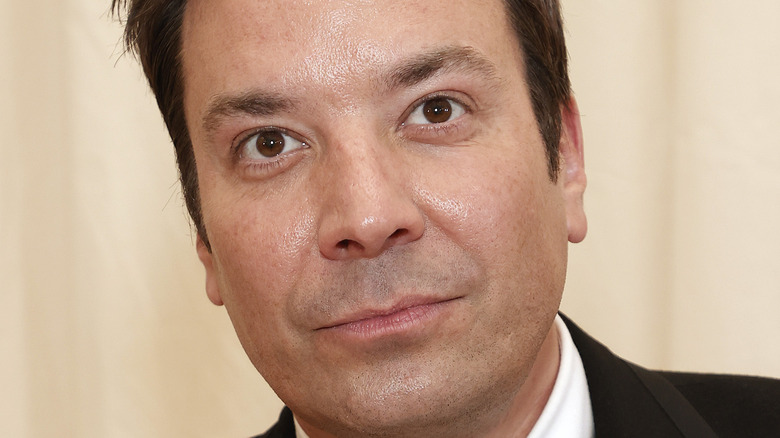 Arturo Holmes/mg21/Getty Images
Jimmy Fallon is such a fixture on the entertainment scene that it's hard to believe he was once a struggling actor who got his start with bit parts in movies and on TV. But his persistence and talent eventually paid off, and he achieved his lifelong dream of becoming part of the "SNL" cast. Following his six-year stint there, Fallon starred in a number of movies before returning to television. In a move that was all too appropriate for someone who co-anchored the "Weekend Update" news segment of "SNL," the comedian was tapped to take over as host of the "Late Night" show. (Coincidentally enough, Fallon was voted "Most Likely to Take Over for David Letterman" in elementary school, according to Factinate.)
When Fallon first showed up for work on the "Late Night" set, he received a welcome that was unusual, to say the least. The departing host, Conan O'Brien, left an enormous plastic pickle — yes, you read that right — in his office. The giant gherkin had a note taped to it reading, "Whenever you're done, which won't be for a long time, make sure you pass it on to the next sap. Knock 'em dead. Conan" (via Today).
The unique gift was originally given to O'Brien by the original "Late Night" host, David Letterman, who departed the show in 1993. Why a pickle? Letterman has apparently never offered an explanation. Then again, this is the man who used to do things like dressing in a Velcro suit, tossing random items off the roof of a five-story building (via Uproxx), and making celebrities out of souvenir-store owners Mujibur and Sirajul (via CBS).
Jimmy Fallon passed down the fun tradition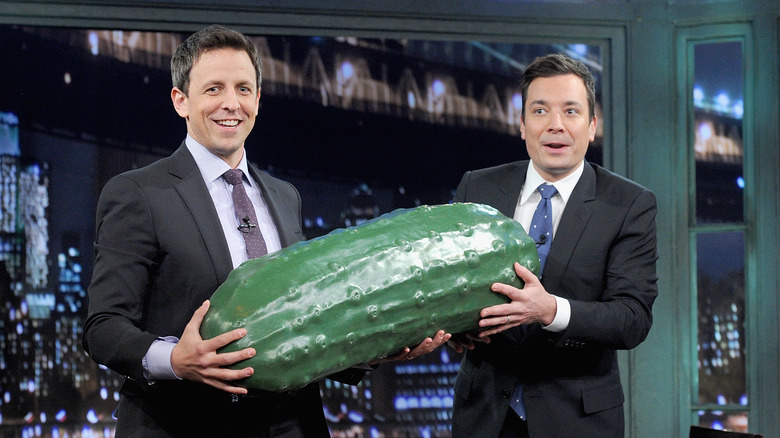 Jamie Mccarthy/Getty Images
Jimmy Fallon hosted "Late Night" for five years, stepping down in 2014. Not one to break from tradition, Fallon presented the pickle on-air to his successor, Seth Meyers. "I've been stuck with it for five years — I mean, I'm so blessed to have this thing for five years," he announced (via Today). "And so now, I would like to present it to you ... this is the passing, the passing of the pickle." Meyers graciously accepted the prop, though he wondered if he had room for it. 
Unlike Fallon's departure from "SNL," he wasn't looking to advance his acting career. Instead, as his fans know, he went on to sit behind an equally famous desk as the new host of "The Tonight Show." He follows in the illustrious footsteps of such late-night giants as Jack Paar, Johnny Carson, and Jay Leno. On his debut episode, Fallon reminisced about watching Carson when he was younger and added, "I just want to do the best I can and take care of the show for a while." He also hoped his father, who was in the audience, was proud of him (via Deadline).
As for Meyers, Deadline also reports that he's contracted to stay with "Late Night" through 2025, which gives him a few more years with his dilled companion. It can be safely assumed that he'll one day pass down the tradition to a new host. He'd be in quite a pickle if he didn't.