The Impression That Landed Jimmy Fallon A Spot On SNL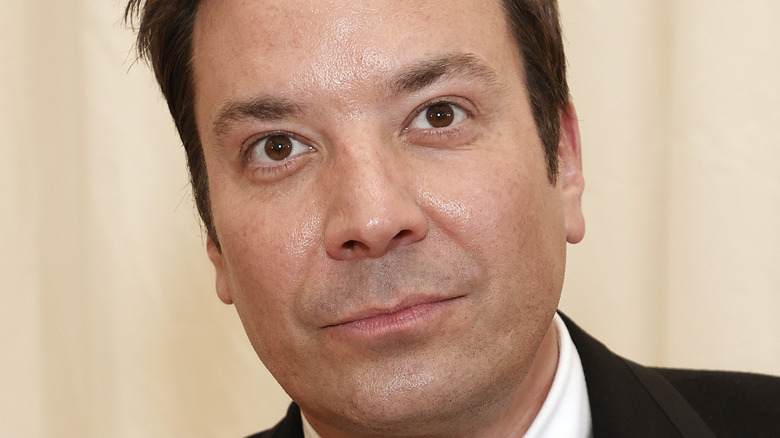 Arturo Holmes/mg21/Getty Images
Today, comedian Jimmy Fallon is well-known as the host of "The Tonight Show with Jimmy Fallon" — and prior to that, for his work on "Saturday Night Live," where he was a cast member from 1998 to 2004 (via Britannica).
Between his work behind the Weekend Update desk with co-anchor Tina Fey and his myriad of impressions, Fallon seemed like a natural fit on the show. However, getting on "SNL" is no easy feat — even for those who go on to become the show's superstars. The first time Fallon auditioned, he sent in a tape from Los Angeles and was subsequently invited to try out for the show in person (via CheatSheet).
Fallon then performed a Troll doll routine that had previously won him the title of "funniest person in the Hudson Valley." Via the Troll doll routine, Fallon delivered "12 impressions in two minutes," John Travolta and Jerry Seinfeld among them. So of course, it seems natural that Fallon would trot out the routine to try to impress the big guns, aka Lorne Michaels. Sadly, the Troll doll had seen better days.
"I totally bombed it and it was terrible," Fallon recalled. "I couldn't get the crowd going, they didn't quite know what I was talking about, and I rushed into it. I was so nervous." Fallon didn't get the gig; he was passed over for Tracy Morgan.
What finally got Fallon on "SNL"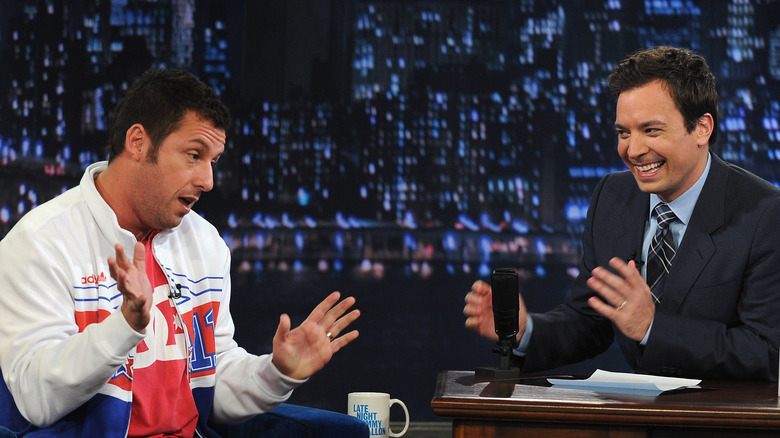 Theo Wargo/nbcuniversal/Getty Images
The next year, Jimmy Fallon had the opportunity to audition for "SNL" again, and this time he nailed it, thanks to an impression of former cast member Adam Sandler (via CheatSheet).
"At the time he had just left the show, and no one had done an impression of Adam," Fallon shared. "And I made Lorne laugh — he put his head in his hands, and he laughed, and I thought, 'Wow!'"
When Fallon was hired, he went to Sandler to clear the impression with him (via Vulture). "You go 'All right, all right. Do the impression for me.' I was like, 'Oh my gosh,'" Fallon reminded Sandler when the "Uncut Gems" star paid a visit to "The Tonight Show." "I just did, like, you know, the goofy 'Yabbadaba!'" And you go, 'All right, that's good. Good luck, kid!'"
Reports of Fallon's impersonations would get back to Sandler, but he brushed it off. "I do remember always getting calls from anybody who mentioned your name, from friends in my hometown, going 'Hey, did you see they were making fun of you?'" Sandler shared. "But as I got older, I was like, 'What the hell is the difference, man? It's fun! Who cares!'"
While there are many fans of Fallon's Sandler impression, the two biggest are his daughters, Winnie and Franny (via E!). While referencing the impression to Sandler, Fallon revealed, "This is the first [and] only time they've ever laughed at me."