The Exact Lip Color Kerry Washington Wore In Scandal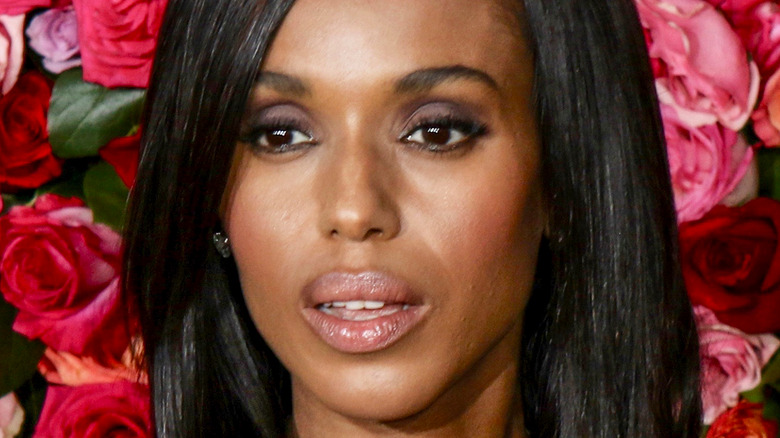 lev radin/Shutterstock
The show "Scandal" might not be on-air anymore, but that doesn't mean fans have forgotten about the iconic Olivia Pope. Played by Kerry Washington, this character was always on point with her fashion choices and her crisis management tactics. However, if there's anything on the show that's as iconic as her wine glasses and the popcorn, it's her lip colors. The star always looked pulled together but at the same time ready for anything. When you find out what lipstick Olivia Pope was wearing in the series, the color will make so much sense. 
If you're looking to add a lip color to your makeup bag, Olivia Pope's go-to is the one for you. According to Brittany Cale on TikTok, Kerry Washington's go-to lipstick as Olivia Pope was Clinique's Chubby Stick in Whole Lotta Honey. The gorgeous neutral-toned shade looked absolutely stunning on her. Whether her character was running from the White House to her office or just settling in with a glass of wine at the end of the night, this lip color definitely delivered. 
Clinique's Chubby Sticks are the perfect go-to products
Any fan of "Scandal" knows how busy Olivia Pope was. The character was constantly running around, saving some politician or getting into a little trouble of her own. So, it totally makes sense that makeup artists used an effortless product on Kerry Washington. According to the Clinique website, Chubby Sticks are described as a "no-mirror required" and "mistake proof" color. Allure seconds that it's super easy to apply. That means that Olivia Pope could easily throw it in her purse and apply a fresh layer as she's riding up the service elevator in the White House. 
It also means that you can easily nail the look as well. Clinique's Chubby Stick Moisturizing Color Lip Balm in Whole Lotta Honey is available to buy right now for $19. It's also one of the brand's permanent shades, so you should have no problem stocking up on this Olivia Pope-approved must-have. If Whole Lotta Honey is a bit too dark for your skin tone, though, there are plenty of lighter shades to choose from as well. The easy-to-apply product has 15 different shades to choose from. 
Olivia Pope's other go-to products are affordable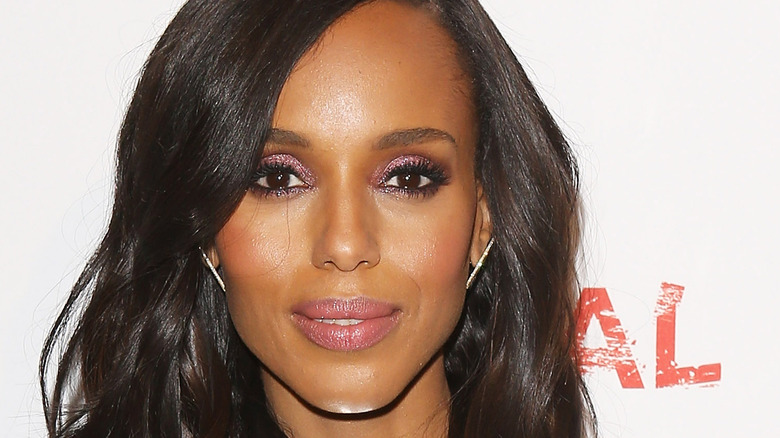 Michael Tran/Getty Images
It turns out that the TikTok rumors are completely true, too. The head of the "Scandal" makeup department, Denise Hooper, told Refinery29 that Kerry Washington was almost always wearing Clinique's Chubby Stick in Whole Lotta Honey. She also told the publication about some of her other go-to products, and each one is just as incredible. You're definitely going to want to stock up on a few of these products.
Hooper tells the publication that the go-to foundation for Washington in "Scandal" was Giorgio Armani Luminous Silk Foundation. While that's not exactly the most affordable product used, there are some staples that you can pick up right at the drugstore as well. Hooper says that Neutrogena's Nourishing Eye Liner in Cosmic Black and the brand's Healthy Volume Mascara were used to get the winning eye combination. Both are under $10 and available at Target. You're welcome.
Whether you're looking for a new office beauty look or you're just throwing on a few products to run to the store, you really can't go wrong with these Olivia Pope-approved products.