The Actual Lip Color Margot Robbie Wears As Harley Quinn In The Suicide Squad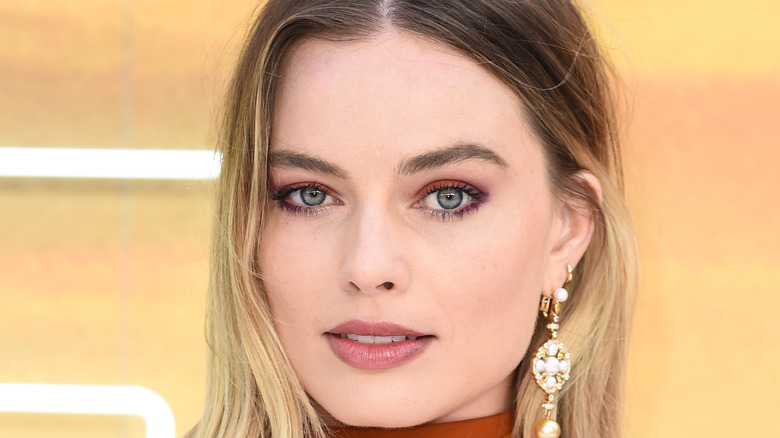 Featureflash Photo Agency/Shutterstock
David Ayer's "Suicide Squad" is widely considered one of the worst comic-book movies ever made, with a rating of just 26% on reviews aggregator Rotten Tomatoes. One thing that everybody agreed on, however, regardless of whether they loved or hated the film, was that Margot Robbie's enjoyably unhinged performance as legendary villain Harley Quinn was a standout. In fact, HuffPost even argued, "The next one should just be called 'Harley Quinn' cause Margot Robbie makes the movie." 
They got their wish, technically, with the significantly better received "Birds of Prey," which was released four years later (and earned a 79% on Rotten Tomatoes). Elsewhere, Robbie returned as Harley in James Gunn's redo, "The Suicide Squad," which came out in 2021. Thankfully gone were the hot-pants and fishnets; in their place a deconstructed ball-gown and combat boots. Harley's makeup was still fashionably smeared, of course, but her lipsticks also got noticeably tougher too. 
Harley Quinn's lip looks matched her unique personality
Harley Quinn spends much of "The Suicide Squad" separated from the rest of the crew, kicking all kinds of butt and looking effortlessly cool while doing so, as per usual. Her makeup is darker and more intense than in David Ayer's predecessor, to match Harley's punkier, and less sexualized aesthetic this time around. For those looking to replicate Harley's killer (literally) look, makeup artist Brittany Cale has got you covered. She shared a TikTok video confirming that, contrary to popular opinion, Harley doesn't go full goth in "The Suicide Squad" since her lipstick, although it may look black, was actually created by mixing eyeliner and lip balm together. 
Specifically, makeup artists used Smashbox's gel liner in "Fishnet," ensuring actor Margot Robbie wouldn't need to have it reapplied during long shooting days. Pick up the pencil online for $23 and top off with your go-to lip-balm. Elsewhere, Harley's eye-catching red lip is likely courtesy of Smashbox's dedicated "Suicide Squad" collection, according to Cale. You can buy Harley's shade, described as a "cool red," for $24 from Ulta. There's also, conveniently, a Harley Quinn Halloween makeup set comprising eyeshadow, gel eyeliner, and liquid lipstick so you can be Harley for just $30. Her "Birds of Prey" lip look, meanwhile, was similarly slick.