Joe Biden Gave Olivia Rodrigo These Gifts When She Visited The White House
Teen pop star Olivia Rodrigo did her part to encourage young Americans to get vaccinated in July 2021. When vaccination rates in the United States started to lag, the White House started pulling out all the stops to encourage people to get the COVID-19 vaccine before resorting to mandates in the fall. While many stars promoted the vaccine with selfies of getting their shots on social media, Rodrigo was actually invited to the White House.
While there, the 18-year-old "Deja Vu" singer met with both President Joe Biden and National Institute of Allergy and Infectious Disease Director Dr. Anthony Fauci. She gave remarks from the White House press briefing room and also recorded videos to tout the vaccine's safety and efficacy.
"It's important to have conversations with friends and family members encouraging all communities to get vaccinated, and actually get to a vaccination site, which you can do more easily than ever before, given how many sites we have and how easy it is to find them at vaccines.gov," Rodrigo said from the press podium (via CNN).
Rodrigo did her civic duty that day in the form of her vaccine endorsement, but she also received a few gifts before making her White House departure.
Olivia Rodrigo opened up about her White House souvenirs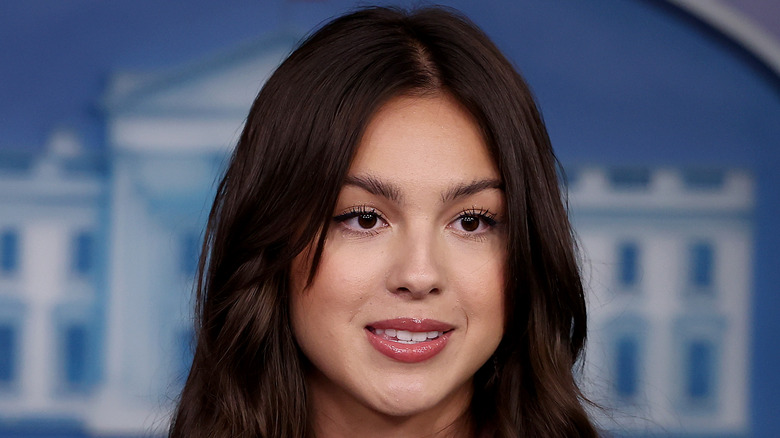 Chip Somodevilla/Getty Images
When megastar Olivia Rodrigo made an appearance on "Jimmy Kimmel Live" on Oct. 26, 2021, Kimmel asked her about the aviator sunglasses she was wearing in a photo of herself and President Joe Biden, with aviator sunglasses being one of the president's signature accessories. He wondered if she brought her own to match him.
"He gave them to me, actually," Rodrigo answered (via Yahoo! News). "He gave me a few gifts. He gave me those. He gave me some M&Ms, and he also gave me a shoehorn, which is strange."
Rodrigo admitted that she didn't even realize President Biden had given her a shoehorn — an unusual gift, indeed — until later when she found it in a bag. However, she described the entire experience as incredible.
"The White House is just the coolest place. I was so nervous to go," Rodrigo said. "But I, like, walked in there, and there is like all these plates that like George Washington used to eat his dinner on. And all of this crazy stuff. I was like, scared I was going to sneeze and break a priceless artifact. It was crazy. But I walked out, didn't break anything. Thank god."