What Happened To Donald Trump's Lawsuit Against Twitter?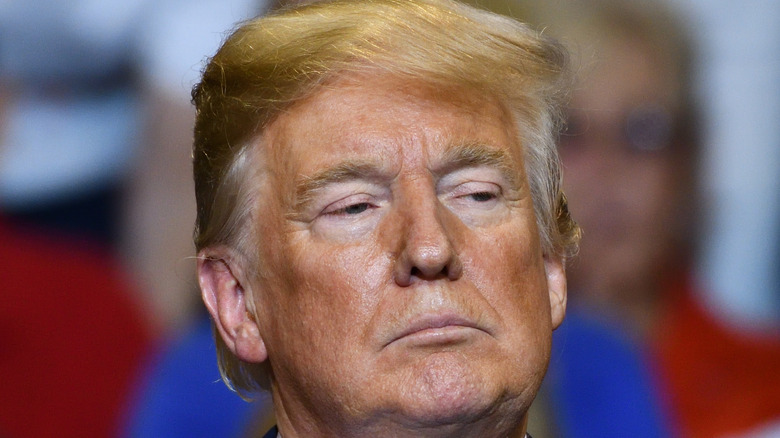 Evan El-Amin/Shutterstock
Research tells us that if you take the time to read the privacy policy and the terms and conditions of any new online service or social media platform, you'd likely need 30 minutes to read the privacy policy, and 15 minutes to cover the terms of service. Because most of us cover the privacy policy in 73 seconds, and the terms of service in 51 seconds, we're likely to have missed more than a few important details (via Researchgate). 
Unfortunately, ticking the box that indicates that you'd read all that and agreed to abide by the terms and conditions is legally binding, even if you are president of the United States. That's why Florida Federal Judge Robert N. Scola Jr. has cleared the way for Donald Trump's suit to be transferred to California at Twitter's request, because its user agreement clearly and simply states that all disputes relating to its terms or services "will [need to] be brought solely in the federal or state courts located in San Francisco County, California, United States," (via Court Listener).
Trump claimed that he should be exempt from Twitter's terms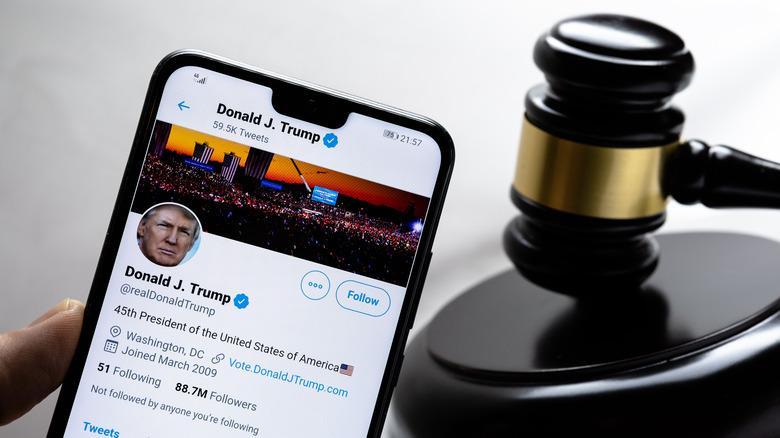 Ascannio/Shutterstock
Court records show that while Donald Trump's lawyers had argued that while their client accepted Twitter's user agreement, he is also opposed to enforcing it. The lawyers then said that because Trump was the president at the time his Twitter account was suspended, he should be exempted from abiding by Twitter's terms and conditions (via Court Listener). But Judge Scola appears to be having none of that, because as his ruling states, "[Trump's] status as [former] President of the United States does not exclude him from the requirements of the forum selection clause in Twitter's Terms of Service" (via Newsweek).
Trump's lawsuit against Twitter was filed in Jul7 2021, and claimed that by suspending him permanently, it had violated his First Amendment right to free speech. Trump's lawyers also claimed that Twitter and its founder, Jack Dorsey, had shut down Trump's account because the company had "succumbed to the coercion efforts of Democratic legislators and took actions to censor the Plaintiff's Twitter accounts based on their conservative beliefs." 
At the time, Dorsey had taken to Twitter to say that Trump's account had been permanently suspended, because there was a risk that more violence might occur after his supporters stormed the U.S. Capitol on January 6, 2021.
Trump has lost to big tech businesses before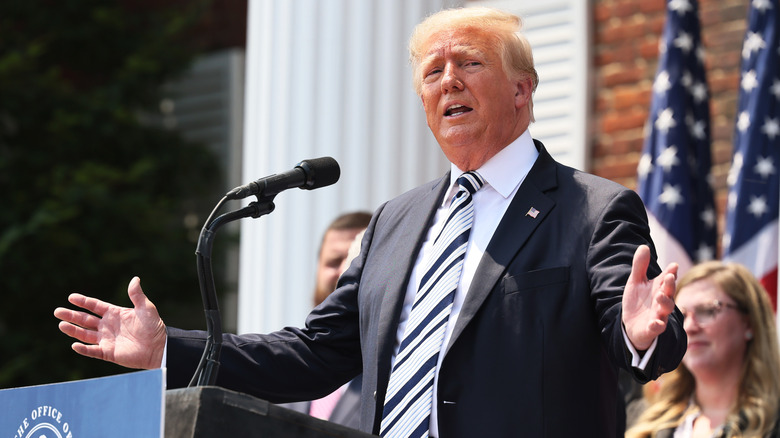 Michael M. Santiago/Getty Images
This is not the first legal battle against a tech giant that Donald Trump has lost. In early October 2021, another Florida judge ruled that the former president's lawsuit against YouTube owner Alphabet should be held in Northern California, because its terms of service allows Google to decide where lawsuits can and will be held. Like his Twitter lawsuit, Trump alleged that YouTube violated his freedom of speech, and that it had given in to pressure from the Biden administration and agreed to silence him (via Bloomberg). 
If Trump doesn't return to Twitter, YouTube, or Facebook, he needn't worry. He's already announced the launch of his own network, Truth Social — which might have suffered a few growing pains, but whose SPAC's value soared in the days immediately after it was announced. Still, as one social media user pointed out, "For a guy who wants to start Truth Social, he sure is spending a lot of time trying to get back on Twitter."