How Online Jokesters Derailed The Launch Of Donald Trump's New Social Media Site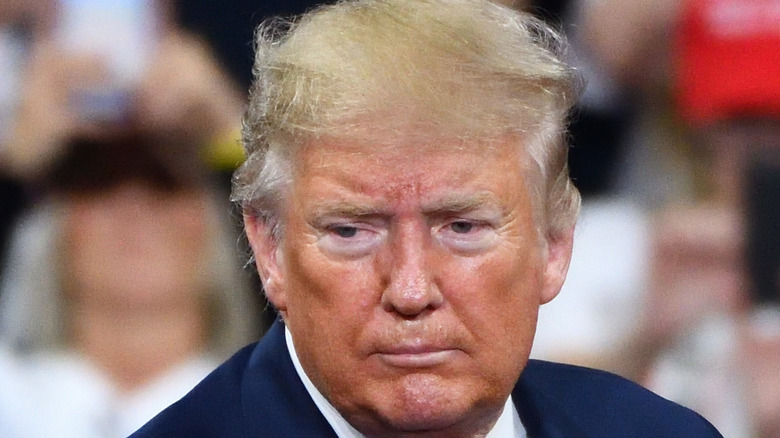 Evan El-Amin/Shutterstock
Former president Donald Trump may have had big dreams for his new Truth Social site, but it seems neither he nor the site's owner, the newly launched Trump Media and Technology Group, had thought about pranksters before they had set their targets. Weak security meant that within hours after the site's launch was announced, hackers with ties to the group Anonymous were able to create a "donaldjtrump" account and post an image of a pig relieving itself (via The New York Times). The Washington Post, which reported on the site's teething problems, also said a reporter had been allowed to create an account under the name "mikepence" and create posts, which are also known as "Truths" — and which have been compared to tweets, and "Re-truths" if the posts are shared.
Hackers told The NY Times that they were able to get into the site because the App is currently available to preorder on Apple's App store, and they were able to use that to track back to the beta site. Disruptions meant that Truth Social's developers eventually had to shut down their beta platform.
The site is attracting hackers and small-time retail investors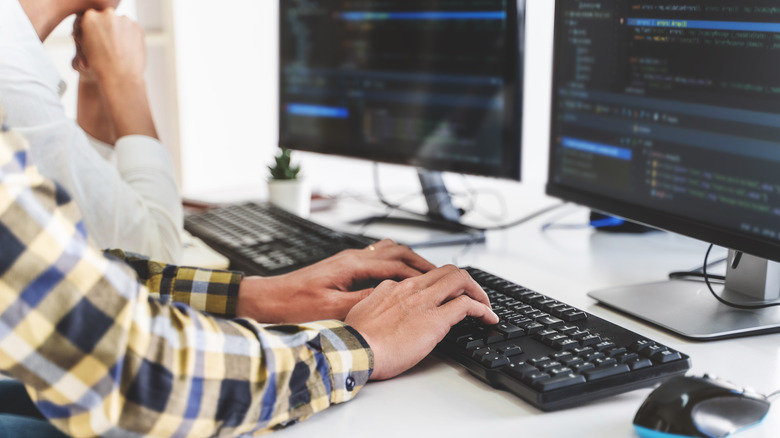 mojo cp/Shutterstock
Hackers were not the only ones who took potshots at Donald Trump's digital venture. Trump critics flocked to Twitter — a site he is permanently banned from — to share their thoughts about the platform and its terms and conditions. "So they get to just kick you from the website if they decide you were mean to them. Sounds like harsher censorship than the sites they accuse of unfair censorship," mused one social media user. 
Another observed that the site's policy pertaining to what it called the "excessive use of capital letters and spamming" could keep some users from expressing themselves to the fullest (via Twitter) "If you just wanted to truth "MAKE AMERICA GREAT AGAIN!!!" every few days you might be violating the ToS." A third quipped, "I haven't seen anyone engage in making this kind of total commitment to selling their version of the truth as the one and only real truth since I broke up a wild recess fight in the primary yard and asked a bunch of six year olds what happened? This should make even less sense" (via Twitter).
While the venture didn't appear too popular with hackers and certain members of the Twitterverse, Digital World Acquisition Corp (DWAC) — the vehicle that Trump Media is using to go public — has been the opposite. Its stock is trending upward, and it rose by more than two hundred percent at one point. CNBC, which is tracking the stock's movement, says there are signs that the SPAC's volatility is being driven by retail investors.