The Truth About Celine Dion's Marriage To Rene Angelil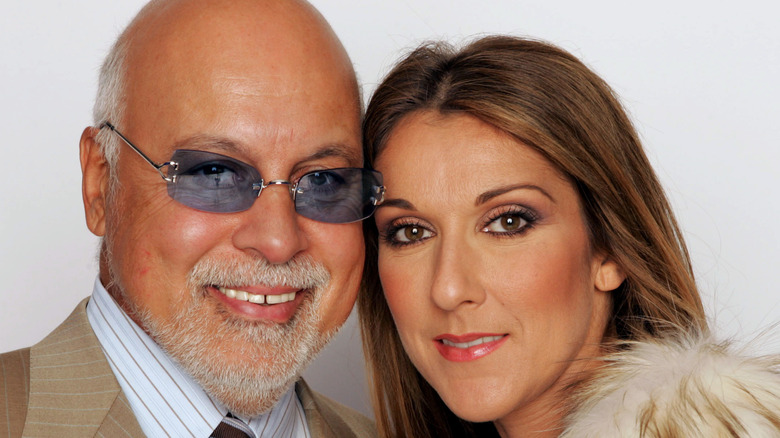 Frank Micelotta/Getty Images
Hollywood relationships don't ever seem to last. If a celebrity couple lasts for a year, they might as well have been married for a lifetime. We're convinced that one year of a Hollywood marriage is 10 years in the real world, and if that is the case, then Céline Dion and her late husband, René Angélil, were married for 220 years. Okay, that's not the real case, but Dion and Angélil tied the knot all the way back in 1994 and their love remained just as pure and dedicated as it was the day they got married.
Dion, of course, is the superstar singer whose massive hits and Las Vegas residency have boosted her into the ranks of the world's most successful singers. Her unique tone has set her apart, and her stardom is unmatched. But her dedication to her late husband, and the ways in which she has kept his memory alive, are as heartwarming as they are admirable — their love was once in a lifetime, and they knew it. So what made their bond so special, and what was their life like together? This is the truth about Céline Dion's marriage to René Angélil.
Céline and René's love affair started in the early stages of her life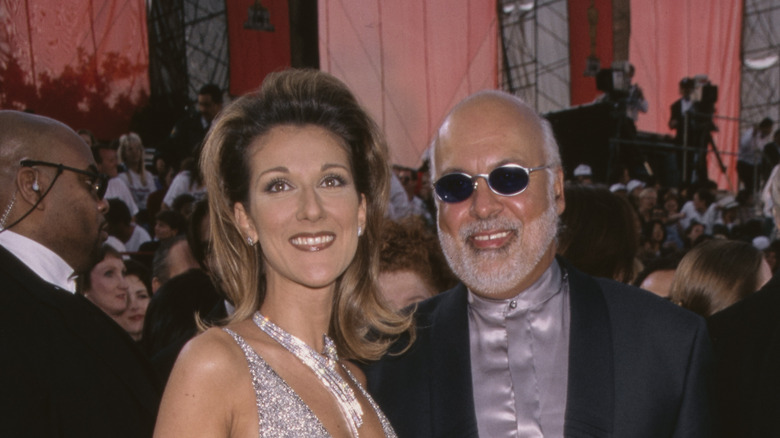 Michael Ochs Archives/Getty Images
Céline Dion was 12 years old when she was discovered by a manager, who happened to be René Angélil. Dion reminisced with People, and recalled that her brother had discovered Angélil's name on the back of a record and as such, took it upon himself to send Angélil a recording of Dion singing. Angélil must've been hooked, because he asked Dion to come sing for him live. "While I was singing he started to cry," Dion told People of their first encounter. "I knew then I had done a good job." 
So yes, Dion met her future husband at 12, and he was 38 at the time. So who was Angélil? As noted by The Washington Post, Angélil was a pop singer himself in Canada before turning his attention to management, and in all the years of being in the industry, he shared that he'd never heard a voice like Dion's. "At that time I had been in the business for 20 years," Angélil recalled to AP News. "In those 20 years, I had never heard ... someone like this little girl I had in front of me."
René believed in Céline's career so much, he made a risky move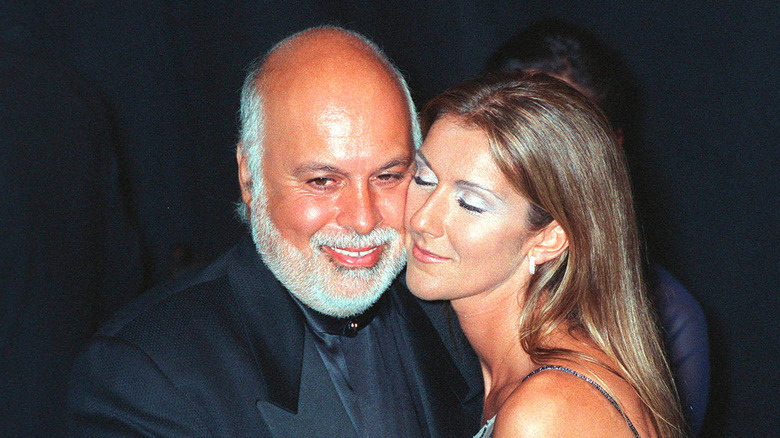 Featureflash Photo Agency/Shutterstock
René Angélil was taken aback by just how show-stopping Céline Dion's voice was, and he was so dedicated to making her the world's next superstar that he took a very bold and risky move. As noted by Us Weekly, Angélil mortgaged his house in 1981 in order to pay for Dion's first album, clearly indicating just how much he believed in her stardom. It was, of course, throughout their time working together that things turned romantic between Dion and Angélil, and when Dion was 19, the pair went on their first date. 
It was 1987, and Dion was absolutely taken with her manager. The superstar later admitted that she and Angélil had been dating for about a year before they went public — we can only imagine that both their age gap and their professional relationship stopped them from admitting their feelings to the world (via People). Of their early relationship, Dion told CBS News that Angélil was the "only man that [she] kissed" and that he was not just her partner, but that they "were one." "The only man that I loved," she shared. These two were clearly meant to be.
René suffered from his first health setback in 1992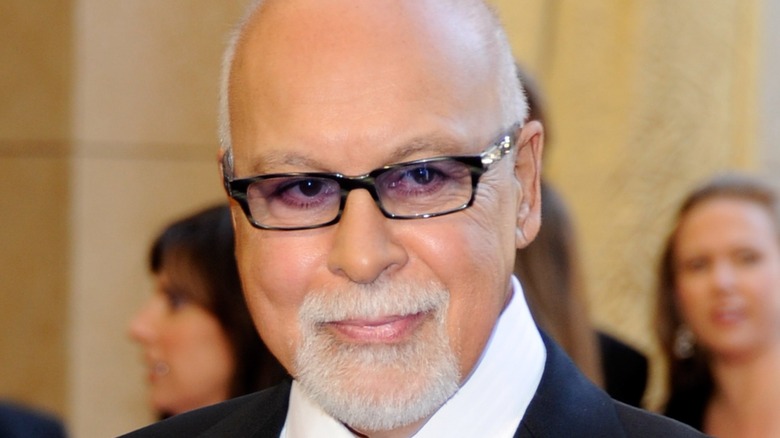 Ethan Miller/Getty Images
During the couple's early years together, René Angélil suffered his first health setback. He and Céline Dion were engaged at the time (although that wasn't public knowledge), and in 1992, Angélil had a heart attack. As noted by HuffPost, Angélil and Dion were at the Four Seasons hotel in Beverly Hills, California, when the event occurred. After an afternoon dip in the pool, the music manager experienced something that we all fear — he was even still in his swimsuit when taken to the hospital. 
"We came down the elevator, and it stopped at every floor," Dion later told People (via HuffPost). "I stood in the emergency room freezing. But they took real good care of him." So was Angélil all right? In a way, yes — he said that there was "no trace" of any long-term effects of suffering the heart attack. It's hard to say exactly what impact the heart attack had on the couple, but two years later, they finally went public with their engagement. "I was afraid of what people would think," Dion shared with People in 1994. "When you're in love, you want to scream it to the world."
The two got married in a lavish ceremony in 1994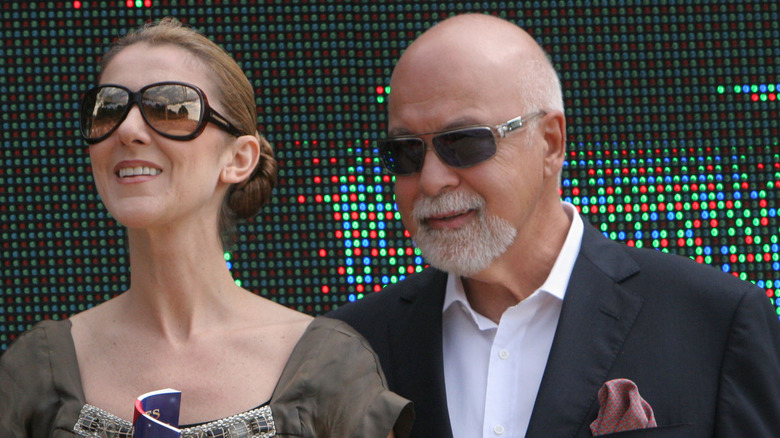 Marcin Kadziolka/Shutterstock
When we think of Céline Dion, we think of superstardom — she is able to leave us gobsmacked with her stunning looks and bold choices. Her wedding was no exception, and when she and René Angélil wed in 1994, she exceeded every expectation. As noted by Us Weekly, Dion and Angélil got married in a lavish ceremony at Montréal's Notre-Dame Basilica. Not only was Dion's dress stunning — it featured a 20-foot-long train — but her headpiece really had that "wow" factor. 
Here are all the details: As noted by Vogue, the dress was designed by Mirella and Steve Gentile, and featured both lace and crystals in a gown that took about 1,000 hours to create. The headdress, which is still such a moment, was a hair-covering that featured 2,000 Swarovski crystals that weighed more than seven pounds. Dion's neck must've been hurting by the end of that day! Of the nuptials themselves, Dion shared that her mother really wasn't supportive of the wedding at first, given the couple's 26-year age difference — but it certainly didn't seem like anything was going to get in the way of Dion and Angélil's love.
René became the mastermind behind Céline's impressive career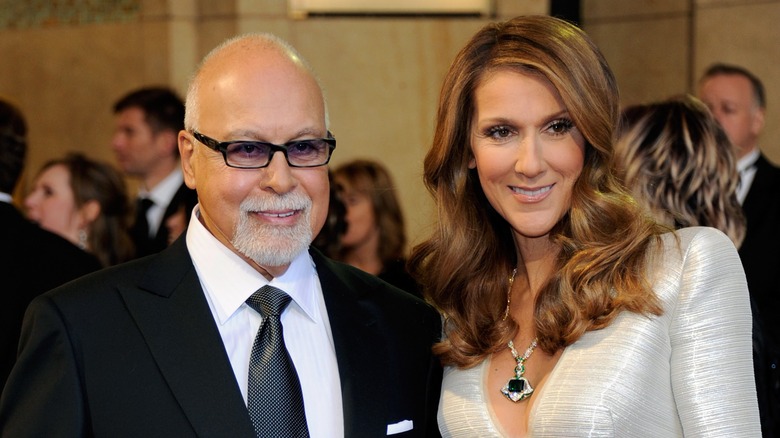 Ethan Miller/Getty Images
Some people are just meant to be together, and it seems that Céline Dion and René Angélil were destined to complement each other both in the professional world and in their personal lives. As their marriage and professional partnership evolved, Angélil became instrumental in Dion's career, and it's not hard to see why. As noted by Hello! Magazine, Angélil was a very respected music manager in Quebec prior to his work with Dion, and he had boosted the careers of singers such as René Simard and Ginette Reno. 
By the time he worked with Dion, Angélil was a force, and he helped the superstar along the path of her young stardom. Under his management, Dion won the gold medal at the Yamaha World Song Festival in Tokyo, and went on to release a gold record in France — a first for a Canadian singer. Flash-forward to 1991, and Dion's English-speaking album "Unison" became a hit and the song "Where Does My Heart Beat Now" projected her into the spotlight. Of their professional union, Dion said, "I'm not surprised that we married each other, because we have the same dreams" (via "Entertainment Tonight").
Céline Dion's husband found himself at a health crossroads again in the late 1990s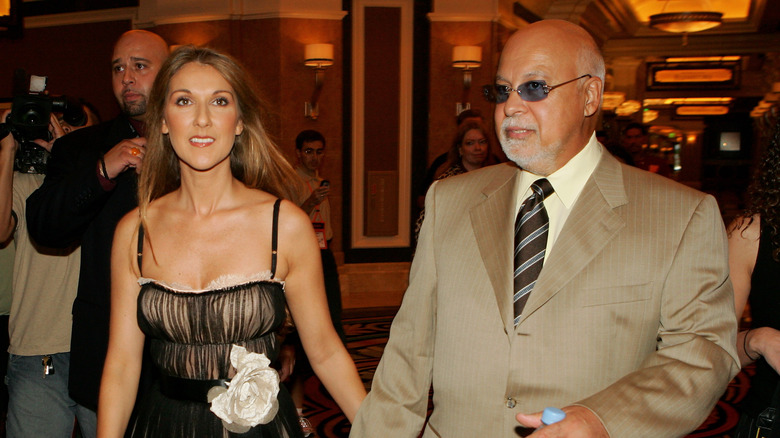 Ethan Miller/Getty Images
Nothing is scarier than watching your spouse go through a health crisis — that was the scenario in which Céline Dion found herself in the late 1990s, as her husband, René Angélil, was diagnosed with cancer. As noted by USA Today, doctors found a lump on Angélil's neck in 1998, and he was later diagnosed with malignant throat cancer. "We have asked (doctors) many times, how long does he have, three weeks, three months? René wants to know," Dion said of the situation at the time. "But they say they don't know." 
In light of her husband's health, Dion announced that she'd be taking a break from her career to not only care for him, but to take some much needed time off. As noted by People, the late 1990s were "a demanding few years career-wise," and the talented singer was looking to take time off to "focus on her personal life." Of her husband's condition, Dion said that the news — including the two operations and radiation that came with the diagnosis — hit her "so hard," but she was trying to find strength in the face of hardship, per "Entertainment Tonight."
The couple renewed their vows in 2000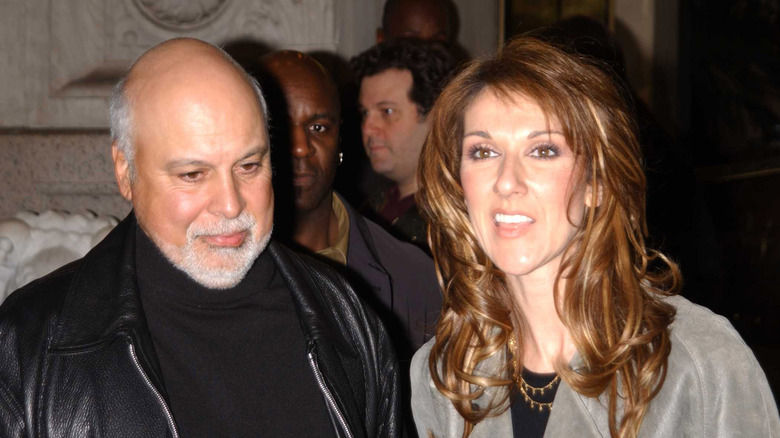 Arnaldo Magnani/Getty Images
Due in part to her husband's health, Céline Dion took two years away from the music scene to be by his side (via "Entertainment Tonight"). But the concerted effort to focus on René Angélil's health did pay off, because in 2000, he went into remission after battling throat cancer. To mark such a special occasion, as well as to mark the new millennium, Dion and Angélil decided to renew their wedding vows, and as you probably would've guessed, the vow renewal was just as lavish and grand as the couple's 1994 wedding. 
As noted by Vogue, Dion and Angélil decided to hold the ceremony in Las Vegas and opted for a Melkite ceremony — an ode to Angélil's parents, who married in a Melkite Catholic ceremony in 1937. Dion wore a gorgeous golden gown for the occasion, and the renewal was certainly a sight for the entertainment industry. Of the event, Dion said, per People, "It's almost like a show, and we're show business people." Makes total sense, given that Dion's chart-toppers like "My Heart Will Go On" were booming in the pop music scene.
Céline and René went through a highly publicized first pregnancy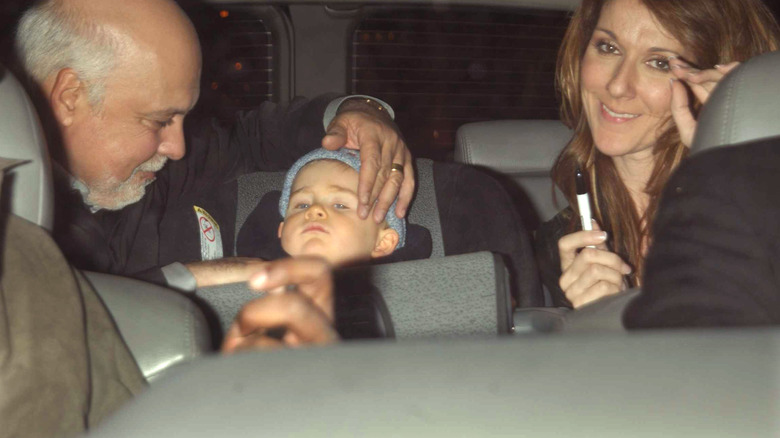 Arnaldo Magnani/Getty Images
Céline Dion made a name for herself as the woman whose voice could make angels weep — her anthem "My Heart Will Go On" was released in 1997 and still stands today as one of the best pop songs of all time. But for all the emotion that Dion included in her songs, she and her husband, René Angélil, had an incredibly difficult aspect of their personal lives that made the headlines. As reported by CNN at the time, Dion and Angélil welcomed their first child in January 2001, and their happy news was the result of in vitro fertilization (IVF), which is known for being an incredibly emotional process. 
Despite the difficulties that went into their journey, Dion and Angélil welcomed a healthy baby boy in 2001, named Rene-Charles Angélil and weighing in at 6 pounds, 8 ounces. A spokeswoman for the couple announced that both the baby and Dion were "doing absolutely well and are in perfect health," and that the couple had the "great joy" of announcing the news to the world. Dion's sister Claudette later told Canada's RDI news channel, "It is extraordinary. She is doing great."
René was instrumental in Céline's massive break in Las Vegas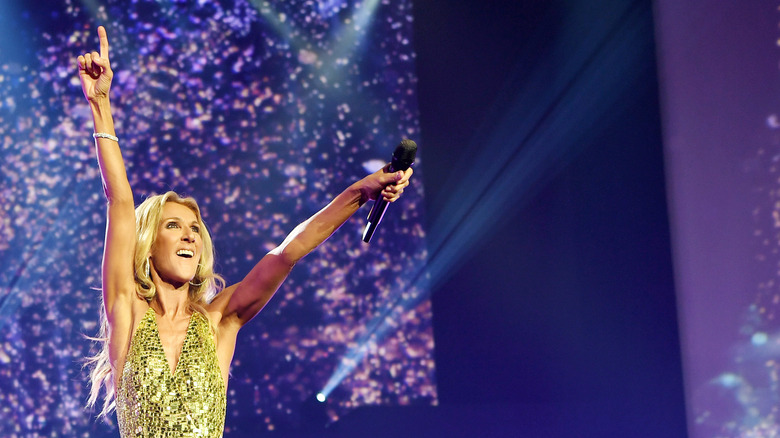 Denise Truscello/Getty Images
Céline Dion and René Angélil continued to work together professionally, and Angélil was instrumental in solidifying Dion's presence in Sin City. As noted by Hello! Magazine, Las Vegas was faltering in the early 2000s, and it was Dion who helped revive the city's showmanship reputation and economy. Her residency at Caesar's Palace was an admittedly dicey move, but Angélil was confident that the deal he secured with the hotel would pay off. 
As noted by People, Dion returned to the music scene in 2002 after taking a number of years off to focus on her husband's health and the birth of her son. But after she released her album "A New Day Has Come," the announcement of her residency shortly followed, which marked the start of a five-year-long period during which Dion became a Vegas fixture. Dion certainly benefited from her residency, but she admitted to NBC's "Nightly News" in 2015 that it was a "risky" move at the time. "A lot of people, especially in the industry, they thought it was a very high risk," she said. "But you take chances and you go for it. I'm more than glad that we did it."
2009 was a massively impactful year for the couple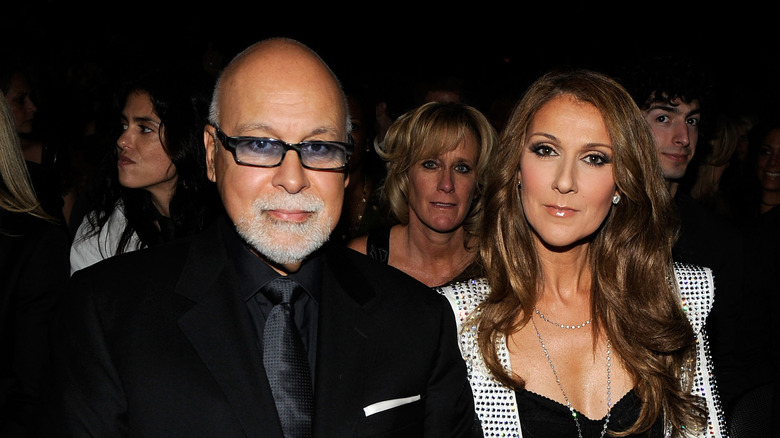 Larry Busacca/Getty Images
Every couple has a year that stands out to them — whether for good reasons or bad — and one of those years for Céline Dion and René Angélil was 2009. Think back to leggings, sequins, and questionable Pinterest wedding boards: It was during this era that things weren't the best for the dynamic couple. First and foremost, Angélil had yet again another health procedure. As noted by the Las Vegas Review-Journal, the music manager had to have a heart-related operation due to a blocked artery. Insisting to the publication that it was not "heart surgery," the couple's publicist noted that Angélil's procedure went well and that he was back home shortly thereafter. 
Of course, that was not the only hurdle that the couple faced in 2009. As noted by The Sydney Morning Herald, Dion tragically suffered a miscarriage just 10 days after she announced her pregnancy publicly. Her spokeswoman, Francine Chaloult, confirmed the news. The miscarriage came after an unsuccessful round of in vitro fertilization (IVF) in July 2009, and despite the horrible setback, the couple had plans to try for a third round of IVF.
The couple welcomed twins shortly after their heartbreaking loss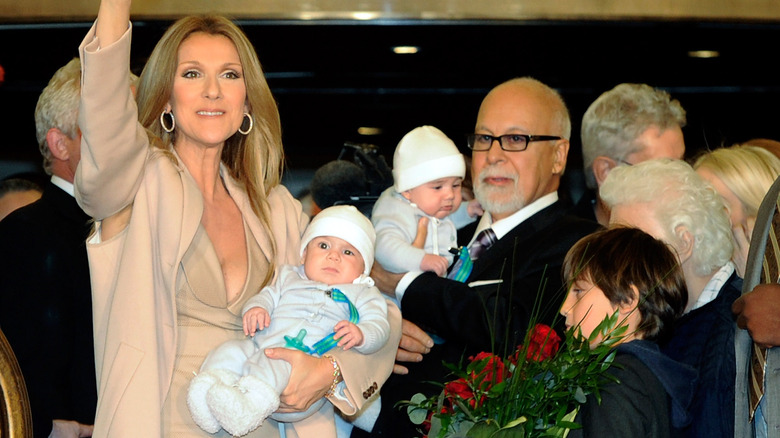 Ethan Miller/Getty Images
After pregnancy loss, Céline Dion and René Angélil announced in May 2010 that they were expecting twins. As noted by the New York Daily News at the time, Dion and Angélil made the announcement once Dion was 14 weeks pregnant (12 weeks is usually the threshold that many expecting people wait before telling others, as the first trimester is often the riskiest). In the wake of the news, Angélil told People (via the New York Daily News) that they were very fortunate to be expecting twins. 
"She was hoping for one baby and the news that we are having two is a double blessing," Angélil said. At the time that Dion became pregnant with the twins, she and Angélil had been through six rounds of in vitro fertilization (IVF). The singer had also taken steps, such as acupuncture, to increase her chances of getting pregnant. "I will be the happiest one to tell you when I'm pregnant," Dion said on the "Oprah" show in February 2010 (about three months before she got pregnant with the twins). The boys, Eddy and Nelson Angélil, were born in October 2010.
Céline took a sabbatical from performing to be by René's side as he battled cancer in 2014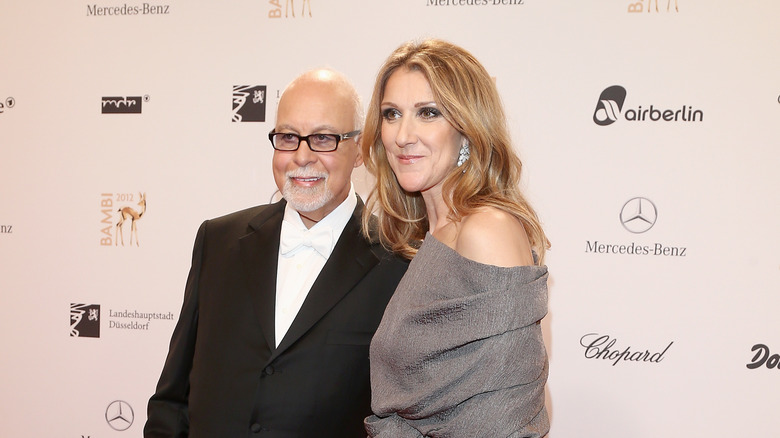 Andreas Rentz/Getty Images
René Angélil had numerous health concerns, and in 2014, his throat cancer returned. As noted by Hello! Magazine, Dion canceled her Vegas residency as a result, but eventually made her way back to the stage without her husband by her side, as he insisted that she carry on with her singing career despite his health. After her return to Vegas in 2015, Dion gave a press conference during which she talked about Angélil's prognosis. 
"I am scared of losing him, because it's bad," she said. "But I have to show myself, my husband and my kids that I'm strong and we're okay. I didn't want to be here at first. I don't need it. Don't get me wrong, I love singing for people, but I have priorities." Dion shared that all three of her children and Angélil insisted that she return to the stage, and in light of that, her songs suddenly had new significance to the storied singer. "The meaning of songs have a new meaning now," Dion said during the press conference. "I sung them, but now I mean it. To me they'll be different songs. To you, maybe not."
René succumbed to illness and died in 2016 at the age of 73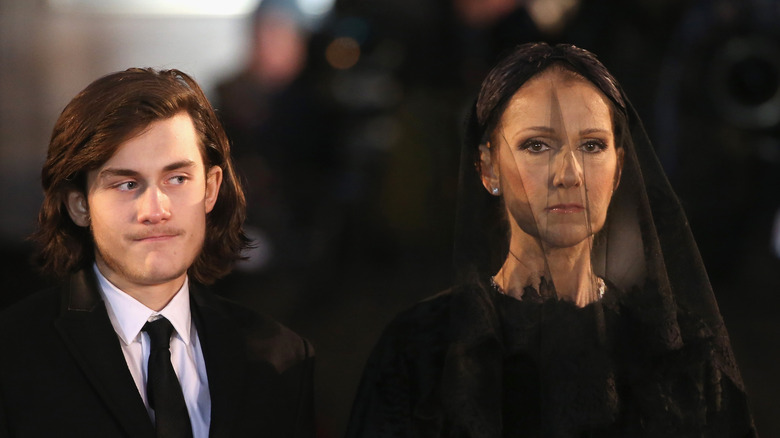 Tom Szczerbowski/Getty Images
The world's heart shattered for Céline Dion when her husband, René Angélil, died at the age of 73 on January 14, 2016. The two had shared a beautiful marriage and had proven to everyone that Hollywood romances could last. Dion confirmed the news via her website, stating that Angélil had passed away at home in Las Vegas "after a long and courageous battle against cancer." Asking for privacy at the time of the announcement, Dion's statement concluded by saying that more information about his passing would be provided with time. 
As noted by USA Today, Angélil had been sick — on and off — since 1998 and had spent the last two years of his life relying on a feeding tube. Dion told the outlet that after he had a number of operations in Boston, he came back home to Las Vegas to spend his last months there. Calling him "the only boyfriend I've ever had," Dion was incredibly open about her last moments with Angélil. "René says to me, 'I want to die in your arms.' OK, fine, I'll be there, you'll die in my arms," Dion shared.
Will Céline Dion ever date again?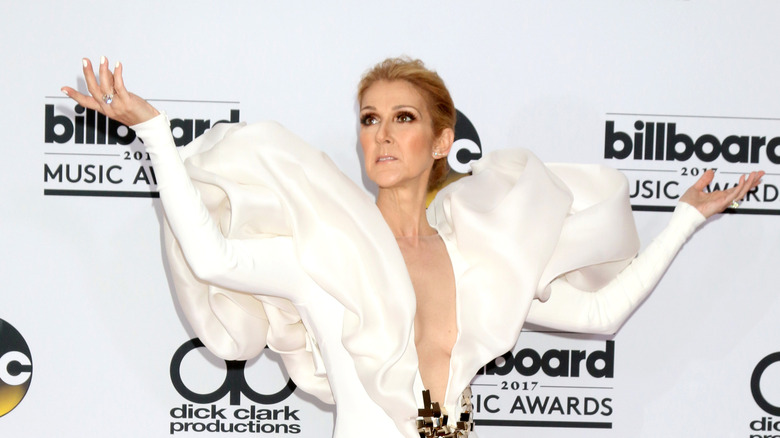 Kathy Hutchins/Shutterstock
It's been almost seven years, as of publication, that Céline Dion lost her husband, René Angélil, to cancer. While she has certainly continued to thrive professionally, Dion has made it clear that she isn't looking to date any time soon. During an appearance on NBC's "Today," Dion expressed that going through her husband's death was "quite something" for her and her children, and she has grown from the experience and from her husband's love as a result. 
"I feel like René has given me so much through the years and still today. I see my kids. I look at them — we live with him. We still live with him. He's part of our lives every day, so I have to say that I feel very, very strong," she said. When asked if she would ever consider getting back into the dating game, Dion shared that she hadn't made up her mind on that decision quite yet — either way, love is certainly not lacking in her life. "Right this second, love is so big right now in my life, with my kids, with life itself. I'm not thinking about a relationship and falling in love again," she said.