What We Know About Meghan Markle's YouTube Reading Of The Bench
In May 2021, Meghan Markle announced that she had written a children's book titled "The Bench," based on a poem she had originally penned for her husband, Prince Harry, and their son, Archie (via Glamour UK). As she described to NPR in June, the inspiration stemmed from a Father's Day gift she purchased for Harry. "As most of us do, you go, what am I going to get them as a gift? And I thought I just wanted something sentimental and a place for him to have as a bit of a home base with our son," Markle said.
This sentimental place ended up being a bench in the backyard of their California home, which the Duchess settled on as Prince Harry's Father's Day present. Markle inscribed a poem on a plaque for the bench that reads, "This is your bench, Where life will begin/For you and our son/Our baby, our kin." From there, Markle decided to turn this poem into a picture book featuring vignettes about fatherhood, centered around illustrations of the bench.
The images for "The Bench" were beautifully crafted by Christian Robinson, an award-winning illustrator (via Read Brightly). Even though some critics stated the book was "not interesting," sales of "The Bench" continued to soar. The story reached number one on the New York Times Bestseller List shortly after its release (via Observer).
Popularity is set to grow even further, as Meghan Markle's YouTube reading of "The Bench" for Brightly Storytime has already gained over 25,000 views since it was released earlier today.
Meghan Markle's YouTube reading of The Bench is a joyful experience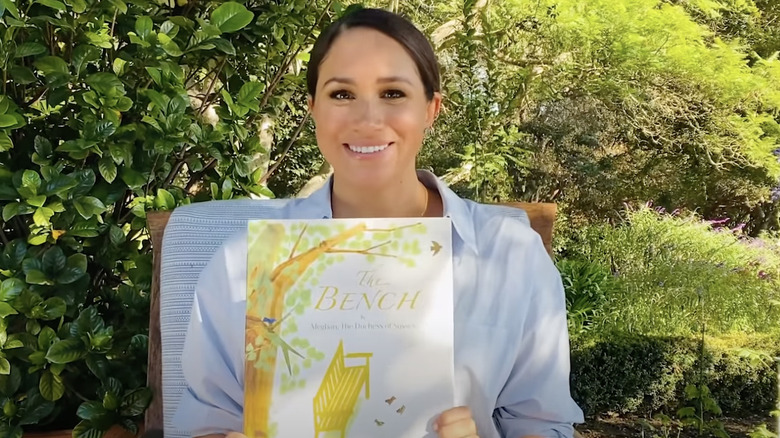 Wpa Pool/Getty Images
Brightly Storytime is a series of YouTube videos featuring notable celebrities reading their favorite picture books aloud (via YouTube). The sentiment behind these videos is to help children develop a love of reading. On October 27, 2021, the Brightly Storytime channel uploaded a video of Markle reading her picture book, "The Bench," from her gorgeous California garden.
Before she begins reading, Markle introduces herself and describes the inspiration behind the book. "I'm Meghan, the Duchess of Sussex ... I wrote this as a poem for my husband and our son, Archie, and then turned it into a book so you could enjoy it too," she says (via YouTube). The Duchess then goes on to credit illustrator Christian Robinson, and describes how he beautifully created watercolor images to accompany her words.
After Markle finishes "The Bench," she concludes the video with a warm message to viewers. "Now I hope you're able to go and find your own special bench, or chair or a little quiet nook — just a place that means something to you that you can share with someone you love."
This isn't the first time the Duchess has read her book aloud — she read the story to a group Harlem school children during her recent trip to New York with Prince Harry, and she generously gifted copies of "The Bench" to every student at the Assistance League of L.A. as well (per People).