The Truth About Penn Badgley And Zoe Kravitz's Relationship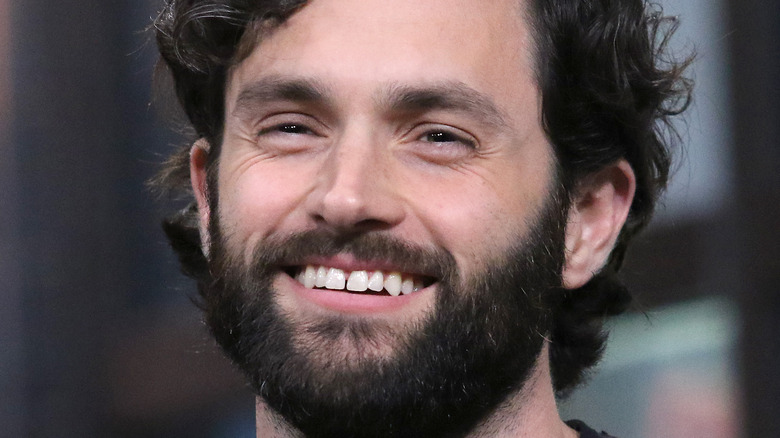 Jim Spellman/Getty Images
There are certain celebrity relationships that pique our interest more than others. How did this couple meet? Do their families get along? What do they talk about over dinner? Maybe it's because we're curious or maybe it's because we're a little bit nosy, but it's fascinating to think of the myriad ways in which two unlikely celebrities can end up together. One of the best examples of this is the short-lived romance between Penn Badgley and Zoe Kravitz.
Badgley and Kravitz maintained a relatively private relationship for the two years they were together. Even though they shared an apartment in New York City before parting ways, they didn't publicly discuss the details of their life together (via New York Daily News). They began dating in 2011, but sources have been unable to determine where or how they met. Both Kravitz and Badgley spoke about their relationship at different points while promoting their work during that two-year period, but neither expressly detailed what drew them together in the first place.
We've done some serious sleuthing to uncover the truth about Penn Badgley and Zoe Kravitz's relationship, including what Zoe's dad, Lenny Kravtiz, thought of her beau.
Penn Badgley and Zoe Kravitz dated for two years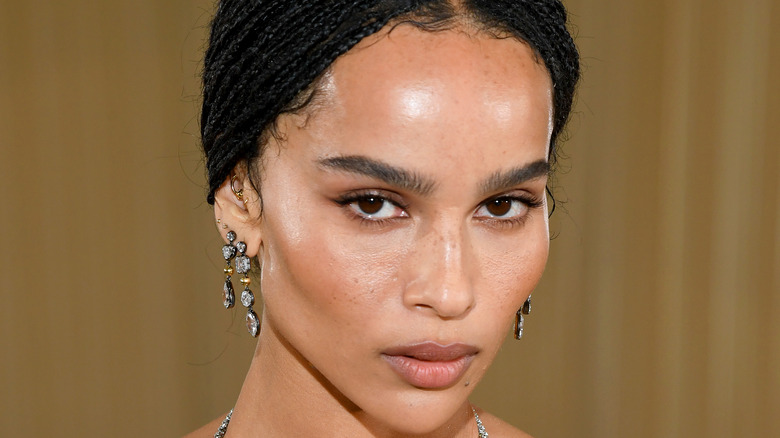 Kevin Mazur/mg21/Getty Images
Penn Badgley and Zoe Kravitz shared an intense bond during the two years they were together. Both Kravitz and Badgley spoke of their relationship in previous interviews, but the former "Gossip Girl" actor was much more open about the depth of his feelings. In 2012, Badgley portrayed singer Jeff Buckley in the indie film "Greetings From Tim Buckley," and he spoke of how his relationship with Kravitz served as inspiration when he was preparing for the role.
In an interview with Yahoo! in 2013, Badgley said, "At that time I was falling madly in love in a way that was changing me and opening me up. And it was an integral part of playing Jeff." He revealed during that conversation that he met Kravitz in New York City, but failed to divulge further details on the circumstances that brought them together. He did, however, go on to discuss some difficulties they faced in their relationship in another interview later that year.
Speaking with Elle in May of 2013, Badgley was asked how he and Kravitz dealt with time apart when one of them is filming a movie. He replied, "There's definitely no secret. I'd say honesty is always the best policy. There are always a lot of arguments — but even if honesty starts some, it avoids bigger ones."
The fact that the pair were experiencing arguments during this period lends some perspective on why they called it quits soon after the interview with Elle came out.
The pair split amicably after choosing to focus on their careers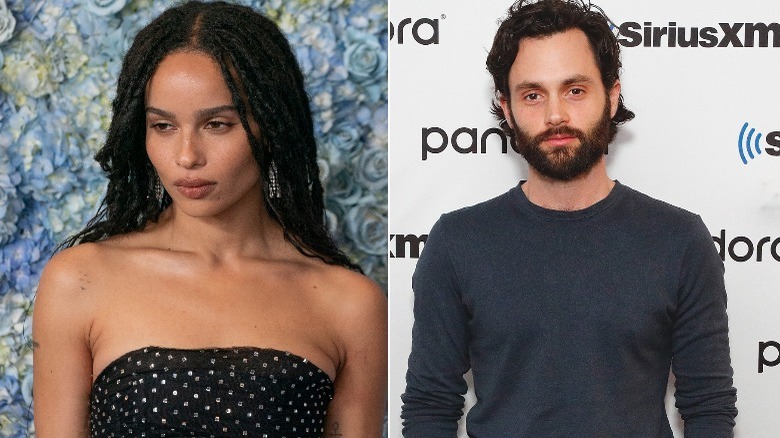 Astrid Stawiarz/Getty & lev radin/Shutterstock
Prior to their breakup in 2013, Penn Badgley and Zoe Kravitz spoke fondly of one another in interviews. While promoting the film "Yelling to the Sky" in 2012, Kravitz mentioned Badgley during a conversation with Vulture. The interviewer asked if she had any plans to watch the series finale of "Gossip Girl," to which she replied, "I think we were celebrating when [boyfriend] Penn [Badgley] was done working on the show, but I don't know about any plans to watch the finale. I'm just really excited for people to see what he can really do [in 'Greetings From Tim Buckley']."
Badgley was reportedly close with Kravitz's famous father, musician Lenny Kravitz, and spoke about their bond during his interview with Elle in 2013. "We get along, we talk music," Badgley said. "He took me to Harlem to see this little jazz show in the back of a church." It seems like the "You" star got the dad stamp of approval, so what went wrong between him and Zoe?
When their breakup was announced in June 2013, a source revealed to Us Weekly that "It wasn't a sad breakup," and "It is all good between them." They added that it simply wasn't working because they wanted to focus on their careers and that they amicably split up. 
Kravitz was spotted hanging out with Badgley's sister-in-law, Lola Kirke, back in April 2021, so it would appear as though this former couple really have managed to remain friendly since their split (via CheatSheet).