Here's What Tilly Ramsay Is Studying At University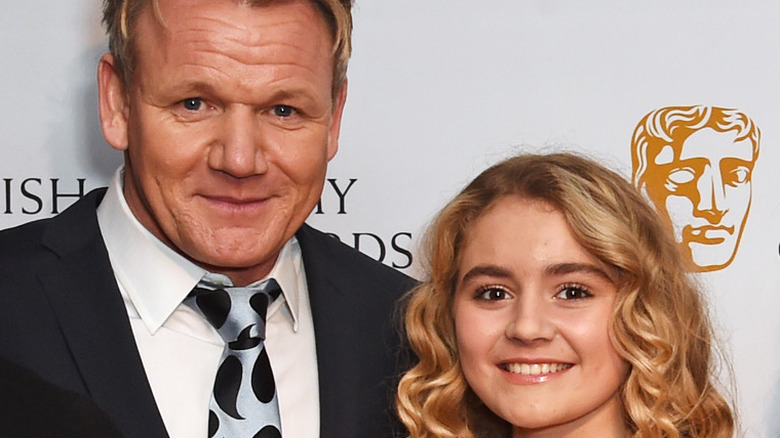 David M. Benett/Getty Images
It seems like only yesterday that Matilda (Tilly) Ramsay was helping teach kids to cook on "Master Chef Junior." Now the daughter of Gordon Ramsay is all grown up and in her first year at university. 
Tilly has kept herself out of the public eye for much of her life, but things are changing now that she's growing up. You've likely seen her videos on TikTok, as she gets millions of views on videos of her and her dad dancing or playing pranks on each other.
On top of juggling school and her personal life, Tilly has her own cookbooks and even stars in the latest season of "Strictly Come Dancing." This teen has a lot of fun things on her plate that she'll be balancing with her studies as well. It's safe to say this 19-year-old is living a pretty incredible adult life.
Tilly has a whole slew of talents, so it only makes sense that the world is her oyster when it comes to picking a major. It might actually surprise you when you hear what subject she's choosing to pursue. And, no, it's not cooking! Here's a breakdown of what Tilly's got going on in her life at the moment and where she's decided to take her future.
Tilly Ramsay is studying psychology at university
With a famous father like Gordon Ramsay, you might think that Tilly Ramsay would follow in her dad's footsteps and study cooking. While Tilly does have an impressive track record when it comes to cooking, she's chosen another area of study, according to Express. Because when you have a famous chef living in your house, you don't need to pay for cooking classes.
According to Express, Tilly is studying psychology at university. It makes total sense that she would want to branch out and learn something completely new. She's still in her first year, so there's plenty of time for her to discover new topics and really hone in on which area within psychology she'd like to focus on. However, she has yet to confirm which school she attends (via The Tab).
Tilly Ramsay might not be studying cooking at university, but there's a good chance that she's not giving it up completely. Ramsay has her own cookbook called Tilly's Kitchen Makeover — which launched when she was just 15 — as well as her own line in one of her dad's restaurants (via Instagram). Once you have that kind of passion for something, it doesn't just go away.
The teen is balancing university with Strictly Come Dancing
As if it wasn't enough to be in your first year of university, that's not all that Tilly Ramsay is up to. The 19-year-old celebrity is also in her first few weeks of "Strictly Come Dancing." 
"I'm starting university, studying psychology!" Ramsay told Express. "Luckily, quite a lot of that is online and the first term covers a lot of my A-level course, so it's pretty relaxed. And there are no exams or anything this term."
At the time of publication, Ramsay and her partner, Nikita Kuzmin, are still in the competition. That means that not only is she studying for her psychology degree, but she's studying new dance moves each week as well. This girl has some serious talent.
Of course, she does admit that it's not the greatest timing to be doing both hand-in-hand. "My main focus is dancing, but it's slightly unlucky timing," Ramsay told the publication. but at the end of the day, the "Strictly Come Dancing" experience is once in a lifetime, while university will be there for a while. 
Whether she sticks with cooking, dancing, psychology, or finds a way to combine all three, Tilly Ramsay definitely has a bright future ahead of her.