Meghan McCain's Harsh Words For Lindsey Graham Have Twitter In A Tizzy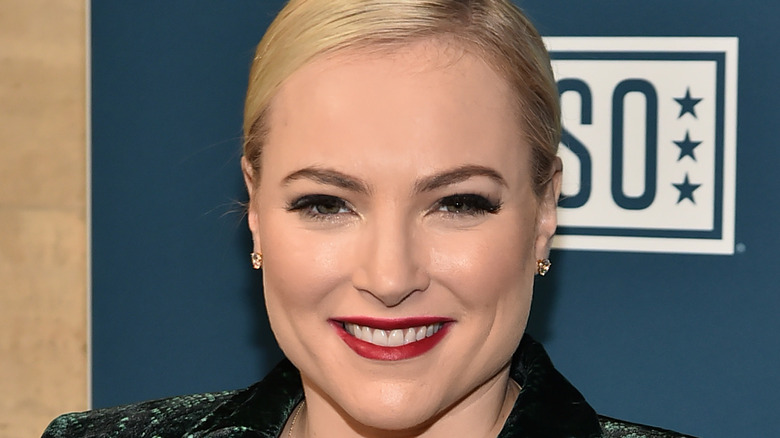 Theo Wargo/Getty Images
There was a time in the Washington, D.C. world where the names Lindsey Graham and John McCain went hand in hand. After all, the two men went back years, first bonding when Congressman Graham, then a member of the House of Representatives, presented impeachment evidence against President Bill Clinton to the Senate, of which John McCain was a member since 1987 till his death in 2018 (via CBS News).
When McCain passed away, Graham seemed inconsolable as he openly shed tears when delivering his old friend's eulogy on the Senate floor (via CNN). At the time, he also tweeted, "America and Freedom have lost one of her greatest champions ... And I've lost one of my dearest friends and mentor. I will need some time to absorb this, but I want Cindy — and the entire McCain family — to know they are in my prayers."
Now, McCain's outspoken daughter, Meghan McCain, has put the kibosh on the idea that Graham is still in any way close to her family.
Funeral guests caused friction between Lindsey Graham and Meghan McCain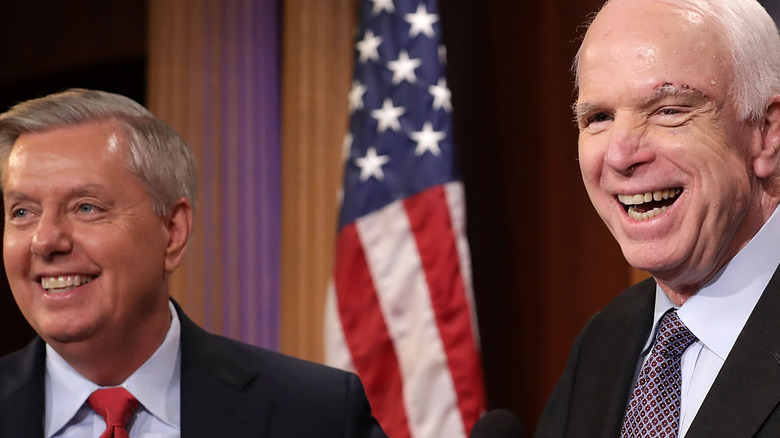 Chip Somodevilla/Getty Images
In her new book, "Bad Republican," Meghan McCain expresses her shock and horror at President Donald Trump's daughter and son-in-law, Ivanka Trump and Jared Kushner, attending John McCain's funeral, calling the pair "funeral crashers." As for Lindsey Graham, he saw no problem with Javanka being there, as he claims Cindy McCain approved it (via The Washington Post).
"She was upset they were there — I understand that, and she has hard feelings but I know what happened and nobody showed up uninvited," Graham told The Washington Post. "I love Meghan McCain and I understand how stressful all this has been for her and those who attack her dad will never be forgiven by her."
One reason Meghan would not have wanted any Trumps at the funeral was because of the many disparaging remarks the former president made about her father, including claiming he was not a hero because he was captured during the Vietnam war (via Politico).
Meghan McCain puts Lindsey Graham in his place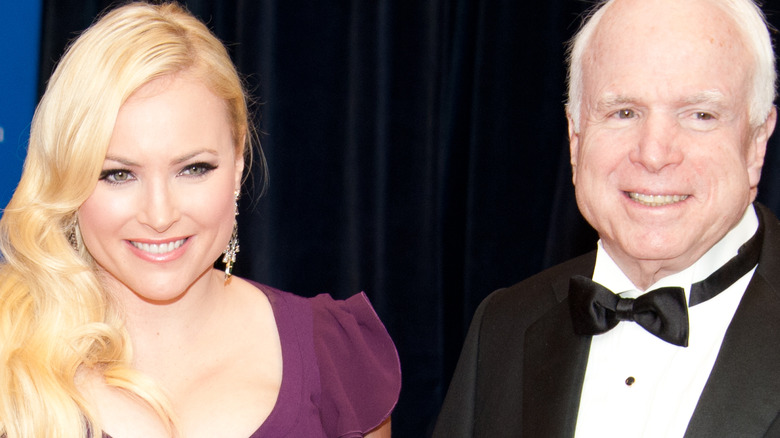 Rena Schild/Shutterstock
Meghan McCain used her signature candor to clap back at Lindsey Graham's Washington Post remarks about Ivanka Trump and Jared Kushner attending her father's funeral by taking to Twitter and expressing her feelings for the man who was once one of John McCain's closest friends.
"Lindsey Graham may consider himself a member of my family, but he is not and hasn't been for a very long time," Meghan tweeted. "He certainly doesn't speak for me or my life experiences. Full stop. The media should stop treating him like he is an expert on anything McCain related."
This prompted some Twitter users to call out Meghan on changing her tune about Graham since leaving her co-hosting duties on "The View."
"YOU are the one that called him a family member multiple times on the View," tweeted one critic.
"We were always wondering why she never talked bad about him when he wouldn't defend her father against Trump. She always said 'It's tough because he is like family so I don't have anything bad to say about him'. SMH," tweeted another.
Another responded to her tweet with, "How do you keep up with yourself. YOU would call him your uncle and defend everything he said or did during your time at the view. Even very recently ... but NOW he is not your family??? How do you not give yourself whiplash with your views?"