The Best Skull Makeup Tutorials For Halloween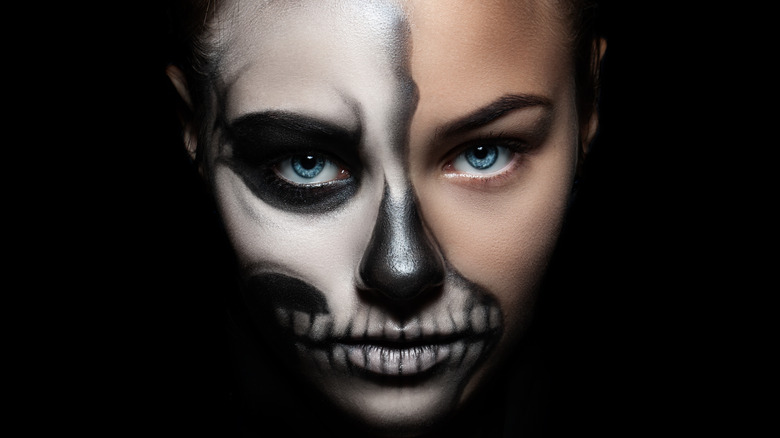 Nataliya Turpitko/Shutterstock
Sure, you could slather some green paint on your face and call yourself a witch, goblin, or Frankenstein, but perhaps you're looking to (finally) elevate your Halloween makeup this year. Especially for those a bit behind on planning an elaborate Halloween costume, simple but spooky skull makeup will be the envy of even the most avid Halloween fans. Whether you're ready and willing to recreate FX-level makeup or are too timid to even tackle a winged eyeliner, there's a skull makeup tutorial that exists just for you to effortlessly recreate in time to impress (and hopefully, terrify) the masses.
If you're hoping to achieve a more traditional skull look, grab your standard foundation, gray, white, and black face paint, black eyeshadow, and black eyeliner, and find the perfect tutorial with which to create your traditional skull look. Beauty YouTuber Liliana Toufiles' tutorial is perfect for those who desire a skull with dramatic, hollow cheeks as well as a detailed description of each step of the process. If you're looking for something simpler to recreate for Halloween, Brianna Fox, WOWVAL, and MsAaliyahJay have all created easy skull makeup tutorials.
These are the best nontraditional skull makeup tutorials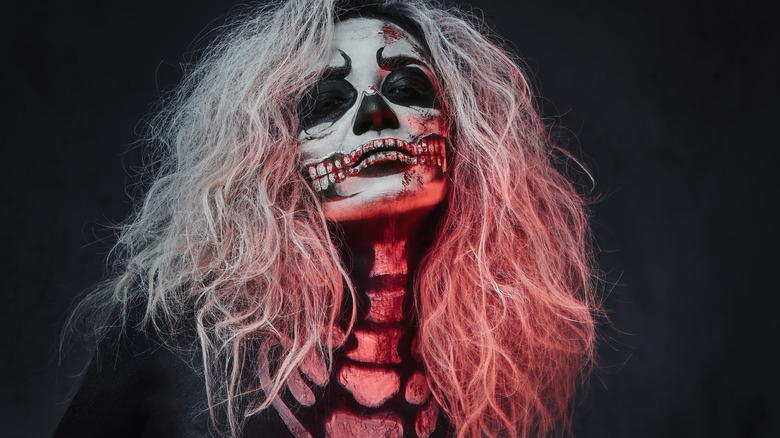 FXQuadro/Shutterstock
For those seeking a more glamorous version of the traditional skull makeup look, Giulianna Maria's tutorial includes the heavy application of highlighter, gems, glitter, and black eyeshadow to create the most spellbinding smokey eye look. YouTuber Chrisspy has created an ultra-contoured and bejeweled version of the skull look that the high priestess of glamorous makeup, Kim Kardashian, would likely don during a Halloween soiree or two. If you're not a fan of the harsh black, white, and grays of the typical skull makeup look, this one uses natural skin tone shades to shape a haunting skull.
Other skull makeup tutorial standouts include a mesmerizing neon version created by YouTuber Jarry the Worst that uses bright hues of the rainbow and black face paint to make it appear as though you're sitting right under a blacklight. In addition to her easy skull look, YouTuber Brianna Fox has also come up with an ice queen version that requires a hearty application of glitter and highlighter along with dramatic white eyelashes and white eyeliner. 
The final skull makeup tutorial comes straight from iconic beauty YouTuber James Charles and his very famous friend, Kylie Jenner. In this skull makeup tutorial, which was created back in 2018, Charles creates an electrifying skull with purple, white, and black shading on the bottom portion of Jenner's face. This, of course, leaves the eyelids free to add a splash of fall color or create a traditional smokey eye.