The Truth About Jose Altuve's Wife, Nina Altuve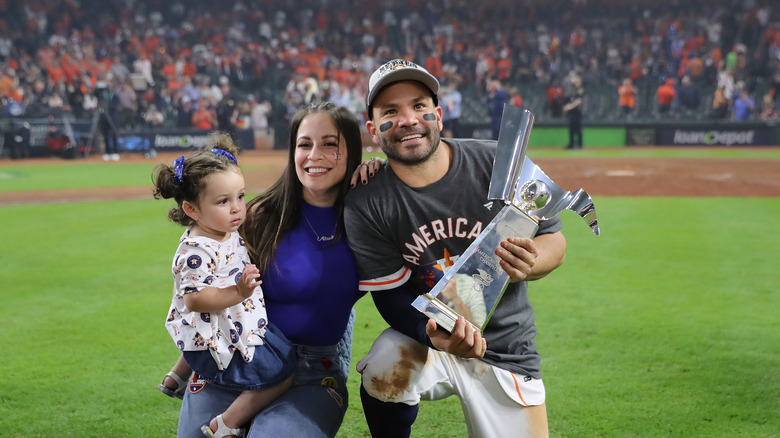 Elsa/Getty Images
Does anyone else catch a sports game and instantly find themselves Googling each player and somehow ending up knowing everything from their hometown to their Social Security number? If you find yourself doing this, you are not alone.
There are websites out there specifically tailored to learning all about the personal lives of the players on your favorite team. One Google search will lead you to all the information you could ever imagine, including full profiles of their wives and girlfriends. Heck, E! even made a reality show profiling the wives and girlfriends of professional athletes called "WAGS" (via The Sydney Morning Herald).
When a player is doing well on the field, it's fairly normal to want to know more about their personal life, especially who they are married to. Jose Altuve, who is playing in the World Series with his team the Houston Astros, is no exception. Scoring 22 postseason home runs, he tied a record once held by Bernie Williams (via New York Post). Off the field, he has a sweet family with his wife, Nina Altuve.
Who is Nina Altuve?
According to Players Bio, Nina Altuve was born Giannina Elizabeth Cimetta Sandoval. She is the wife of Jose Altuve and 29 years old from Maracay, Aragua, Venezuela. As it turns out, Nina goes way back with her husband. The pair started dating when they were teenagers.
Jose and Nina walked down the aisle on November 20, 2006, when he was 16 and she was only 14 (via FanBuzz). Somehow, although they were so young when they said "I do," they've built a strong relationship and are still happily married to this day.
In 2008, the couple moved from their native Venezuela to the United States as Jose signed a contract with the Houston Astros. Once in the states, Nina received her Bachelor's Degree in Bioanalytics from the University of Carabob — a school in Venezuela.
Now, the pair have experienced much success with Jose's career in Houston. Once they were settled down in the states, they even started a family of their own.
The couple are devoted parents
One thing is certain about Jose Altuve, he is a true family man. During the beginning of the COVID-19 pandemic, Jose and his wife, Nina Altuve, welcomed their second daughter together (via the Houston Chronicle). After she was born, Jose was unsure if he was going to return to the diamond. During much of the pandemic, his family did not leave the house because they were concerned about getting the virus. He was determined to protect his wife and children.
According to Sports Illustrated, he eventually got COVID-19 when he returned to the team. "It doesn't matter if you got the vaccine or not, it's not good to find out you were tested positive," he said. "Nobody wants to get that. And on top of that, you have to stay away from the team for 10 days. So I was just ready for those 10 days to be over and to be able to get back to the field and play." It is unclear if his wife and children got the virus as well.