Everything We Know About Andrew Cuomo's Misdemeanor Sex Crime Charge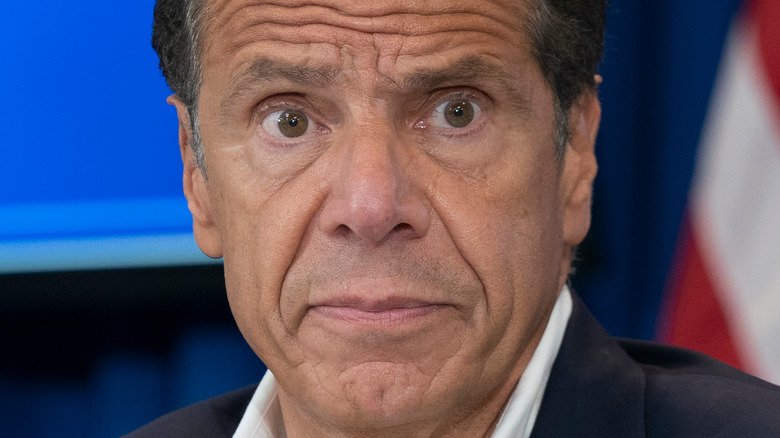 lev radin/Shutterstock
If he thought his resignation would be enough to silence skeptics and accusers, disgraced former New York Gov. Andrew Cuomo would have been wrong. He's now under investigation for committing a sexual misdemeanor involving a former executive assistant, who claims he touched her without her consent at New York's executive mansion in December 2020 (per The Daily Beast).
Cuomo is accused of "forcible touching," which the misdemeanor complaint defines as touching another person's intimate parts either for degradation of that person or for sexual gratification. The complaint also lists exhibits, which have not been released to the public, but which the complaint says includes phone and text records from Andrew Cuomo's cell phone, messages on the blackberries of New York State police, as well as "New York State Police aviation records" from the day in question. 
While the disgraced governor was originally meant to appear before a court on November 17, 2021, there is currently some doubt that this might happen, since neither the Albany County sheriff's department nor its district attorney's office have decided whether to file charges. According to The Albany Times Union, the sheriff's office neither expected a summons to be issued on Thursday nor did it think that the paperwork would be made public, since the summons was not made with consent of Cuomo's alleged victim or her lawyer, Brian D. Premo.
Cuomo may have received a summons in error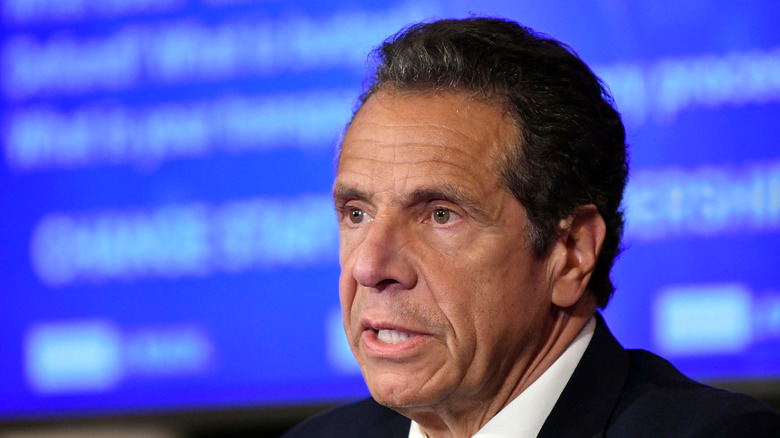 Hans Pennink/Shutterstock
While Premo affirmed that his client remains willing to cooperate with investigations into the alleged offense, he also said: "It was my client's understanding that the district attorney's office was in agreement with the sheriff's department that it was going to conduct a thorough, impartial, and apolitical evaluation of the case, and only after completion of the investigation, speak to my client to allow her to make an informed decision as to whether she would proceed as a victim in the case. Like the district attorney's office, she was informed about this recent filing through media" (via The Albany Times Union).
Before this mix-up was made public, Andrew Cuomo's attorney, Rita Glavin, responded to the complaint by releasing a statement saying that her client "never assaulted anyone, and Sheriff [Craig D.] Apple's motives here are patently improper ... This is not professional law enforcement; this is politics" (via The Washington Post). Mariann Wang, a lawyer for two other women who have spoken out against the former New York governor, says they are grateful that others have "come forward to speak the truth."
"Cuomo is being held to account as he should be, including by being forced to answer a criminal charge. We hope that all men who abuse their power by abusing women will see this and understand that there will be real consequences to their profoundly damaging behavior," Wang said.
Andrew Cuomo said he was misconstrued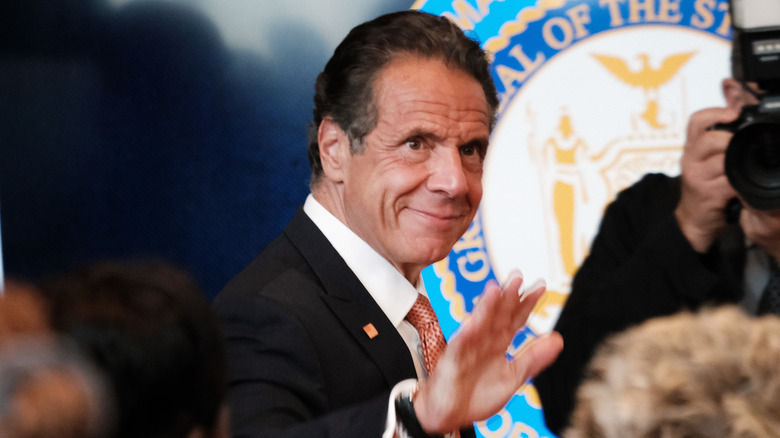 Spencer Platt/Getty Images
Andrew Cuomo resigned after serving nearly three terms as New York's governor. While his stock had risen over the public's perception of the way he handled the early days of the coronavirus pandemic, a report subsequently found that he had sexually harassed at least 11 women by touching them and making remarks about the way they looked in an inappropriate way. When the scandal broke, Cuomo was already in trouble because it was then discovered that his administration had hidden thousands of COVID-related deaths at nursing homes across the state (via Associated Press). 
Cuomo never acknowledged that his behavior was inappropriate. When he resigned, he would only acknowledge that his behavior could have been misconstrued. "I have been too familiar with people. My sense of humor can be insensitive and off-putting. I do hug and kiss people casually, women and men. I have done it all my life. It's who I've been since I can remember. In my mind, I've never crossed the line with anyone, but I didn't realize the extent to which the line has been redrawn," he said (via The New York Times). His resignation paved the way for Lt. Governor Kathy Hochul to take his place, giving New York its first woman governor in the state's history.
If you or anyone you know has been a victim of sexual assault, help is available. Visit the Rape, Abuse & Incest National Network website or contact RAINN's National Helpline at 1-800-656-HOPE (4673).