How Would Princess Diana Dress In 2021?
Georges De Keerle/Getty Images
Princess Diana was the people's princess. She was arguably the most beloved royal, and that legacy has carried on from her 1997 death to today, with a new statue of the princess unveiled for what would have been her 60th birthday.
Even now, the retro style of Princess Diana is making a major comeback, but would she wear that same style today? During her lifetime, the Princess of Wales was known in part for her fashion, and this recognition has even been passed on to Meghan Markle and Kate Middleton — her sons' wives — who share similar fashion praise. According to Harper's Bazaar, Diana wore everything from chic pantsuits and blazers to fashionable overalls, gorgeous dresses, and accentuating chokers.
Her style wasn't specialized in just dresses or only blazers, but she instead stylized any article of clothing to match her aesthetic. She wore a lot of bright colors, but she also knew how to employ dark colors when appropriate. At serious events, she often wore dark blue dresses or other dark garments, showing that she understood the nature of these events. Other times, she donned bright, sunshine yellow or outfits white as snow. She was a chameleon in the royal family, but would this translate to today's fashion scene?
This is how Diana used her voice with her fashion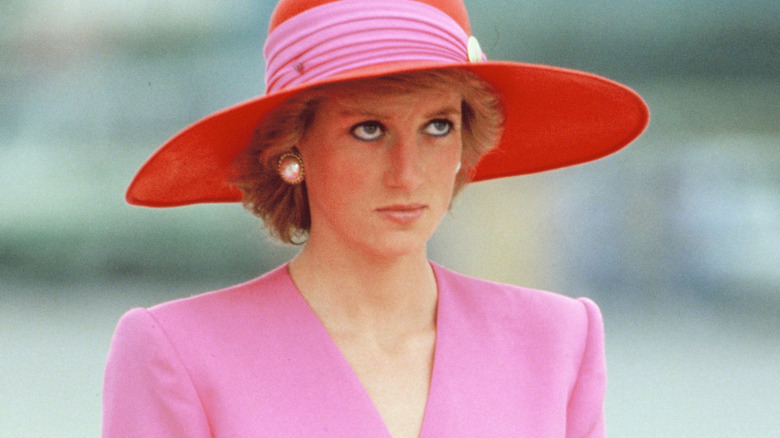 Georges De Keerle/Getty Images
Princess Diana pushed the fashion envelope. Her wedding dress has gone down as one of the best in history, and her iconic "revenge dress" will be talked about for as long as the U.K. has a royal family (via Marie Claire). Fashion has changed a lot in the over two decades since Diana's untimely death, though, and some are wondering how the late princess would dress in 2021.
According to CNN, the truth is that Diana would've continued to push the envelope. She was meticulous with her outfits, using them symbolically, and that would no doubt continue today. "From the start she used clothes to make gestures; on her first visit to Wales she wore the Welsh colors — a green and red silk suit; for her arrival in Japan she wore (Japanese designer Yuki Torimaru) and for a trip to Paris, Chanel," Anna Harvey, Diana's former stylist, told British Vogue in 1997.
Moreover, Diana would've continued to wear outfits in support of causes she liked. She did the same with merch for universities and other institutions, promoting education among other causes. "If anything, she taught us all to appreciate [merchandise] from universities you've never attended, sports teams from other people's hometowns, and even airlines you've never flown," explained Jack L. Carlson, whose clothing company launched a Diana-inspired line.
It's safe to say, then, that Diana wouldn't conform to current trends and would instead be a trailblazer once more. If anything, she would've flipped the trends on their heads and made them her own with her own messages. If Diana was gonna do one thing, it was use her voice.