The Reason People Can Get This Free Gift Outside Kensington Palace
Mistervlad/Shutterstock
Since 1921, the Royal British Legion has been collecting donations to support Great Britain's armed forces during an annual fundraising drive called the Poppy Appeal. For the past century, volunteer collectors have traversed the country, selling red paper poppies to raise funds for Great Britain's armed forces. Red poppies have come to symbolize Great Britain's armed forces, as the flower was a common sight on the Western Front where British soldiers fought in World War I, according to The Independent.
Last week, Prince Charles and Camilla Parker-Bowles kicked off the start of the annual Poppy Appeal fundraising drive by meeting with 10 volunteers who each began collecting donations during a different decade over the past 80 years, per the Independent. "The significance of the poppy is as relevant today as it ever was while our Armed Forces continue to be engaged in operations overseas and often in the most demanding of circumstances," the Prince of Wales and the Duchess of Cornwall wrote in a statement on their official Instagram page. "The simple act of wearing a poppy is only made possible because of volunteer Poppy Appeal collectors who share a common goal — to recognize the unique contribution of the Armed Forces community."
Aside from Prince Charles and Camilla Parker-Bowles, other members of the royal family are involved in the Poppy Appeal fundraising efforts.
Free paper poppies are available outside of Kensington Palace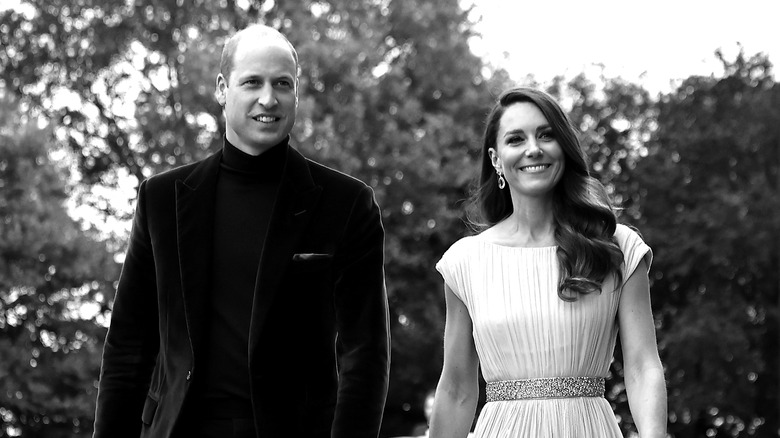 Chris Jackson/Getty Images
Currently, those passing by Kensington Palace in London can pick up a free paper poppy from a box located just outside of the palace gates. For the past few years, Prince William and Kate Middleton (the residents of Kensington Palace) have been participating in Poppy Appeal fundraising efforts in their own unique ways. This year, the Duke and Duchess of Cambridge are giving away free paper poppies to raise awareness for the annual armed forces fundraiser. "We are helping every poppy count as the 2021 #PoppyAppeal launches, and sharing poppies with the public on behalf of Kensington Palace," the Duke and Duchess of Cambridge wrote in an Instagram post. "Look out for your local collector and donate to help raise vital funds to support the Armed Forces community."
Last year, the Duke and Duchess of Cambridge, along with their children, Prince George, Princess Charlotte, and Prince Louis, baked poppy cupcakes to deliver to the Royal British Legion's Norfolk care home, according to Town & Country Magazine.
Poppies will continue to play a large part in Remembrance Day, which always takes place on the second Sunday of November and honors those members of the British armed forces who have died during wars and other conflicts, according to the royal family's website. Leading up to Remembrance Day, Queen Elizabeth II and other members of the royal family attend engagements, like the annual Festival of Remembrance at the Royal Albert Hall.