The Head-Turning Gesture Donald And Melania Trump Made At The World Series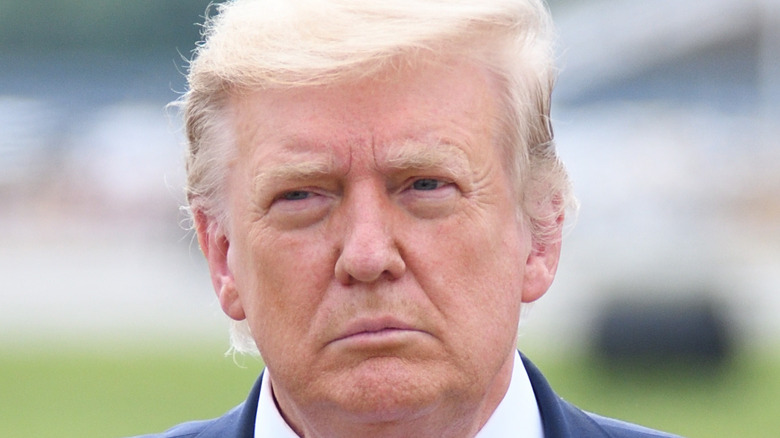 Evan El-Amin/Shutterstock
Donald Trump hasn't been on the best of terms with the state of Georgia lately. After losing the state in the 2020 election, the former president cried fraud and pressured Georgia's secretary of state to overturn the results (via Atlanta Journal-Constitution). He's also been at odds with America's pastime, calling for a boycott of baseball after the Major League Baseball commissioner took the All-Star Game out of Atlanta over Georgia's new restrictive voting laws (per USA Today). 
However, since it's looking ever more likely that Trump will be running for president again in 2024, some fence-mending may have to be done in order to win votes. Perhaps it wasn't too surprising to see Donald and Melania Trump appearing at the World Series — and in the Braves' home stadium, no less.
Trump reportedly asked MLB for tickets to the fourth game between the Atlanta Braves and Houston Astros, and was given seats in an open-air suite. The couple smiled for the cameras and stood for the National Anthem. In the fifth inning, they participated in the annual Stand Up to Cancer segment, in which players and fans write the names of loved ones or friends who have been affected by cancer on placards reading "I Stand Up For..." before holding them up for all to see. (Melania Trump wrote "Caoilinn" and Donald Trump — perhaps not understanding the purpose of the message — wrote "All Americans," via Chronicle.)
Melania Trump's expression spoke volumes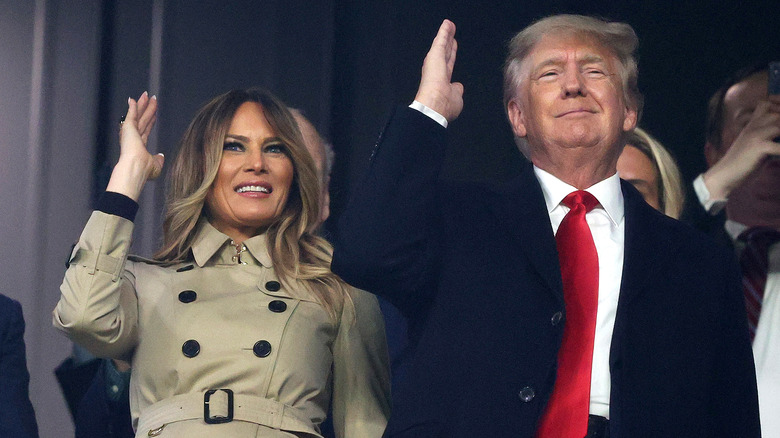 Elsa/Getty Images
The Trumps were also captured joining in the Braves' signature "tomahawk chop" before the game, which didn't go unnoticed in the press. The cheer, which originated in 1991, has come under fire from Native communities who say it promotes racist stereotypes (via KCRA). However, it's not likely that Donald Trump was too worried about the implications of the war cry; he once stated, "[T]his political correctness is just absolutely killing us as a country. You can't say anything. Anything you say, they'll find a reason why it's not good" (via CNN).
The gesture was greeted with roaring approval by Trump fans who saw it as a slap in the face to "woke liberals." Others felt differently. Keith Olbermann commented on Twitter, "Well, it IS a cousin of the Nazi salute so."
What really got people's attention, though, was Melania Trump's face. In a clip now circulating on social media (and seen here on MSN), the former first lady smiled broadly for the cameras as she faced her husband. A second later, turning away from him, her smile faded into an expression that looked positively disgusted. 
Naturally, Twitter exploded with comments and jokes. Writer and pastor John Pavlovitz quipped, "Melania despises him as much as decent people do" (via Twitter). Humorist Paul Rudnick added on Twitter, "Melania can maintain a smile for three seconds and then even rubbing the krugerrand she keeps in her pocket can't control the nausea."