Here's What Gigi Hadid Looks Like Going Completely Makeup-Free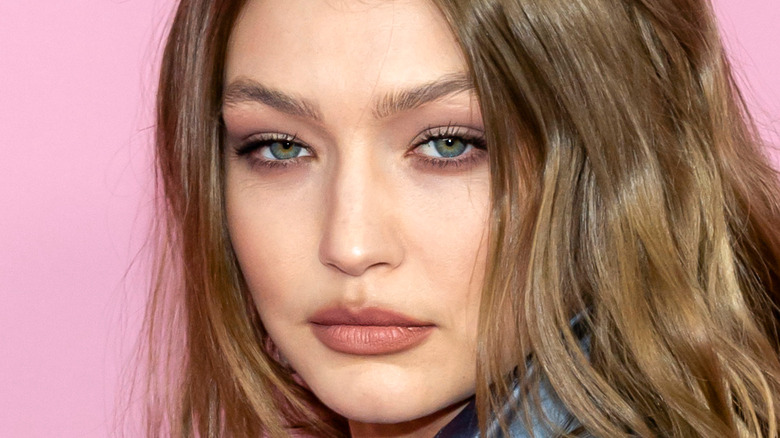 Ovidiu Hrubaru/Shutterstock
We live in an era where the default assumption upon seeing any celebrity looking flawless, is to safely assume a lot of makeup and a lot of editing work went into that shot. The internet has become a scary space where it's exceedingly rare to spot a celebrity in their natural element without it surrounded by a shroud of shame. Whether you see one of those side-by-side comparisons with an unflattering shot beside a flawless glam shot, or simply spot one of those countless tabloids shaming someone's natural flaws, these stories do more harm to the readers than they do to the celebrity. You're just about to be comforted by seeing cellulite shown on your favorite Kardashian, only to be instantly told that's something you should be ashamed of — and it's even worse when the celebrity herself furthers it by claiming the photos are photoshopped (via Cosmopolitan).
This is most true in the world of supermodels. Their career revolves entirely around being flawless. Which is why it's so refreshing when your favorite supermodel chooses to embrace her natural imperfections and showcase them proudly. Being a top supermodel and a figure that countless women hold on the pedestal of ultimate beauty, Gigi Hadid makes it a priority to break that boundary and remind us all that being real is beautiful (via Harper's Bazaar).
Gigi Hadid embraces her natural beauty — imperfections and all
Considering how insanely glamorous her lifestyle is, it's refreshing to see that Gigi Hadid actually chooses to spend most of her own time completely makeup-free. While countless stars avoid being seen by the public without their glam and are only exposed by the occasional candid paparazzi shot, Hadid proudly shows off her natural beauty by posting it herself.
Hadid's Instagram is filled with stunning glamorous runway-ready shots, but what's so inspiring is that by scrolling through her feed, you're met with an equal number of natural photos. The supermodel makes it a point to share a sprinkle of reality now and then to remind her followers that she's not all glam all the time. Hadid places an emphasis on self-care and improving your actual skin rather than covering it all up, she shared with Grazia her top skincare tips she hopes to pass on to her daughter Khai Hadid Malik explaining, "Doing too much for my skin or beauty routine can make it more complicated, and sometimes my skin can't handle it. I think I'll teach Khai to keep it simple when it comes to makeup like my mom taught me."
It's hard to even decide which way Hadid looks best — full glam or chilling makeup-free by the pool. Either way, Hadid always looks stunning!