Does Tori Spelling's Halloween Costume Send A Message About Her Marriage?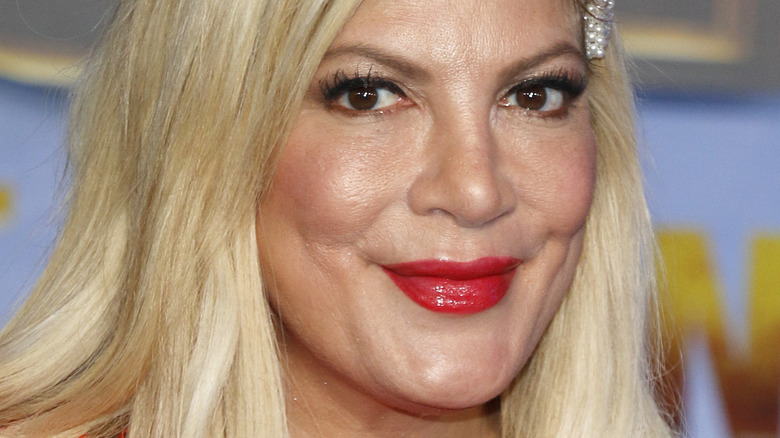 Tinseltown/Shutterstock
The rumors that Tori Spelling and Dean McDermott are divorcing have been swirling about for ages, but more recently, the clues have seemingly become more obvious. In June, the "Beverly Hills, 90210" actor explained in an interview that she and her husband were sleeping in separate rooms, because their kids had commandeered their bed while McDermott was off on a film project (via Us Weekly). Then, in October, paparazzi caught Spelling outside an attorney's office, dressed in business attire, carrying a pad featuring handwritten notes that read: "Lawyer: -assets – support – custody" (via Page Six).
Thus far, neither Spelling nor McDermott have commented on the rumors or even on the state of their union. McDermott's Instagram bio still says he's "married to the love of my life." And when Spelling recently appeared on "The Wendy Williams Show," she refused to answer a question about her marriage from guest host Whitney Cummings, even though Cummings happens to be a friend of hers. 
Actions speak louder than words, however. The couple's social media accounts contain plenty of selfies and photos of their five children, but none of the entire family — and none of the two of them together. Then, over Halloween weekend, Spelling chose a costume that seemed to drop another clue about her marriage.
Tori Spelling wore a creepy bride costume
The night before Halloween, Tori Spelling attended a costume party with a friend, hairstylist Laura Rugetti. As seen above, both were dressed as "corpse brides," with white lace corsets, white fishnet stockings, and veils perched atop their long, blonde hair. Both accessorized with white ankle boots and a bouquet of black feathers arranged to look like flowers. They twinned their makeup, as well, with dramatically lined eyes and red lipstick smeared at the corners to look like blood. Spelling posted photos of their outfits to her Instagram account, captioning it simply, "I do" with a black heart emoji the date "Halloween 2021," and styling credits. 
The sexy costume got plenty of compliments from fans — and more than a little speculation from media outlets, such as The Sun, which mused about the message the actor was sending with her choice of outfit. Earlier, the tab also noted that Spelling has been posting pics showing glam makeup and figure-hugging fashion. While the paper didn't mention it specifically, the implication was that the actor is focusing on looking and feeling good in the midst of whatever personal drama might be going on.
Fans will be waiting, in the meantime, to find out whether Spelling's dead-bride look was really a foreshadowing of things to come, or just a bit of Halloween mischief.