What Does Jen Psaki's COVID-19 Diagnosis Mean For Joe Biden?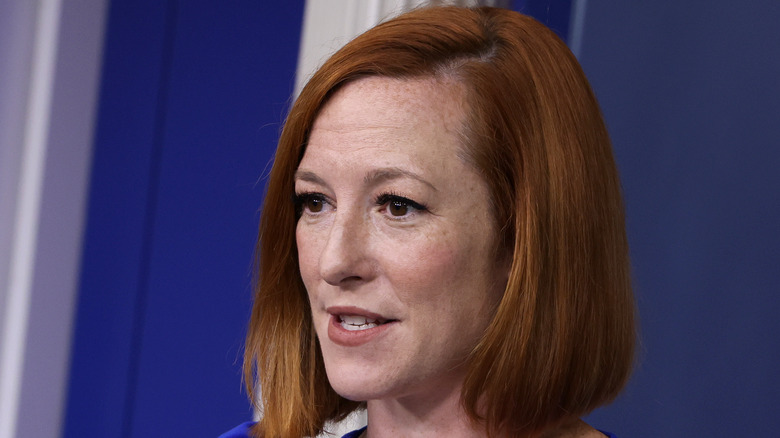 Chip Somodevilla/Getty Images
No one batted an eyelid when White House Press Secretary Jen Psaki quietly dropped out of President Joe Biden's European tour, but eyebrows are being raised now that she's revealed why. 
Late Sunday afternoon, Psaki released a statement, saying: "On Wednesday, in coordination with senior leadership at the White House and the medical team, I made the decision not to travel on the foreign trip with the President due to a family emergency, which was members of my household testing positive for COVID-19. Since then, I have quarantined and tested negative (via PCR) for COVID on Wednesday, Thursday, Friday, and Saturday. However, today, I tested positive for COVID" (via Deadline).
The White House press secretary has confirmed that she has not had any meetings with any senior members of the Biden administration since Wednesday, or about five days before her diagnosis was made public. The last time she was President Joe Biden was "on Tuesday, when we sat outside more than six-feet apart, and wore masks." 
The Biden White House has treated the coronavirus pandemic seriously. It has required everyone to keep masks on indoors, and those who come in regular contact with the president and vice president to be tested regularly (via NPR). CNN reports that both President Joe Biden and Vice President Kamala Harris received booster shots after they were cleared by health authorities. Biden got his third shot last month, Harris received hers a few days ago, but it is unclear whether Psaki had received her third shot.
Not the first White House COVID case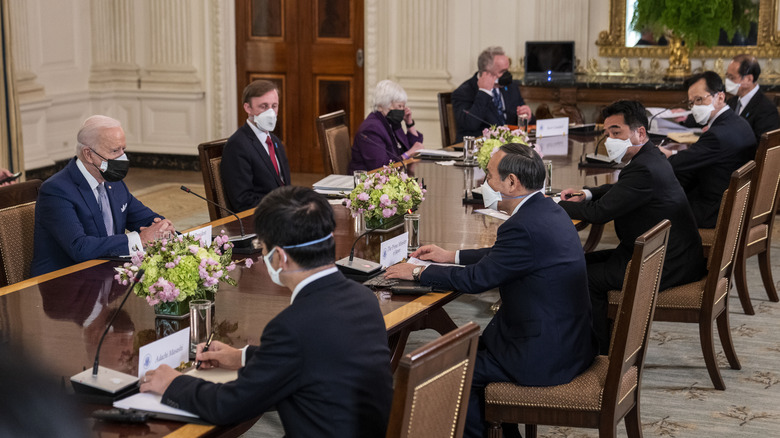 Bloomberg/Getty Images
Psaki says that because she'd been vaccinated, she has "only experienced mild symptoms which has enabled me to work from home," and that she plans go back to the White House after a ten-day quarantine period, and after a negative rapid test which might not be required by the CDC, but is what she clarified is "an additional White House requirement" (via Deadline). Like those who work with the Biden administration, all White House reporters are required to be masked up when they are in indoor spaces (via The Hill).
While Psaki is the first Biden administration official to come down with Covid, this is not the first time a senior White House official has come down with the highly contagious disease. During the Trump administration, several dozen cases of COVID were reported; the disease sickened not just former President Donald Trump but former First Lady Melania, policy adviser Stephen Miller, as well as Psaki's predecessor, Kayleigh McEnany. Many of the cases stemmed from an event where few guests had worn masks or practiced social distancing (via The Guardian). Journalists had been so angry with the Trump White House that one reporter said: "It's not a safe place to work and hasn't been in a long time" (via CNN).
Well wishes for Jen Psaki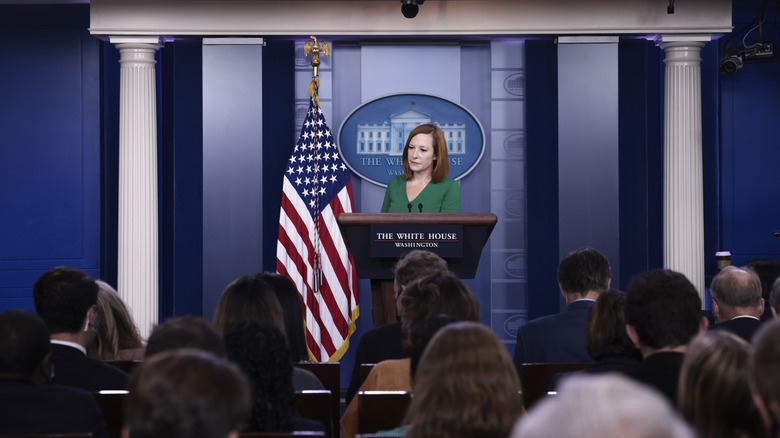 Anna Moneymaker/Getty Images
Social media flooded Psaki's Twitter account with well wishes; one fan tweeted: "While my initial reaction was NOOOOO(!!), after reading your sober and thoughtful message, I just want you to know how loved and appreciated you are. Like a huge breath of fresh air, you're the best. Take good care!" Another said: "I was fully vaxed and also got covid. Thank goodness for the vaccine because I felt pretty lousy for 3 or 4 days. I wish you a quick recovery."
But given today's rather divided political climate, Twitter wouldn't be what it is without a few darker comments thrown Psaki's way. "Are the people in your house unvaccinated? Feel free to circle back to me on that one. Get well soon, Jen," a third Twitter user said, along with a screenshot quoting the White House press secretary as saying "This is really becoming a pandemic of the unvaccinated." A fourth tweeted back: "Also, please don't make up your own rules and go 'beyond CDC guidance.' There's a reason they don't recommend a negative test to get back to work."