Alec And Hilaria Baldwin's Halloween Photos Have The Internet Seeing Red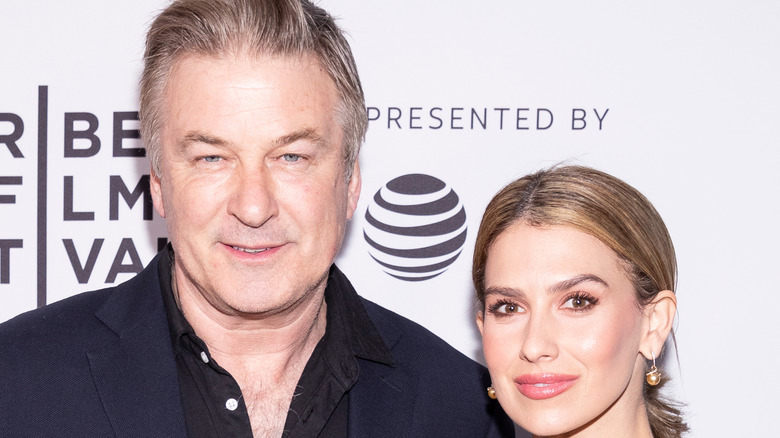 Sam Aronov/Shutterstock
Alec Baldwin has been a topic of discussion, since the accidental shooting on his film set. Now, family photos shared to Instagram by his wife, Hilaria, have led to fans commenting that the couple is "inappropriate and tasteless," as reported by The Daily Mail.
On October 21, while filming his new film "Rust," Baldwin shot a prop gun, which injured director Joel Souza and killed cinematographer Halyna Hutchins. On Sunday, The Los Angeles Times released a report stating that there had been at least three other accidental weapon discharges on the set before this one.
Then, only a few hours later, Hilaria Baldwin uploaded pictures of the family's Halloween costumes, writing "Parenting through this has been an intense experience, to say the least. Today, we rallied to give them a holiday. Last min costumes ... a little hodge-podge ... but they were so happy and that warmed my mama heart. Happy Halloween, from the Baldwinitos."
Hilaria Balwin 'literally cannot stop posting ... not even when someone [has] died,' social media user tweets
Hilaria Baldwin's Instagram shows her as a spider, Alec Baldwin dressed in a "Where The Wild Things Are" costume, daughters Carmen and Maria Lucia Victoria as spiders, son Eduardo in workout clothes, and sons Rafael, Leonardo, and Romeo also in Halloween costumes. This led to comments from upset social media users.
"The Baldwin kids should absolutely enjoy Halloween. This year, though, [Hilaria Baldwin] should have kept their festivities (and herself) off social media. Halyna's son didn't get to enjoy this holiday. Celebrate without posting, Hillary. It's literally the least you could do," wrote someone on Twitter.
Another posed a question: "Let's say [you] accidentally kill someone and leave a 9 [year old] boy motherless, Would [you] still celebrate a holiday a week later [with your] kids [and] her (alive) mother, [and] post pictures on [social media], knowing full well a child will spend his 1st Halloween [without] his mom?"
It was also said on Twitter that Baldwin "literally cannot stop posting ... not even when someone [has] died."