This Micellar Shampoo Can Keep Your Hair Cleaner Longer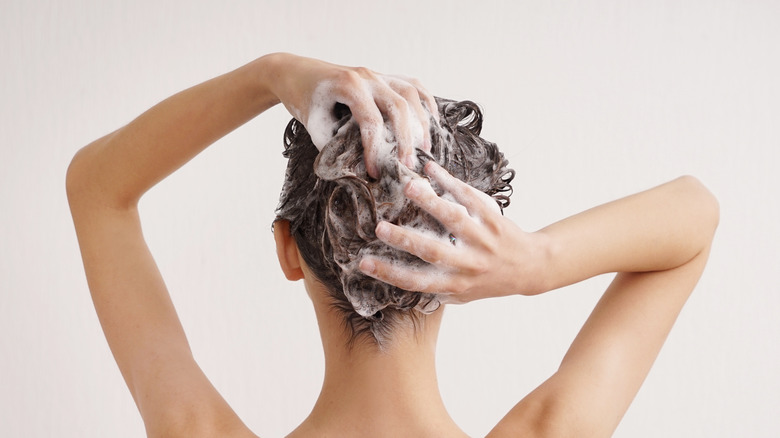 Pixel-Shot/Shutterstock
Finding the right shampoo can sometimes feel like an uphill battle. With so many options available, it's difficult to determine which is best for your specific hair type and cleansing needs. 
If you have thicker, coarser hair, you don't need to wash it as frequently as you would with finer hair, so you'll need to consider this when browsing the shampoo aisle at the store (via Harper's Bazaar). Some people prefer to go longer between washes regardless of their hair type, and if you fall under this category, it's important to choose products designed to help you achieve this goal (via Healthline).
One of the best options is a micellar shampoo, which is a mild cleanser free from harsh chemicals like silicones and sulfates (via Redken). The product washes away any dirt, oil, and pollution that have built up on your scalp, and the lack of chemicals ensures that it doesn't dry out your locks in the process. The premise behind micellar shampoo is to provide you with a purifying cleanser that's safe for your scalp, as this ultimately allows you to go longer between washes.
Narrowing down the right type of shampoo is only half the battle, as selecting a specific brand for this type of product becomes the next step in the process. We've got you covered on the best micellar shampoo recommendation, though. Read on to find out how this micellar shampoo can keep your hair cleaner longer, and why we love it so much.
Kristin Ess' micellar shampoo can keep your hair clean for a week
Celebrity hairstylist Kristin Ess is a hair care genius. In addition to coloring and styling the hair of big-name stars like Lucy Hale, Lauren Conrad, and Lili Reinhart, Ess has designed a line of products and tools to help you gain the beautiful tresses you've always dreamed of, right from home (via Forbes). One of her best and most recommended products is the micellar shampoo, which is designed to wash away impurities on the scalp while preserving your hair's natural moisture. It's recommended for all hair types, so you can scoop this up for $12 regardless of whether you have curly hair or straight locks.
According to Jillian Lucas at The Daily Beast, Ess' micellar shampoo helped her go an entire week without having to wash her hair. Lucas mentioned that the shampoo lathers well and smells great, and she didn't even have to resort to dry shampoo until a few days later. Sounds like a dream, right? 
Ess created the product with her signature Zip-Up Technology — a strengthening complex that repairs split ends and damaged follicles to help smooth the overall appearance of hair (via Refinery29). When you use this micellar shampoo, your hair will look and feel healthier — not to mention cleaner!