Victoria Beckham Swears By This Body Oil
David M. Benett/Getty Images
Victoria Beckham is like a Chanel suit; she just gets better with age. The former Spice Girl turned high-end fashion designer has unsurprisingly made aging look just as chic as everything else she does, thanks in large part to a lifetime commitment to wellness and skincare. As Who What Wear notes, Beckham actually suffers from acne-prone skin but you'd never know because the busy working mother always makes time for facials and even facial massages, especially if she's going to be traveling a lot. 
Likewise, the fashion-forward Brit ensures she flies with a stock of facial misters and moisturizers, protecting Beckham's pores from drying out. Elsewhere, she's frequently spotted on set sporting under-eye masks to combat puffiness and prep her peepers for further beautification. Beckham also swears by fish oil supplements to keep her skin glowing from the inside out and utilizes the same, ultra high-end moisturizer for both day and nighttime use – it's just that good. As for oiling up, this is her go-to.
Victoria Beckham reaches for this deliciously indulgent product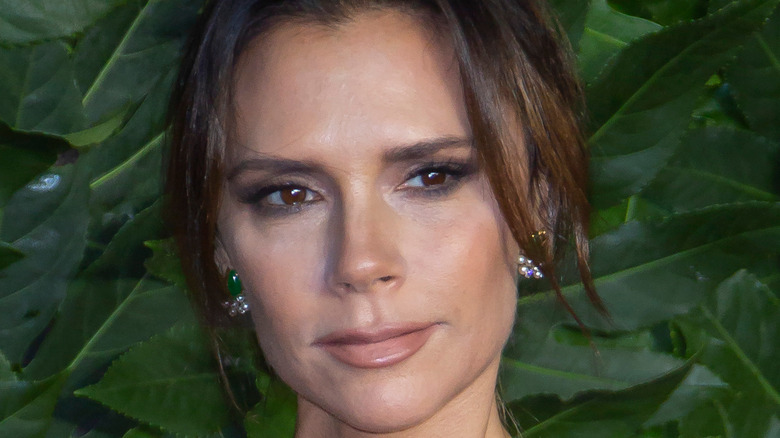 BAKOUNINE/Shutterstock
According to She Knows, fashionista Victoria Beckham swears by the Osea Undaria Algae Oil for glowing and super soft skin all year round. Formulated using natural ingredients including seaweed and acai, this luxurious body oil is incredibly lightweight and boasts an age-defying finish infused with aromatherapy, meaning even the act of applying it is guaranteed to be indulgent. Beckham's top pick also promises to reduce the appearance of saggy skin and stretch marks, while its citrusy-lime and sunny grapefruit fragrance, with delicate notes of cypress, leaves skin smelling delicious too. Pick it up from Credo Beauty for $48. Who What Wear notes a little goes a long way with this stuff, so it should also last a long time.
Although Beckham clearly has no issue spending money on the best beauty products on offer, as she clarified to Glamour, "I tend to have a less-is-more approach with skin care." The former pop star elaborated, "Fewer, better products are the way to go. I don't have the time or patience to be fiddling with 10 different products at a time." 
Likewise, Beckham explained that it's taken her years of trial and error to figure out what works best for her skin. Nowadays, her routine is streamlined because the in-demand designer knows exactly which products to reach for. Evidently, this oil is a key part of what makes her skin continue to glow regardless of age.