How Law & Order Revived New York's TV Industry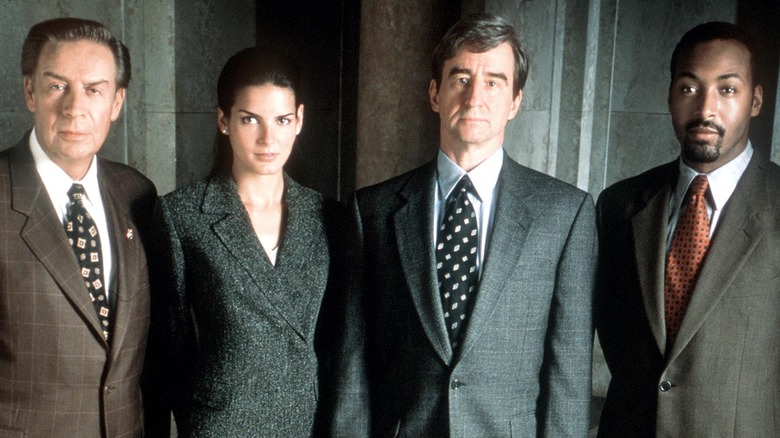 Getty Images/Getty Images
The "Law & Order" universe is one of the biggest and longest running on television. Over decades, the original and several spin-offs have found incredible success as procedurals that also investigate the inner lives of the professionals working the job. 
It all started with "Law & Order," the brainchild of Dick Wolf. The series began airing in 1990, but began filming late the prior year (per IMDb). At that time, there was very little television industry action in New York City, where Wolf insisted the series be shot. 
That's not to say that there wasn't any filming going on in the Big Apple. The rules and provisions provided to unions better suited the film industry than the television one, however, which made it harder for Wolf to sell the location (via Mental Floss). At the time, the city's streets were re-created again and again on sound stages in Los Angeles. 
Dick Wolf had to fight for his location in a big meeting with union heads
Dick Wolf was willing to go to bat for his location, so much so that he had a "major meeting" with union heads about it in 1997. "I think the phrase I used was, 'Hey guys, 90% of the wealth is better than no bread at all,'" Wolf told Mental Floss.
The union heard him out and decided to offer up some concessions. The first four seasons of the esteemed show were filmed without having to pay a location fee, and such allowances made filming in New York work on a TV show budget. "Mr. Wolf says, every day he shoots in New York, he spends $70,000 to $75,000. And every year he shoots at least 22 episodes of "Law and Order," produced in association with Universal Television. Each episode costs $1.4 million, $1 million of which is spent directly in the city," The New York Times reported in 1995.
Wolf's relationship with New York has afforded "Law & Order" a variety of talented actors over the years, many from the city's bustling theater community. It's worked for him and the countless other shows that followed suit in the years since. "Anything that's ever happened on the planet can happen in New York City," Wolf told The Times, and that's a quality felt in the many, many hours of "Law & Order" that have come since.