What We Know About Michelle Wu, Boston's First Female Mayor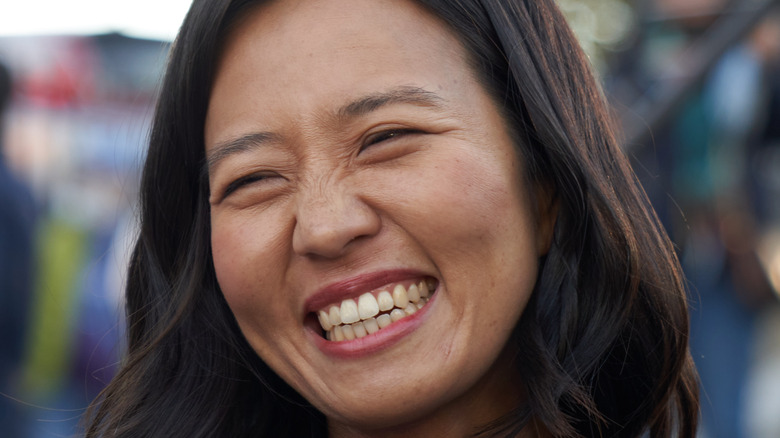 Allison Dinner/Getty Images
For more than 90 years, the city of Boston has only chosen men to serve as its mayor — for nearly half that time, the men were either of Irish American or of Italian American descent (via The New York Times). That came to an end in the November 2021 election, when the city elected its first woman and its first person of color as mayor of Boston: Michelle Wu. 
While the 36 year old has the academic credentials that would make any traditional Bostonian proud (she is the product of Harvard University and Harvard Law School, per NPR), she is not your typical Boston candidate. "My parents both immigrated [to the United States] from Taiwan. My grandparents had fled mainland China during the civil war. We never discussed [politics] at the dinner table," she told NBC Asian American. 
Wu grew up in Chicago, but ended up in Massachusetts when she got accepted into Harvard, where she majored in economics (she said her parents wanted her to become a doctor). After graduation, she joined a private consulting firm and had been working as an associate when her mother got sick. She said, "I was in my very early 20s. One day I'm on the consultant career track; next thing I know, I'm raising two younger sisters and taking care of my mom. Had my mom not become sick, I likely would have gone on to business school — who knows — but when I went back to Chicago, my life took a 180-degree turn," (via BCG).
Michelle Wu started her career while a student at Harvard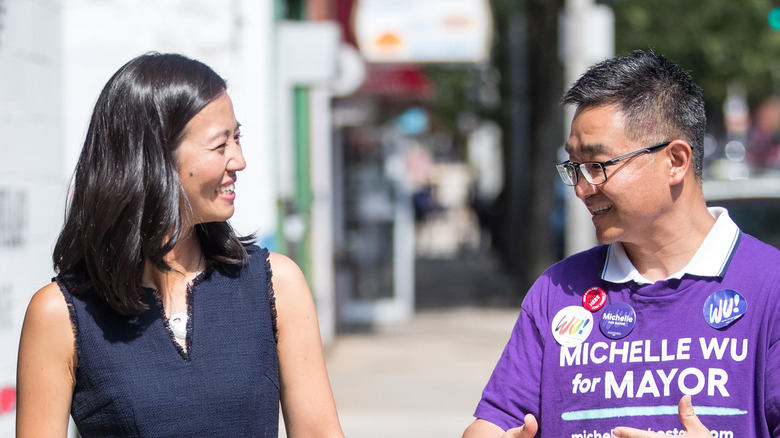 Scott Eisen/Getty Images
Michelle Wu tried to make the most of her return to Chicago. She set up a tea shop and as a small business owner, she realized that the city government hardly made it easy for small business owners to get permits. Soon, another door opened for her and she returned to Harvard — this time, to its law school, where she studied under Senator Elizabeth Warren. When she returned, she brought her family with her (via BCG). 
It was while she was a first year law student that Wu started exploring a career in politics. She interned for then–Boston Mayor Thomas Menino, and realized throughout the experience that she could insight change herself. "I wouldn't have considered running for local office later had I not learned firsthand then that you can have an impact from within the system," she said. 
Wu began her political career when she was just 28 by being elected to the Boston City Council. Not only was she the first Asian American to win a seat on the council, she also became its president in 2016 — becoming the first woman of color to do so, and it was a position she held until 2018 (via WCVB). 
Michelle Wu had a number of high profile endorsements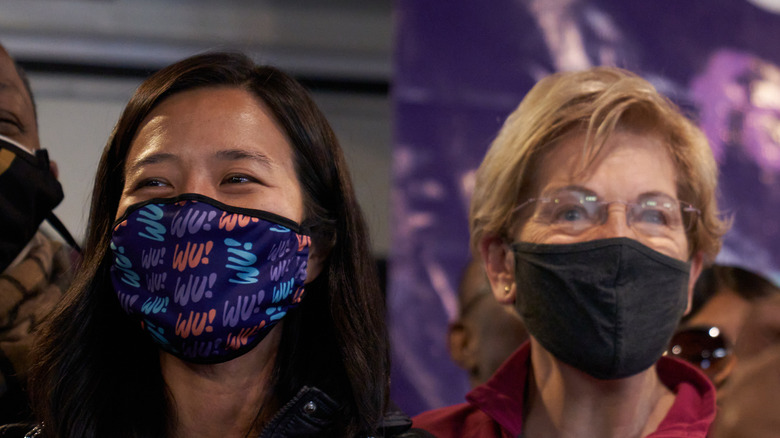 Bloomberg/Getty Images
The new mayor-elect ran on a progressive platform which is looking to push back against the rising cost of housing by pushing for rent stabilization or rent control. Michelle Wu is also hoping to make public transport "fare free." The Associated Press reported that Wu will also need to look at other pressing issues including public education, the coronavirus pandemic, problems with police, as well as climate change and its impact on the city, which sits on the coast. It should come as no surprise that Wu ran with endorsements not just from her former mentor, Elizabeth Warren, but also fellow former Boston city councilor and "squad" member, Representative Ayanna Pressley.
Wu will take her oath of office in about two weeks from publication. But for now, she can revel in the fact that she's made history. She said, "One of my sons asked me the other night if boys can be elected mayor of Boston. They have been, and they will again someday, but not tonight."