Inside Heidi Klum's Relationship With Tim Gunn
Kathy Hutchins/Shutterstock
It's been almost two decades since Heidi Klum and Tim Gunn entered into each other's lives to such magical effect. Since then, 48-year-old Klum, one of the most mainstream-famous supermodels in fashion history, and Gunn, 65, have gone on to co-host a successful show for 16 seasons, winning an Emmy at it; become iconic fashion figures, quit the show, only to reunite to create their own show and build a business together.
It almost feels written in the stars that these two would be holding each other's hands through different phases of life from the very first time they met. Gunn's heartwarming letter to Klum in July 2021 seems to confirm this. In the letter published by Good Housekeeping, the television personality asked, "Do you remember the day that we first met?" before adding how he had been a nervous wreck at the beginning of "Project Runway" before Klum helped him relax. According to him, Klum "wrapped an arm around me, took my hand and said, 'Don't be nervous. Relax. We're going to have an amazing summer.'"
Not only did they have an amazing summer that year in 2004, they have gone on to create several more beautiful memories with each other!
Heidi Klum wanted Tim Gunn to stick with her after they left Project Runway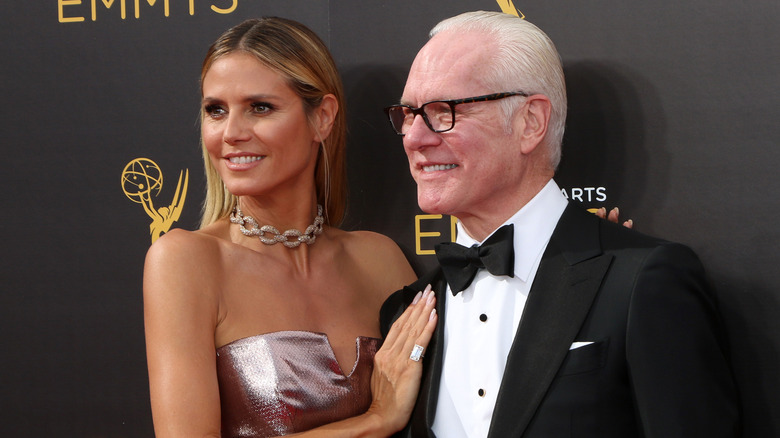 Kathy Hutchins/Shutterstock
In 2018, after 16 seasons, the co-hosts left the show that propelled them to their celebrity status. Heidi Klum, speaking to TheWrap about the reason for their exit, said, "Our hands were tied. Because our imagination was bigger than what we were about to do or couldn't do, because there's a certain look to a show that also sometimes you don't want to change."
But Klum was not willing to let go of her friend just yet and it's not hard to see why, considering how far the pair have come — from their days struggling to find their voice to become award-winning presenters and idols to many. Recalling some struggles from those early days, Klum revealed to us in 2021 that she "had so many sweaty palm moments with Tim [Gunn] behind the scrim and like, 'Oh, my gosh.'"
So, just before they left "Project Runway," Klum reached out to her trusted friend and asked for them to link up on another fashion show that they could get really creative with. "I called Tim and I said, 'I'm jumping this ship. Are you with me? I don't know where we're gonna go, but I'm really eager to see what we can do,'" she revealed during a panel in January 2020.
Since jumping off "Project Runway," the co-hosts have launched their own fashion competition show, "Making The Cut," which already has two seasons as of publication. 
Heidi Klum and Tim Gunn are an odd couple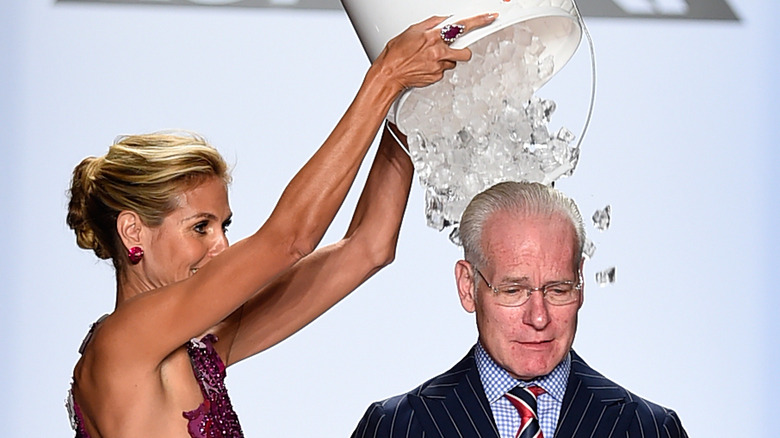 Frazer Harrison/Getty Images
A recurrent theme of Heidi Klum and Tim Gunn's relationship is how they have both referred to each other as husband and wife. During a 2020 interview, Klum got candid with Good Housekeeping, saying, "You know, I always say that Tim and I, you know, this is the longest marriage I've ever been in, and I'm still happy."
Klum has been married three times and is currently married to Tom Kaulitz, but this has not stopped Gunn from speaking of their relationship in marital terms. Speaking with Justin Sylvester of E! News in April 2020 about their relationship, the fashion consultant joked that "we are the world's oddest couple and certainly the oddest couple in fashion."
Despite the oddness of their relationship though, Gunn said they have been able to stay strong due to their great "chemistry." One way in which their difference is most obvious is in the way they pack when preparing to travel. In that chat with E! News, Gunn shared a story of how this difference plays out when they're together. "We're packing up in Tokyo and we see me packing up and we see Heidi packing up and we are indeed complete opposites," he said.