Grey's Anatomy Star Sara Ramirez Opens Up About Being An LGBTQ+ Icon
Ron Adar/Shutterstock
LGBTQ+ representation in film and television has come a long way. Before the 1990s boom of LGBTQ+ characters at the center of shows like "Will and Grace," among others, queer characters were far from the norm (via American Express Essentials).
Ellen DeGeneres, possibly the most recognizable queer television star, came out on her show "Ellen" (per Biography). When asked about the name of the monumental episode, DeGeneres shared, "It was called 'The Puppy Episode' because we wanted to keep it a secret until it aired and because 'Ellen Throws Her Career Away' seemed too on the nose." While she lost her series after that episode, DeGeneres paved the way for LGBTQ+ representation in television. That would eventually lead to more and more queer characters across networks.
"Grey's Anatomy," one of the most popular medical dramas of all time (per Insider), for example, featured a long-running queer character. And now, the actor behind the beloved character is considered an LGBTQ+ icon.
Sara Ramírez is breaking ground for LGBTQ+ characters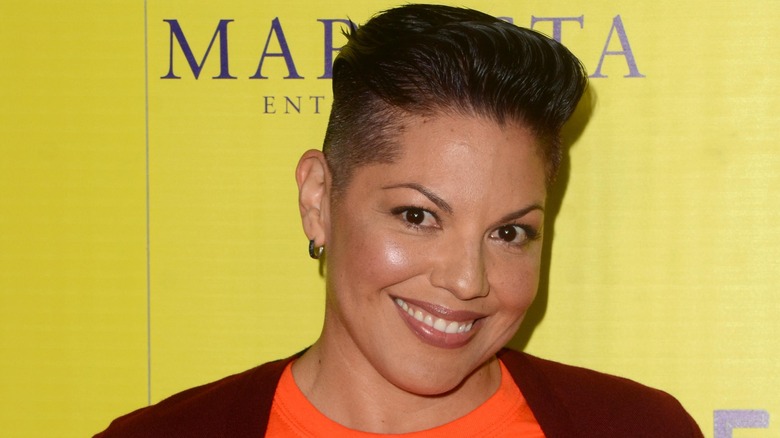 Kathy Hutchins/Shutterstock
Sara Ramírez, who uses they/them pronouns, has made a huge contribution to queer representation on television. According to Out Magazine, their character Dr. Callie Torres, a bisexual doctor, was groundbreaking. With 11 seasons and 239 episodes under their belt, Dr. Torres is the longest-running LGBTQ+ character in television history, per the outlet.
Ramírez told the publication, "Prior to Callie Torres, I'd never seen myself represented on television ... There was so much I didn't know that I didn't know ... so, I've caught up with myself in a lot of ways." Now, Ramírez provides queer representation for others to look up to. They even work alongside LGBTQ+ youth, providing activism in addition to representation.
Now, Ramírez is providing representation for another demographic: those who identify as non-binary. Ramírez plays a non-binary, queer stand-up comedian in the revival of "Sex and the City" (via People). "If we can spark fresh, new conversations in spaces that normally would not be engaging in those conversations, I think that visibility ... can change how we view ourselves and the world," Ramírez shared with Out.