The Truth About Food Network Star Maneet Chauhan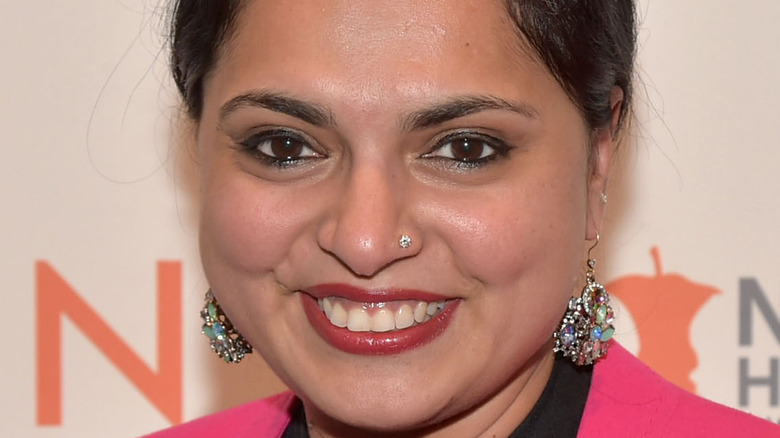 Theo Wargo/Getty Images
Food Network brings some of the brightest culinary personalities right into homes around the world. The wealthiest Food Network stars are often wealthy in personality, too, which is why their careers have led them down these paths. We get to know them through their cooking, experiences, and stories, and in a way, they become part of our families. Food is culture, and no one understands that better than Food Network star Maneet Chauhan.
We've sadly lost some Food Network stars throughout the years, while others have moved on from the network to focus on other pursuits — even Bobby Flay is leaving Food Network after decades of working with them. However, chefs like Chauhan keep the network fun and fresh. 
Chauhan has been a judge on "Chopped" since 2011, and she's also judged and/or appeared on "Guy's Grocery Games," "Tournament of Champions," "The Chew," "Worst Cooks in America," and many more (via IMDb). In her judging positions, Chauhan is known to connect with contestants while still delivering honest, thoughtful feedback on their food. She brings a dose of humanity to the judging panel, which can often be absent in competition settings.
According to IMDb, Chauhan was born in Punjab, India in 1976, and she's been on the rise in the culinary world ever since she moved to the United States to attend Hyde Park's Culinary Institute of America.
Maneet Chauhan's work ethic led her to where she is today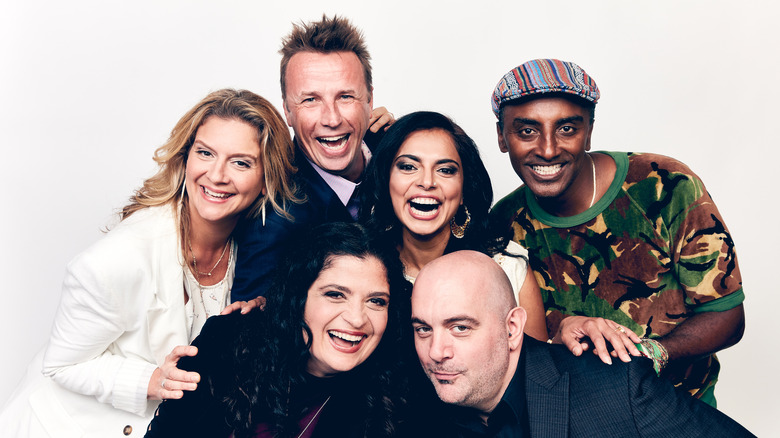 Robby Klein/Getty Images
Before coming to the U.S. for culinary school, Maneet Chauhan attended the Welcomgroup Graduate School of Hotel Administration (via Food Network). Lauded as India's premier culinary school, Chauhan graduated at the top of her class. After graduating from The Culinary Institute of America, Chauhan worked her way through the restaurant industry until she made her way to Food Network. In 2013, she released her debut cookbook, "Flavors of My World," and in 2014, she opened her Nashville, Tennessee, restaurant Chauhan Ale and Masala House.
While she's been a judge on Food Network for a decade, she also has her own series. According to her Culinary Institute of America bio, she's hosted "Festive Cooking with Maneet" for TV Asia since 2019. Chauhan is an advocate for Indian and Southeast Asian foods and ingredients, and her series shows how delicious and accessible these foods really are.
Chauhan credits her success not only to her work ethic but also to the Culinary Institute of America. "The CIA was and still is my Disneyland," she explained. "I made it a point to get involved in everything and anything. If anyone needed a volunteer, I was there. The chef-instructors were always looking for students to help with competitions and events." Chauhan further explained, "On the weekends I would assist the continuing education classes. I applied to be an RA. I was a tour guide, I was on the judiciary board, and editor of the school paper."
With a work ethic like this, it's easy to see why she's as big a name as she is today!
Maneet Chauhan continues to challenge herself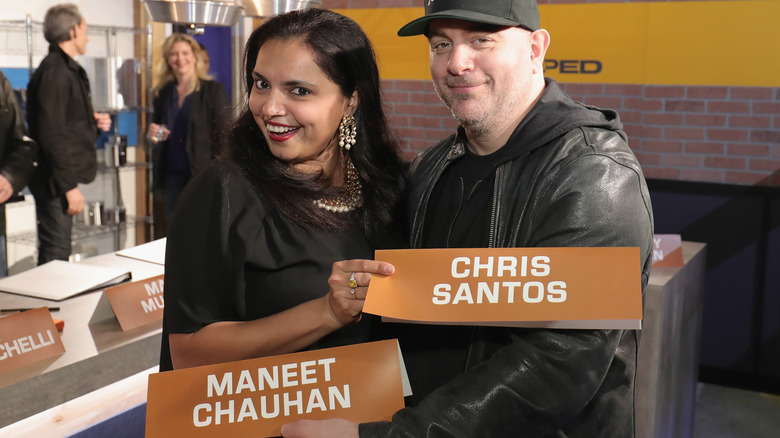 Neilson Barnard/Getty Images
Maneet Chauhan's work ethic allows her to accomplish anything she sets her mind to. According to Parade, one of Chauhan's biggest accomplishments in recent years is her weight loss. "It was important for me to be healthy not only for the way I look or feel but also for the message that I was sending to my kids," she told Parade. "I was telling them it's okay to be overweight and not take care of yourself, and that's not the message I want to send them."
It can be especially hard to lose weight when you cook for a living, but Chauhan knew she could do it — and not sacrifice chocolate or wine in the process. "I couldn't go on a restrictive diet like keto or paleo because I eat for a living," she told Parade. "I kept to 1,200 calories a day, which would pretty much start with me logging my two glasses of wine and two pieces of chocolate, so I knew what I had left."
Chauhan further explained that she would find ways to get her steps in, hoping to achieve 10,000 steps each day. She'd walk extra laps in the airport if she was early and generally find ways to burn extra calories without specifically going to the gym — and it worked. Chauhan lost 40 pounds and has continued to conquer all of her goals in the process.