These Two Things Inspired Mike Pence To Take On Donald Trump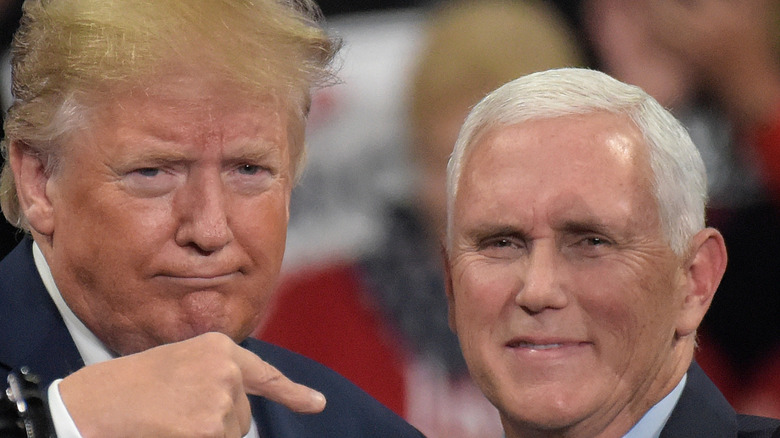 Matt Smith Photographer/Shutterstock
On January 5, 2020 — the day Georgia was holding a runoff election for two Senate seats that would determine who controlled that branch of Congress, and also the day before each branch was to count and certify the election results from November ahead of the January 20 inauguration — former president Donald Trump publicly urged his vice president, Mike Pence, to not certify the results, as the vice president always does as a formality presiding over a joint session of Congress. He did so with a cryptic tweet that read, "The Vice President has the power to reject fraudulently chosen electors."
That tweet was quickly fact checked by NBC News and was found to be false, with the outlet citing the Electoral College Act of 1887 as proof. A vice president, as the president of the Senate, had tried to interfere with the certification in the 1857 election, so the Electoral College Act 30 years later became a necessity.
As the world knows, when January 6, 2020 arrived, a violent mob of Trump supporters laid siege on the Capitol to stop the count, chanting "Hang Mike Pence" in the midst of the attack. But in the wee hours of the morning on January 7, when the mob had been stopped by National Guardsmen, Pence did certify the election for Joe Biden as he was obligated to do. However, months later, he is still being questioned about it.
Mike Pence cites duty and law for doing his job on January 6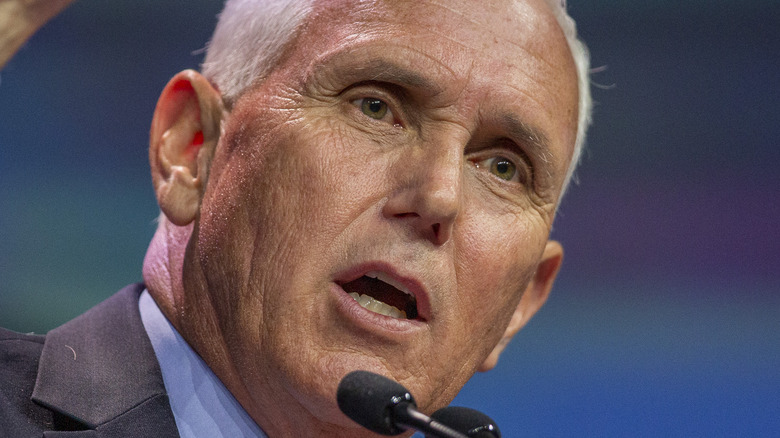 Bloomberg/Getty Images
After a speech at the University of Iowa on November 1, 2021, a young man asked the former vice president what caused him to make the decision "to buck President Trump's plan and certify the votes?" (via USA Today)
Mike Pence had a very simple answer to this question. "James Madison," he replied. Madison, who also served as the fourth president of the United States, was the founding father who constructed the draft text of the Constitution and is often considered the father of the document. The 12th amendment of the Constitution is what gives the vice president the power to certify elections (via NBC News).
"I understand the disappointment in the election," Pence said. "You might remember I was on the ballot. But you've got to be willing to do your duty. And the time may come that some of you are in that position, or one like it. And I just have a feeling based on the shining faces I'm seeing around here you're going to be men and women who do your duty in that time as well."