Here's Where You Know Jason Sudeikis' Famous Uncle From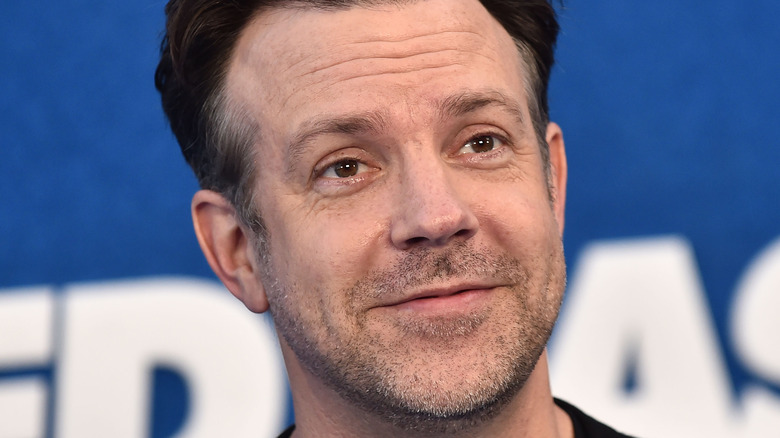 DFree/Shutterstock
For fans of "Cheers" who have watched "Ted Lasso," many have spotted a little Easter egg hanging in Roy Kent's favorite kebab shop (via Reddit). After complaining that he should get free food seeing as his photo is on the wall, the camera cuts to the egg which is nestled between two autographed photos of Marcus Mumford, who writes music for the show, and George Wendt, who played Norm Peterson on the NBC sitcom "Cheers."
While it could just be that Jason Sudeikis and the creative team behind "Ted Lasso" are huge fans of "Cheers," the tribute is actually more of a personal one for Sudeikis since Wendt is actually his uncle.
The younger brother of his mom, Wendy, Wendt was a huge role model for the aspiring actor. "He was just a good example that being an actor was a viable option," Sudeikis told Playboy magazine in 2011 (via HuffPost). "Here's a guy from the Midwest, in my family, who took the road less traveled on and it worked out for him." As for George Wendt's best advice for his nephew, the "Cheers" alum joked, "Get on one of the best sitcoms of all time and then ride it out."
Jason Sudeikis has a very fond memory of his uncle George Wendt that involves a death-defying car ride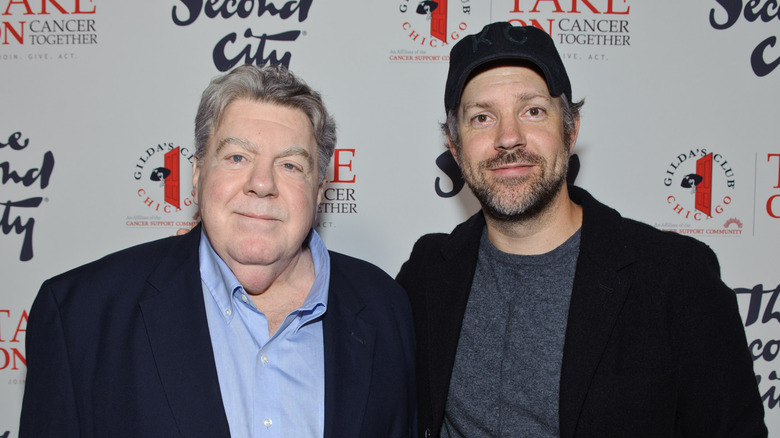 Timothy Hiatt/Getty Images
While their relation is a pretty well-known fact now, for a time many people hadn't realized the connection –- including Drew Barrymore. In an interview during the pandemic, Barrymore interviewed the actor virtually about "Ted Lasso" (via YouTube/The Drew Barrymore Show). At one point, the actress asked Sudeikis what encouraged him to get in to acting, to which he replied "you know, I was fortunate to grow up with my uncle, it's George Wendt who played Norm on 'Cheers,'" to which Barrymore reacted with an absolutely stunned face.
The actress went on to tell Sudeikis with pure excitement that she always calls herself Norm from "Cheers" because she's "always been at the end of the bar drinking that beer hanging out!," much to Sudeikis' joy (via YouTube).
On one rare occasion, Wendt and Sudeikis were interviewed together by The A.V. Club at Second City's Roast of George Wendt. Here, the actor shared his fondest childhood memory of his uncle, which included a near-death car ride in a new BMW (via The A.V. Club/YouTube). "He had my dad holding on to [the car] like nothing he'd ever seen, and I'm just sliding around the [back seat] cause the seats were brand new," Sudeikis explained. "So I hold that memory very fondly," he concluded.