Inside Chris Christie's Marriage To Mary Pat Christie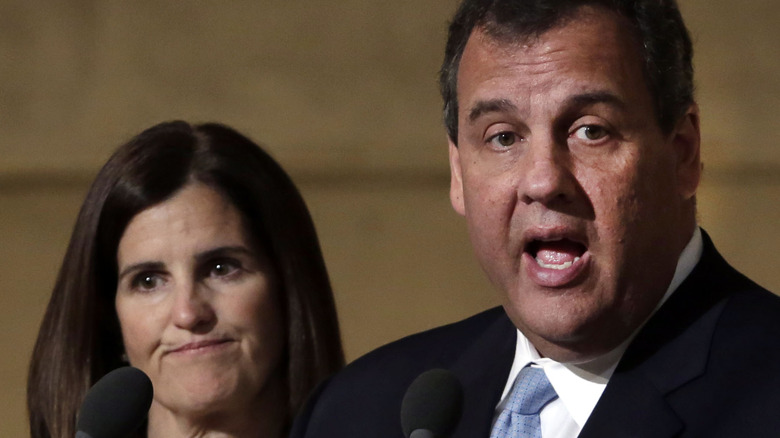 Pool/Getty Images
When Chris Christie made a run for the White House during the 2016 Republican primaries, his life became an open book as most candidates revealed more about themselves than ever before. Although he had already been governor of New Jersey since 2010, he was mostly known as the governor whose administration caused traffic problems on the George Washington Bridge as a way to get back at a Fort Lee, New Jersey, public official who didn't endorse Christie for governor (via The New York Times).
Americans eventually learned that, despite being a scandal-filled politician with a habit of saying whatever is on his mind at the moment, he was also a family man with a loving wife of more than 30 years, as of this writing, and four children (via Britannica). 
He met Mary Pat Christie when they were both students at the University of Delaware — he was a sophomore, she was a freshman, and his love for politics was apparent from the start (via ABC News).
Chris Christie romanced Mary Pat with politics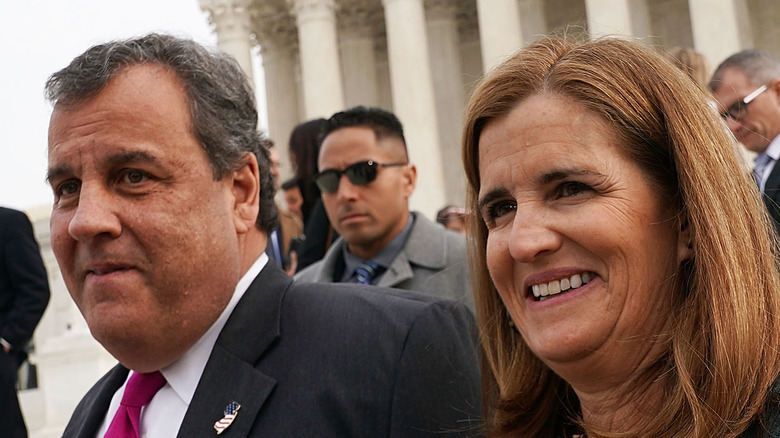 Alex Wong/Getty Images
Even during his college years, Chris Christie had political aspirations, and that didn't seem to bother his future wife at all. In fact, Mary Pat Christie told ABC News in early 2016 that she was with him on the college campaign trail and joined in herself, preparing them for what was ahead in life.
"He pulled me into student government," she said. "I really didn't have an interest in it, so he talked me into it. I got involved. He eventually ran for president and I ran as his secretary when he was a senior and he won. And then the following year I ran for president and I won."
Of course, his love for politics even on the college level wasn't the only thing that attracted Mary Pat to Chris. "I just thought he was funny and interesting," Mary Pat told ABC. "He had great stories. He still has great stories. And he was cute."
While Chris went on to become a lawyer and U.S. attorney and then went into politics professionally, Mary Pat became a businesswoman on Wall Street, but she left that world to campaign beside her husband when he decided to give it a go in an unsuccessful bid for the Republican nomination, which eventually went to Donald Trump.
Chris Christie and Mary Pat's marriage has had ups and downs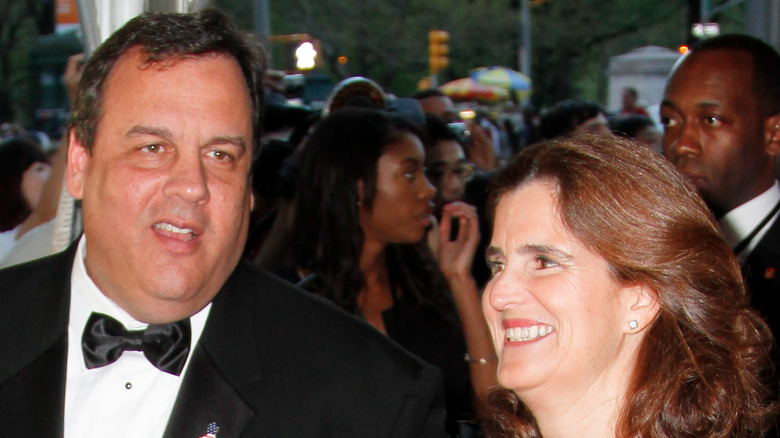 Debby Wong/Shutterstock
Like many married couples, Chris Christie and Mary Pat Christie haven't had a perfect marriage. In fact, they were wed for seven years before having children because they wanted to be sure things would work between them.
When things did get rough, they went to marriage counseling. Chris described that period of their marriage as "really challenging," but they apparently learned how to let out their frustrations with one another in a relatively healthy way away from their kids.
"I don't know what either one of us thought marriage was exactly going to be like, but what was happening was not what we thought," he told reporter Matt Katz for the book "American Governor" (via The New York Times).
Chris also admitted that counseling changed everything. "It's kind of like a demilitarized zone you can go through," he said, explaining that they at least had a moderator for their fights. 
Of course, all couples argue, but the Christies learned to take their verbal spars elsewhere so their kids can't hear it all. "So, what happens is you seethe, you're staring at each other," he said. "And then we usually go into her closet to fight."