Demi Lovato's Blue Hair Look That Fans Envy
Tinseltown/Shutterstock
From Disney star to pop icon to mental health advocate, Demi Lovato has always kept fans on the edge of their seats. Aand 2021 proved no different for the singer. Lovato used the past year to share their truest self with the world by coming out as non-binary (per CNN), embracing their queerness, and releasing a tell-all docu-series on YouTube, "Demi Lovato: Dancing With the Devil," which details their 2018 drug overdose.
Lovato's downward spiral was due in part to their regimented routine. In a 2021 interview with CBS News, Lovato revealed that they had zero control up until the past two years of their life. The lack of power extended from their finances all the way to the food they ate. "I think that my whole life, I was the horse that everyone was leading to the well, and they couldn't make me drink the water from the well. It wasn't until this past year that I was able to taste the freedom of the water in the well, because I finally was ready to drink it."
But even though the "Confident" singer was powerless when it came to their public narrative, they managed to survive their most difficult times through self-expression.
Demi Lovato's "Stone Cold" blue lob is one of several iconic hair moments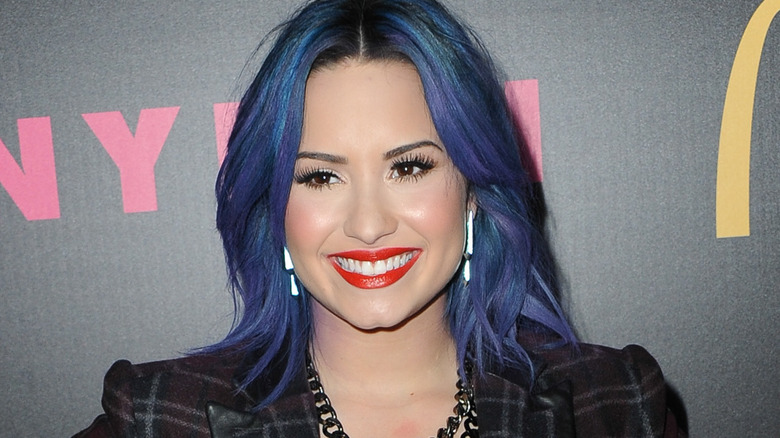 Allen Berezovsky/Getty Images
It's safe to say Lovato has used their creative talents to serve us with a number of iconic looks over their career, but one of the most unforgettable hair moments they gave us was their effortlessly "Stone Cold" blue hair at the 2013 "Frozen" film premiere. The navy blue highlights mixed with a "dip-dyed, streaky lob" resulted in the ultimate red carpet beauty statement. Hairstylist Lisa Marshall of Davide Hair Studio in New York calls Lovato's use of purple and blue highlights the perfect example of "fantasy colors," which can add depth and tone to any dye job (via Byrdie). 
Other honorable mention hair appearances from Lovato include their blonde, half-shaved cut, which they debuted on Instagram in late 2020, as well as their August 2021 black pixie cut with baby bangs, courtesy of hairstylist Rena Calhoun (via Allure). 
Lovato's hair journey is proof that even at our darkest times, we can always rely on creative expression to shine a light on our inner beauty.